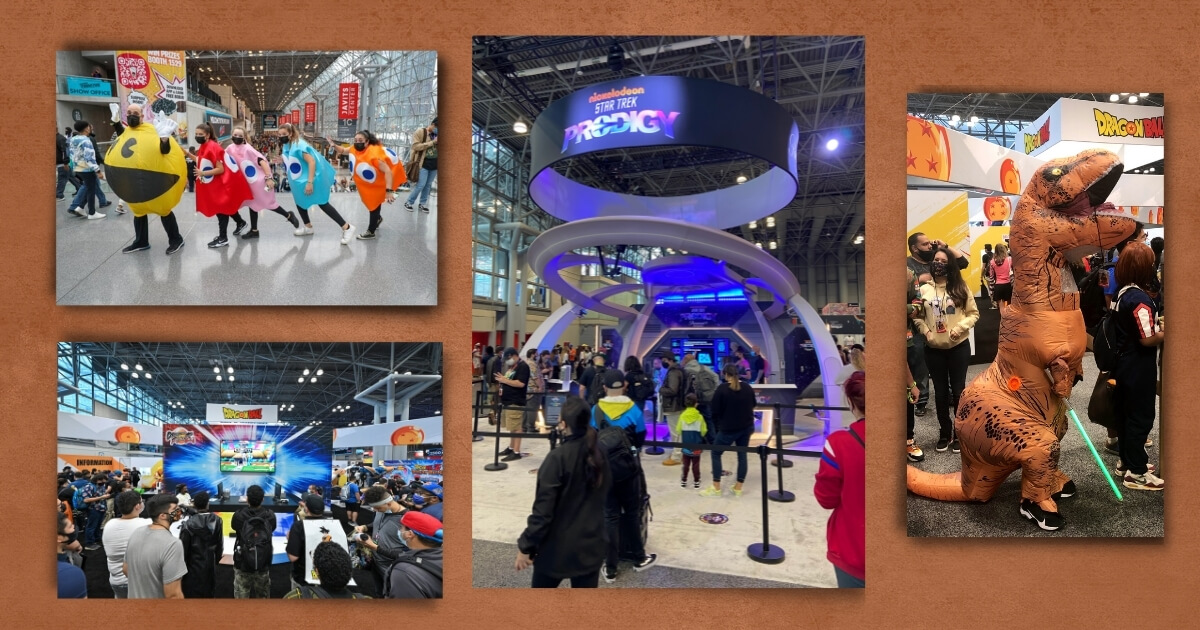 NY Comic Con Returns, Slightly Slimmer but With Vigor
New York Comic Con returned after a pandemic-induced two-year absence with thinner crowds and fewer exhibitors, but with an appetite among show goers for a mix of nostalgia-laden properties and newer entrants into the fandom business.
Show operator ReedPop ratcheted back advance ticket sales to 150,000 from 190,000 in 2019. (Showgoers had to show proof of vaccination, and masks were required within the Javits Center.)  Several long-time Comic Con exhibitors either conducted their own virtual "cons" (Funko, Mezco Toys, Super7) or didn't take the booth space they had in the past (Marvel Entertainment).
But there were plenty of Spiderman, Batman, Wonder Woman and other costumes and products along with nods to the latest hot thing — Netflix's "Squid Games."
Merchandise sales slip
The lower attendance and the well-documented supply chain issues put a bit of a damper on merchandise sales, with exhibitors offering fewer limited edition show exclusives.  Diamond Select Toys President Chuck Terceira expected show-related revenue to be down 20% from 2019 despite the company air freighting in 120 action figures based on Robert Kirkman's "Invincible" comic book series.
"Disappointing customers has been a trend and the factories want to get paid, but we're not making money for the shipments and the backorders are piling up," says Terceira. "Christmas may be very Grinchy this year."
Cryptozoic Entertainment chopped the number of show exclusives it offered from four to one, and made it available online, rather than limiting it to booth sales, said Events Manager Javier Casillas. He also mentioned that shipping issues caused Cryptozoic earlier this year to postpone some fourth quarter product deliveries to the early 2022; given that much of those are collectibles that are bought by collectors (rather than as holiday gifts), he didn't expect the delay to affect the sales themselves, just the timing.  The company also suffered a month-long delay in shipping Kickstarter supporter games based on graphic artist and illustrator Steven Rhodes' reimagining of 1970s and 1980s children's activity books.
Among other developments at Comic-Con:
Subscription box service CultureFly will ship newly licensed "Avatar The Last Airbender" and "Naruto Shippuden" products in November. The company also developed collector's boxes based on Nintendo's "Animal Crossing" that are being sold through Target ($29) and Best Buy ($49).
With exhibitors (Funko and Marvel) that typically draw long lines for product sales and giveaways absent from the show, ReedPOP's two on-site merchandise "stores" were a popular attraction. A Disney licensed Shang-Chi logo cap sold out, as did merch marking the return of Comic Con New York (hoodies, t-shirts, coffee mugs).  ReedPOP launched its own "The Haul" pop culture online shopping site earlier this month.
Cryptozoic, whose Cryptkins Unleashed brand was delayed from a planned early 2020 pre-pandemic launch, was introduced the line at New York Comic-Con with a limited edition "Ghost Cerberus Cryptkins" vinyl figure. The company also is considering adding licenses to the brand. It also is readying a "Batman: The Dark Knight Returns: The Game", which is currently the subject of a Kickstarter campaign that has so far raised $398,775 from 4,131 backers, well above its $250,000 goal. Delivery to supporters is scheduled for December.
Under new ownership and a single brand (FYE), the retailer once known as Trans World Entertainment is expanding once again. The 225-store chain, which has operated several nameplates (Suncoast Motion Picture Co. Musicland, Strawberry's, Coconuts, Sam Goody, Spec's Music and others), opened 25 stores during the past year in reentering several markets (Texas, Missouri, Minnesota) and sharpening its focus on pop culture, including cereal and soda featuring licensed properties, says David Hinde, Senior Regional Training Manager. Sunrise Records, which also owns UK retailer HMV, bought Trans World's assets, including FYE, in February 2020 for $11.5 million.
Diamond Select Toys signed a licensing deal with Hasbro for GI Joe, Transformers and Power Rangers (10-inch figures, two-inch Minimates and other products). Diamond previous had a GI Joe license 2005-2007. It also featured a bust of "Red Ranger" from Power Rangers at ComicCon and a separate bust of the Kato character from the TV series Green Hornet, the rights to which are owned by Green Hornet Inc.