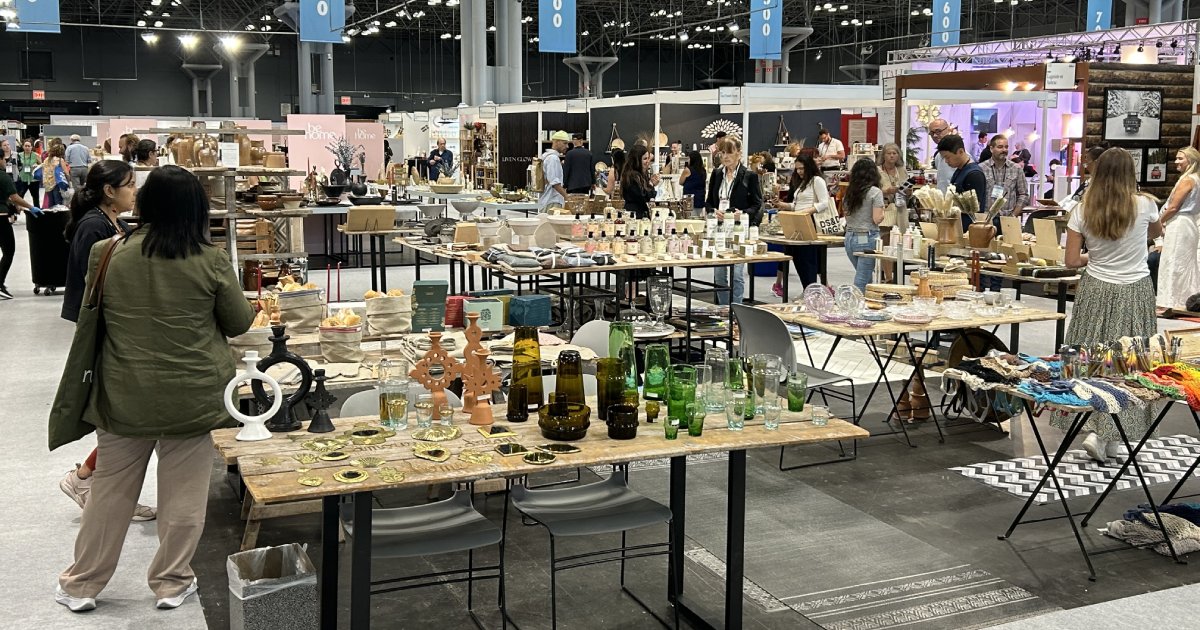 NYNow Points to a Sustainable Future
Sustainability was in the spotlight at NYNow this week, with a major focus on showcasing the growing fruits of a circular economy.
The event, for the most part, was dedicated to crafts companies of all stripes—including jewelry, apparel, home goods, and toys—and the specialty retailers that sell their products. But NYNow also provided a stage for companies developing licensed products made with sustainable materials.
Home goods company Bamboozle Home, for example, unveiled an agreement with executive Chef Elizabeth Karmel, founder of New York's Country Barbecue Market restaurant, for a tray and 14-ounze cup set made from bamboo fibers and sugar cane starch. Bamboozle also has a licensing agreement with author Sandra Magsaman for a six-piece children's dinnerware set made with bamboo. Other companies like Matt & Nat fashioned handbags, wallets, and backpacks featuring interior linings derived from recycled plastic bottles and exteriors that use recycled windshield resin.
And SilaiWali, which makes ornaments, dolls, and bag charms using apparel scraps gleaned from cutting tables in India, landed a co-branded deal with French fashion house Chloé. Its products are sold through lifestyle stores like Paper Boat, Vayu, and Jaipur Modern as well as Cost Plus World Market. The products are produced in India as part of the United Nations High Commissioner for Refugees livelihood program.
"Sustainability is becoming something that is more prominent and something consumers are increasingly thinking about when they purchase a product," said Ashley MacLean, a sales supervisor at Matt & Nat.
Appealing to consumer demand for sustainability does come at a price, however. Products made from sustainable materials can carry a 30% higher manufacturing cost, said Avishai Greenstein, VP of Marketing at Method Sourcing Corp., which sources products for Bamboozle. And while sustainability is taking hold with consumers, it remains third behind price and design among the drivers behind buying decisions, Greenstein said.
"There is no sustainable company that has been successful without the element of design because that is what people are making buying decisions on," Greenstein said. "Sustainability isn't yet the top reason a consumer is buying something, but it can help seal the deal."
Elsewhere on the show floor, licensing was spread across several categories.
Drinkware supplier Corksickle is readying U.S. 2024 Summer Olympics-licensed 16-ounce tumblers as well as 20-, 24- and 30-ounce sport canteens. It also recently launched Major League Baseball-licensed drinkware as part of a deal under which it supplies the products to Fan Branded, which has the licensing rights and applies the team brands. This will expand Corksicle's business with colleges, where it previously had licensing agreements with 24 schools.
And Basic Fun distributor Schylling is winding down its last licensing agreement (Curious George) this year but is considering reentering the business with the recent hire of former Spin Master executive Vincent Santore.
Beyond going green and looking into licensing, there was concern about the lengthening writers' and actors' strike at NYNow as an ongoing void of new content could affect current and future partnerships. For example, gift supplier Fred & Friends shipped Stranger Things pizza cutters, sponges shaped like VHS tapes, a Surfer Boy desk caddy, and a Demogorgon phone stand.
"There are a lot of people collectively holding their breath," said Matt Kutner, VP of Sales at Fred & Friends. "Retailers aren't going to place orders until there is some degree of certainty about when the new season will become available."