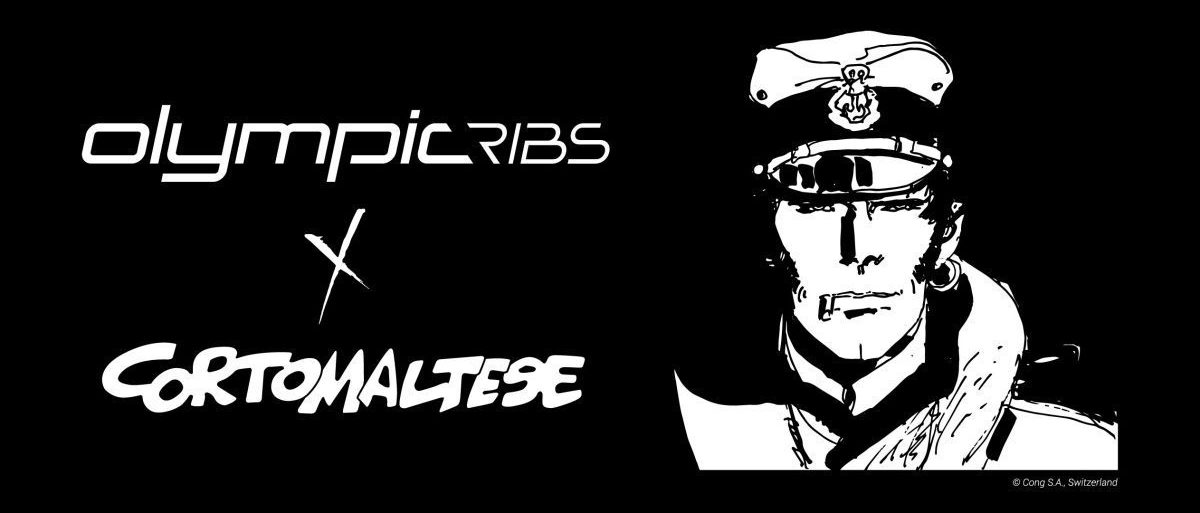 OLYMPIC RIBS and CORTO MALTESE® join forces to redefine seafaring experience
Legendary fantasy graphic novel hero CORTO MALTESE® will inspire OLYMPIC RIBS' ultra-premium OLR line customization.
Aegean archipelago. The Med. The World. A literary myth, from the pen of Hugo Pratt, and a product line celebrating passion for sea, travel, freedom and speed. Bringing the spirit of the iconic sailor onboard, OLYMPIC RIBS is excited to announce a long-term, global partnership with CONG S.A., Switzerland, the guardians of the CORTO MALTESE® eminent heritage.
Unleashing the full potential of bespoke customization for luxury RIBs, this synergy will allow for a uniquely creative incorporation of the CORTO MALTESE® traits into the OLR line up.
Gearing up in H1 2023, the CORTO MALTESE® upgrade will be available for the OLR 30SR, 45SRC and 45SRC STERN DRIVES models, elevating the OLR model of choice to an exclusive asset: First Class onboard experience, outstanding offshore performance and – now – inclusive of the mesmerizing atmosphere of the classiest graphic novel ever written.
This industry breakthrough deal has been driven by FMC S.A., an Athens-based boutique strategy consulting firm and successfully sealed by the Milan-based Maurizio Distefano Licensing, the agency managing the CORTO MALTESE® rights in Italy.
Commenting on the OLYMPIC RIBS x CORTO MALTESE® partnership, Christos Karyofyllis, OLYMPIC RIBS Director, stated: "Always ready to defend the principles of liberty and independence, CORTO MALTESE® personifies indefatigable exploration; a perfect match for our DNA. We are excited to embrace the CORTO MALTESE® philosophy and open new seaways together."
Maurizio Distefano, president of Maurizio Distefano Licensing added: "When a brand and a licensee share the same values, a licensing project can truly write history. This makes us extremely eager to see the outcome of this pioneering and one-of-a-kind partnership between OLYMPIC RIBS and CORTO MALTESE®."
About OLYMPIC RIBS:
Opening seaways since 1985. Inspired by freedom, crafted with passion and driven by excellence, every single one of the 4,000 OLYMPIC RIBS produced so far are individually and precisely planed with top design ergonomics and industry leading talent. Infusing the millennia old Greek maritime tradition with worldwide cutting-edge technologies, the OLYMPIC RIBS' OLR line stands at the forefront of the global race for an elevated onboard experience. Aesthetics, performance, consistency and reliability are exquisitely blended to celebrate our Captains' and their Guests' heydays.
OLYMPIC RIBS team @ Boot Düsseldorf 2023 I Jan 21-29 I Messe Düsseldorf, Germany I Hall 05/ Stand 5D46