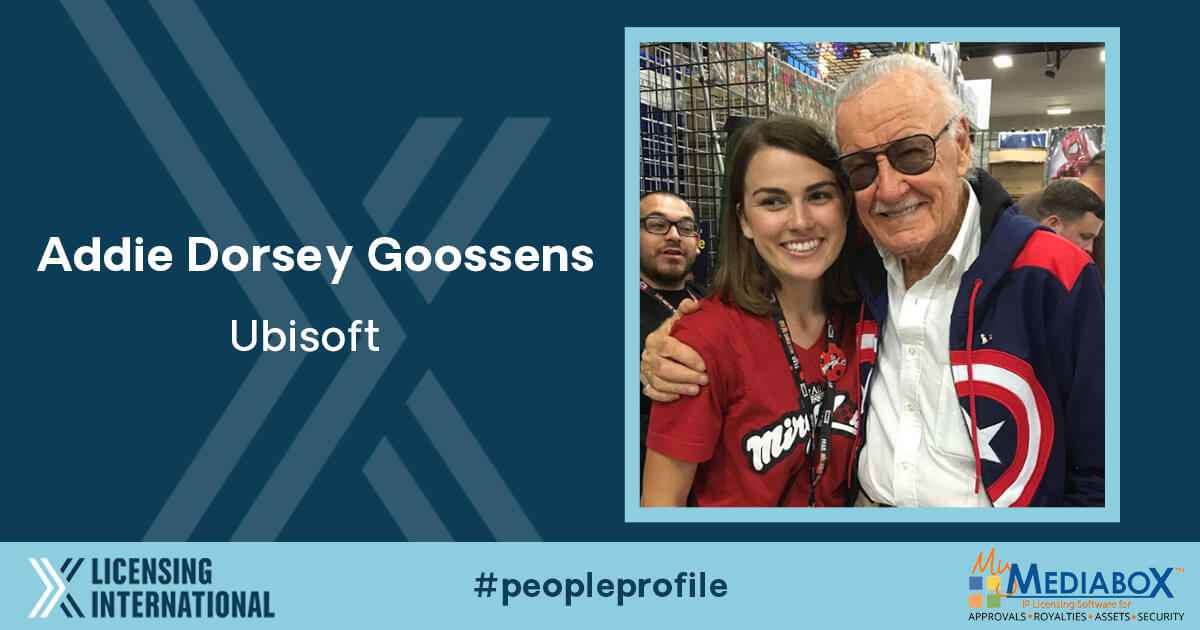 People Profile: Addie Dorsey Goossens, Licensing Manager EMEA, Ubisoft
The global licensing community is powered by an incredible group of professionals whose diverse backgrounds and creative energy drive innovation and excellence. This week we're profiling another of  our 2021 Rising Stars in this ongoing series developed in partnership with MyMediaBox.
How did you get into licensing (or how did licensing find YOU😊)?
I found licensing through my love for film and TV. While at Saban Brands, I assisted production on the series, Power Rangers. They had me breaking down scripts for licensing and creative services purposes. This led to my next job working for ZAG Entertainment, where I gravitated away from production into licensing. I enjoyed everything from the pitch to witnessing how the product enhanced the overall experience for the fan. There was something so exciting about having the final product in-hand!
What's your biggest personal and professional accomplishment?
I believe my biggest personal accomplishment is that I can now successfully pronounce the French word, 'yaourt' (just kidding, I still can't pronounce it). It's probably that I have been able to adapt to a new culture. Four years ago I moved to France, and within this time I have completed my Master in Strategy and Management of International Business at ESSEC Business School while learning a new language (which is still a work in progress ha!). During my past two years at Ubisoft, I'm proud of the strides I've taken to define our strategy and grow our licensing programs throughout Europe and the Middle East. One of my first agreements was for Assassin's Creed branded FEC attractions throughout Saudi Arabia. The first FEC will open in Riyadh this September!
What are the most significant trends or changes that you've seen in the business in recent years?
Shameless plug – Gaming. You've probably heard and read this year that more and more people are playing video games…yet video games have always been growing in popularity and have shown no signs of slowing down. We still have ways to go, but licensees and retailers are recognizing more and more the strength of gaming brands. 'Video Games' is the fastest growing segment in entertainment surpassing the film and music industry. As the medium is ever-evolving, video games are capable of reaching new audiences and offer new ways to socialize. Players can invest hundreds of hours into one video game!
What keeps you up at night? What's your biggest challenge these days?
One of the best parts of my job is that I can propose tailor-made partnerships which go beyond traditional licensing. Companies can reach our consumers through licensed products, in-game integration, esports sponsorships, brand content, and/or retail activations. We can imagine numerous ways to tell a story and engage our communities, and sometimes there's just not enough time in a day to accomplish everything we'd like to!
What is the best piece of advice you ever received? OR What is your favorite quote?
My first manager told me that there are no problems, only opportunities. Although cliché, I've tried to maintain this mentality. For instance, today we are working on the Far Cry Franchise Style Guide at Ubisoft. To find a way around a tough legal constraint, we stumbled across a style which is perfect for today's market and our target consumer. I honestly don't think we would have discovered it otherwise! Another piece of advice that has always stuck with me is that licensing should be more than additional source of revenue but a pivotal component of your overall brand strategy. I approach each partnership with this mind set.
What is your favorite licensing deal of all time? (doesn't have to be one that was signed by you)
I loved the National Geographic x VANS collaboration. It was exciting to see these two come together being a big fan of both brands! It was original to see National Geographic extend into footwear, and per usual uniquely storytelling to protect the wonder of our planet.
There's also another deal I'm particularly excited about! It will be announced in the next few months, so stay tuned! I'll share that it's a collaboration which features licensed products, in-game integration, and brand content. I'm proud of the Ubisoft studio, marketing, licensing, and partnerships teams that collaborated to turn this idea into a reality.
The last licensed product I bought was…
I'm consuming it right now as I type – Perrier x Murakami!
THE 2021 PEOPLE PROFILE SERIES IS BROUGHT TO YOU BY MYMEDIABOX

MyMediaBox is the leader in providing online solutions that streamline every stage in the brand licensing lifecycle, from contract management and rights tracking, through style guide delivery, product approvals, security tag management and royalty reporting. With over 54,000 global professionals logging in from 125+ countries, Mediabox is by far the world's most thoroughly tested and widely trusted licensing software.