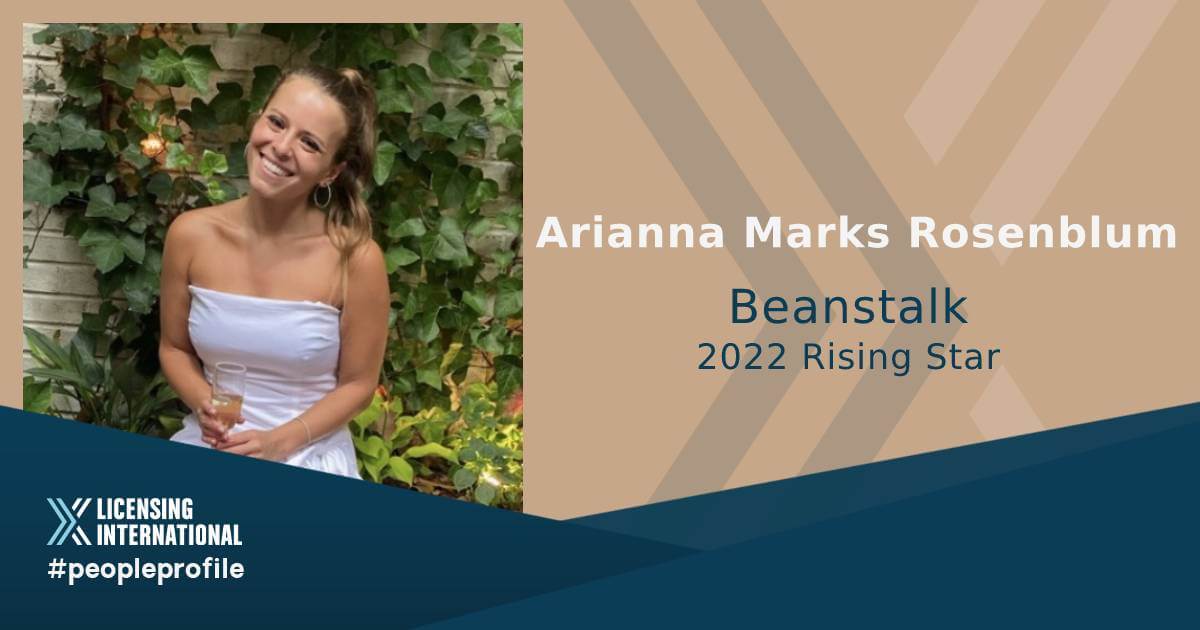 People Profile: Arianna Marks Rosenblum, Deputy General Counsel at Beanstalk
The global licensing community is powered by an incredible group of professionals whose diverse backgrounds and creative energy drive innovation and excellence. We profile one of these professionals each week, and in this special edition of the People Profile series we are introducing one of the 2022 Rising Stars Award recipients to shine a spotlight on their success.
How did you get into licensing (or how did licensing find you)?
In law school, I was looking for ways to combine my love for the law and my other passions in life. I always had a deep love for music, film, and entertainment as a whole. I worked to find internships throughout law school in different corners of the entertainment industry, including Atlantic Records, Universal Music Group, Excel Sports, and AGMB, LLP. When I was introduced to Beanstalk and the world of licensing, it was the perfect balance of in-house counsel work, transactional work, intellectual property law, entertainment, and branding all in one.
What's a "typical" day in your current position?
A typical day in my current position as deputy general counsel includes putting on a number of different hats. I love the exposure that I get to so many different industries and categories. I can be working on a deal for baby diapers in the morning, a new ice cream in the afternoon, and a new video game in the evening. I then utilize the experiences gained from those deals to collaborate with and train the other members of the legal team. My day consists of drafting, negotiating, working with business teams and clients, analyzing legal issues, and managing other legal team members.
What's your biggest personal or professional accomplishment?
My biggest accomplishment is my husband and my family. I feel proud and grateful every day to feel supported by them—it drives me to grow in every aspect of life. I am proud of the work that I do and the fact that I am so happy to show up to work every day as an intellectual property attorney.
What are the most significant trends or changes that you've seen in the business in recent years?
One of the most significant shifts that I've seen in the business took place over the pandemic, when we saw a major shift away from brick-and-mortar retail and experiential activations (which were booming pre-pandemic) towards a focus on eCommerce and subscription models. We are now seeing the pendulum swing back the other way as consumers return to their pre-pandemic retail habits.
In your opinion, what is the top skill every licensing executive should have in order to succeed?
The ability to be open minded, to listen, and to believe you can make anything happen. Licensing requires constant collaboration. The more I remember that everyone is just another human on the other end of the deal, the easier it is to make "yes" happen.
What's the best piece of advice you've ever received, or what's your favorite quote?
"People remember how you make them feel" and "De lo malo viene bueno." These quotes come from both of my parents, whose knowledge and guidance I cherish every day.
What is your favorite licensing deal of all time? (It doesn't have to be one that was signed by you.)
ZURU – 5 Surprise Mini Brands. These products put out by Zuru surprise consumers in each package with a different set of mini figurine representations of different famous brands. It is always so fun to see the power of branding come to life in such a simple way, with the brand itself becoming the licensed product. It is always a great feeling when you see one of your clients in there as well!
If you weren't in licensing, what would you be doing now?
Most likely working in the music industry focusing on similar intellectual property matters. Or perhaps exploring the possible opportunities towards becoming a backend talent agent.
The last licensed product I bought was…
Baileys coffee creamer (French vanilla).
The Rising Stars Award recognizes the next generation of leaders around the world for their commitment, passion, and contributions to their company and the licensing industry. For the first time, the Rising Stars were recognized and celebrated at the Hall of Fame Gala Luncheon in New York City on December 7th, 2022.