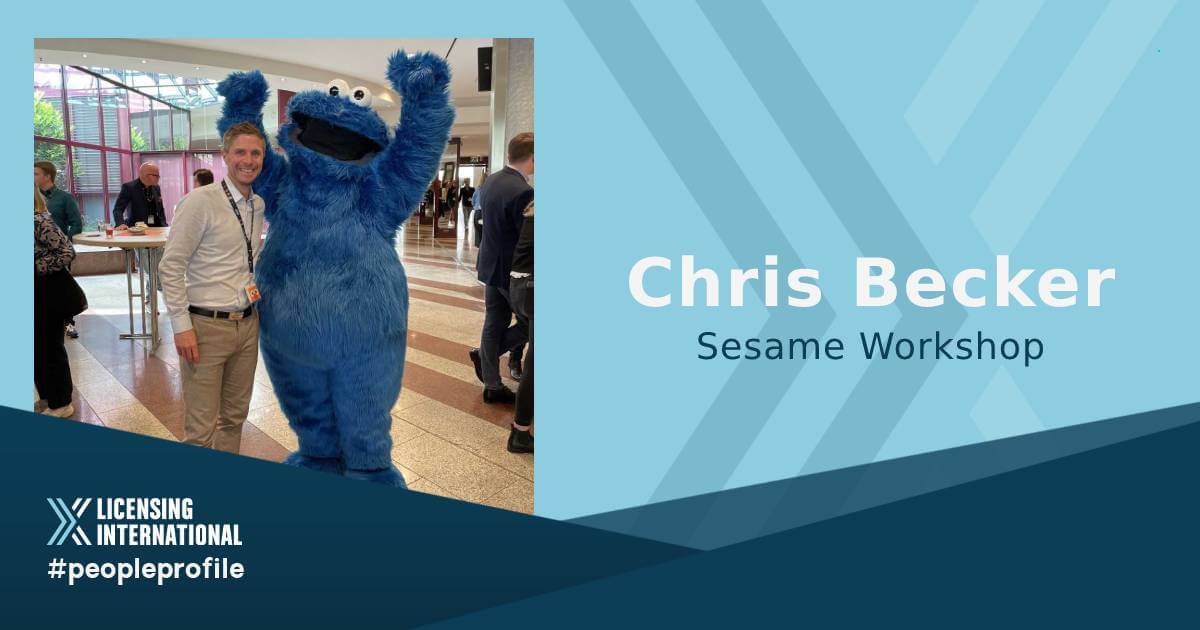 People Profile: Chris Becker, Franchise Director of Europe at Sesame Workshop
The global licensing community is powered by an incredible group of professionals whose diverse backgrounds and creative energy drive innovation and excellence. Each week we're profiling one of these professionals in this ongoing series.
How did you get into licensing (or how did licensing find YOU)?
Licensing found me as a toy and stationery supplier in the Middle East, and has been part of my life since then. From Disney to Lucas to my new adventure at Sesame Workshop, I have had the great pleasure of working on various themes and franchises, each with their very own dynamics and challenges. The NGO and non-profit aspect of Sesame Workshop is by far the most meaningful and greatest experience I have had in my career thus far.
What's a "typical" day in your current position?
Talking about the great opportunities Sesame Workshop has to offer for licensees and partners, and sharing the rich heritage and amazing stories of our Sesame Street Muppets. In these challenging times, it is a great pleasure talking about something that really adds value to our clients' portfolio and offers a great opportunity in connecting business and sustainable licensing.
What are the most significant trends or changes that you've seen in the business in recent years?
The biggest controversy and the biggest opportunity is the challenge of "speed-to-market" in licensing. How do you create products in a streaming environment that doesn't follow the old pattern of content releases in various steps? How do you sustain a longer period of consumer attention? Production on demand seems to be one of the solutions but even here, there might be a disconnect between consumer expectation and supplier offerings in quality and price.
What keeps you up at night? What's your biggest challenge these days?
In business, there is nothing that keeps me up at night. But I have to admit that some of the current global developments are worrying at times and call out for change.
In your opinion, what is the top skill every licensing executive should have in order to succeed?
Curiosity—If you have experienced it all and if you believe you've mastered licensing and the dynamics of franchises and products, it is time to leave the industry. Stay curious!
What's the best piece of advice you've ever received, or what's your favorite quote?
Don't ever take yourself too seriously. Great franchises, themes, and topics are not created by individuals but by how they are received by thousands and thousands of fans and consumers. You can play an important part in driving a business, but you can't make it successful on your own.
What is your favorite licensing deal of all time? (It doesn't have to be one that was signed by you.)
I have been really impressed with the resurrection of established heritage brands like Peanuts and Masters of the Universe. Sesame Street continues to amaze me every day with its evolution in meeting the needs of today's families and fans. In this regard, I believe my favorite licensing deal of all time is still to come.
If you weren't in licensing, what would you be doing now?
If I wasn't in licensing, I definitely would be connected to the sports industry. Next to licensing, triathlons and running are my favorite activities and I love connecting my personal interests with my professional life.
The last licensed product I bought was…
A Super Mario hoodie at the Nintendo Store New York—Although I often pretend that these are gifts for others! Most of the time I buy stuff because I'm excited and love the franchise as well.