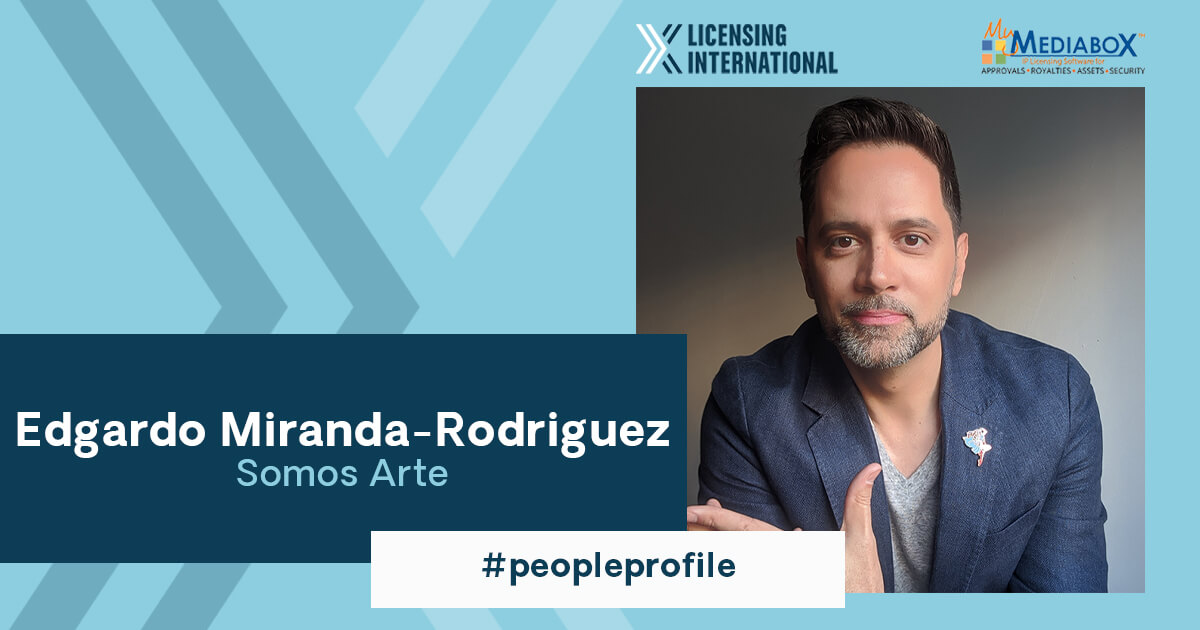 People Profile: Edgardo Miranda-Rodriguez, Graphic Novelist, Philanthropist, and Creative Director, Somos Arte
The global licensing community is powered by an incredible group of professionals whose diverse backgrounds and creative energy drive innovation and excellence. Each week we're profiling one of these professionals in this ongoing series developed in partnership with MyMediaBox.
Who are you?
My name is Edgardo Miranda-Rodriguez. I'm a graphic novelist, philanthropist, and creative director of my studio Somos Arte.
How did you get into licensing (or how did licensing find YOU😊)?
I created the superhero La Borinqueña and publish the series through my studio. After 5 years of publishing, our graphic novels are now part of the permanent collection at the Smithsonian National Museum of American History, taught at universities like Princeton, Columbia, Colgate, UPenn, and available in public libraries from New York City to Arizona. La Borinqueña has received mainstream news coverage by CNN, NBC, FOX, ABC, BuzzFeed, Now This, Entertainment Weekly, The New York Times, and The Washington Post. We have been making our merchandise from posters to vinyl figures, and realized we could better with licensing, so we approached Boss Fight Studios about a possible collaboration and they introduced us to their licensing agency Fangirl Licensing, who now represent us.
What's a "typical" day in your current position?
After taking my son to school with my wife and business partner Kyung Jeon-Miranda we'll sit together and go over emails, contracts, and proposals for projects we are working on. After the morning, she'll either go to her studio to paint and do more administrative work as our studio's Business Director or our philanthropic project the La Borinqueña Grants Program which provides grants to nonprofits in Puerto Rico. I'll spend the rest of the afternoon at my office working on scripts, reviewing new art from our illustrators, giving virtual talks for the PEN/Faulkner Foundation that also purchases my graphic novels for children in public schools throughout Washington D.C., or working on graphic designs for many of our clients.
What's your biggest personal and professional accomplishment?
I personally feel that my two sons and wife have a close relationship with each other because we work from home. Kyung and I will alternate nights cooking dinner and we always sit around the table during our meal to listen to how everyone's day went. Professionally, I feel that creating La Borinqueña has given me a vehicle and platform to speak on behalf of Puerto Rico, climate change, social justice, and engaging the public with the concept of philanthropy. You don't have to be wealthy to give back and make a difference. You can help others by emulating our model that provides consumers with a product that is directly connected to charity and making the lives of others better.
What are the most significant trends or changes that you've seen in the business in recent years?
Since 2020, we are seeing a movement for mainstream media and corporations to recognize the need for diversity. According to University of Georgia's Selig Center for Economic Growth Multicultural Economy report and based on data provided by the U.S. Census Bureau estimates that "the buying power for African American, Asian American and Native American consumers, has exploded over the past 30 years, up from $458 billion in 1990 to $3 trillion in 2020.  In addition to increasing sheer size, their combined share of the nation's total buying power increased from 10.6% in 1990 to 17.2% in 2020." Therefore there is a need to find licensed properties like La Borinqueña that reflect these new numbers and demographics.
What keeps you up at night? What's your biggest challenge these days?
Before bed, my mind will race with various thoughts around storylines that I'm developing for La Borinqueña and professional collaborations that will help expand the impact of my brand for consumers and philanthropy. I'm venturing into a whole new world of uncharted waters where I'm looking to expand my business and looking for partners that will not only invest in me but in my vision for charity work.
What is the best piece of advice you ever received? OR What is your favorite quote?
Stan Lee wrote in Amazing Fantasy #15 (1962) that "with great power there must also come – great responsibility." I've lived by this all my life, from when I was a teacher, community organizer, through my life today as a father, husband, storyteller, philanthropist, and entrepreneur. We all have to recognize the power that we have to make a difference in our lives and in those of others. It's our responsibility to humanity, to nature, and our planet to be better and do better.
What is your favorite licensing deal of all time? (doesn't have to be one that was signed by you)
The best licensing deal was negotiated by George Lucas. When he shopped his script for Star Wars, many studios rejected him, but when he finally did sign a deal he did so on the condition that he would retain the rights to license his intellectual property for merchandising. Over 40 years later this example still makes an impact in the industry and that inspires me as well. I'm hoping that our licensing deals with La Borinqueña open us up to incredible collaborations and growth for our business and philanthropic model.
THE 2021 PEOPLE PROFILE SERIES IS BROUGHT TO YOU BY MYMEDIABOX

MyMediaBox is the leader in providing online solutions that streamline every stage in the brand licensing lifecycle, from contract management and rights tracking, through style guide delivery, product approvals, security tag management and royalty reporting. With over 54,000 global professionals logging in from 125+ countries, Mediabox is by far the world's most thoroughly tested and widely trusted licensing software.