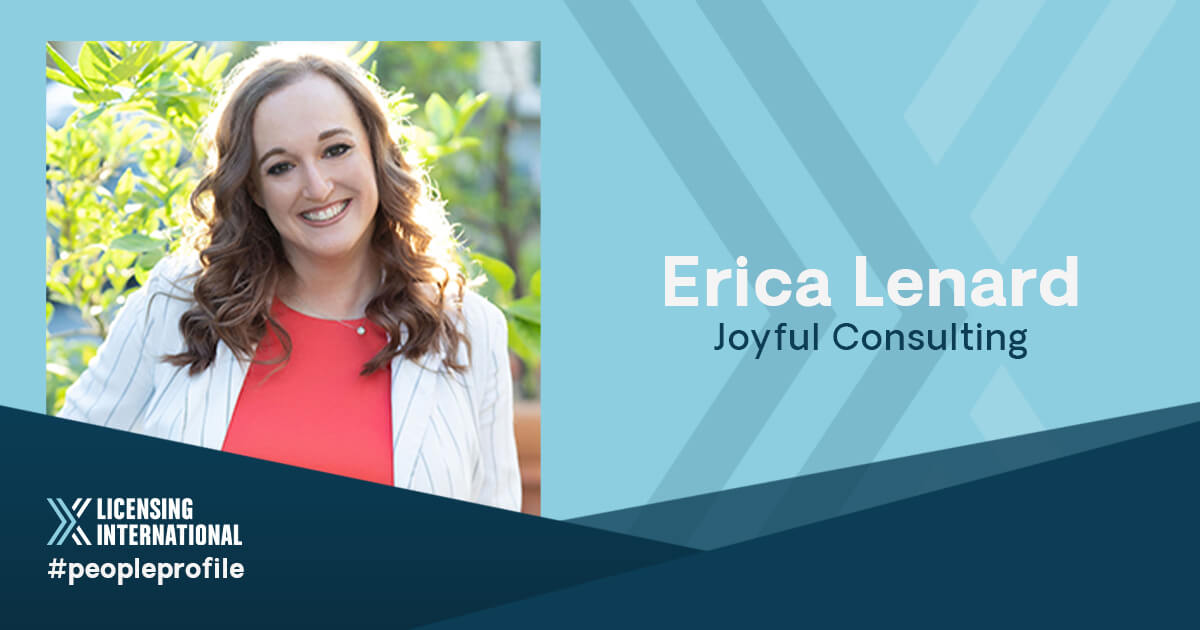 People Profile: Erica Joy Lenard, Founder – Joyful Consulting
The global licensing community is powered by an incredible group of professionals whose diverse backgrounds and creative energy drive innovation and excellence. Each week we're profiling one of these professionals in this ongoing series.
How did you get into licensing (or how did licensing find YOU😊)?
Half of my career was leading Integrated or Ad Sales Marketing initiatives for large-scale media companies.  This introduced me to various industries, brands, and intellectual properties.  The relationships I gained from those experiences paid off. I was welcome into the brand management side of the business at Mattel where I led content strategy for their owned IP and licensed properties like DC Comics, Jurassic World, and Minecraft.  From there I was hooked.  Building/growing Omni Entertainment Franchises was my passion!
What's a "typical" day in your current position?
Currently, I am consulting for a growing retailer/experiential company – part toy store, part activity destination that delivers immersive fun for the whole family. My day-to-day has been to develop and execute marketing campaigns for their ticketed experiences hosted in various store locations from NYC to Dallas to Boston as well as look ahead at supporting their strategic partnerships, national store expansion, and overall brand awareness.  I hope to also help with in- and -out-licensing partnerships in the near future.
What's your biggest personal and professional accomplishment?

Personal:  Becoming a mother, as cliche as this might sound, is by far the best accomplishment.  As a mom to twin 7-year old boys, I have the opportunity to try to provide the tools for them to thrive while staying fun, loving, supportive, and caring. They are teaching me more about myself than anything else ever has or will.
Professional:  After spending most of my 20+ year career working within media companies, I was challenged by unpredictable circumstances to venture out on my own and began consulting.  This chapter has been incredibly validating, rewarding, and educational as I have honed in on the specific areas of work and industries that inspire, excite and drive me the most!
What are the most significant trends or changes that you've seen in the business in recent years?
There are 2 – The ever-evolving digital world (rise of metaverse & NFTs) as well as mega-mergers.  Both of these are changing the landscape for businesses at every level.
What keeps you up at night? What's your biggest challenge these days?
"Opportunity" keeps me up at night.  I am motivated by potential.  That said, there are a lot of challenges that come with seeing full potential realized.  From budget constraints to constant innovation to competition to speed-to-market, grabbing hold of opportunities to fulfill potential can be marred with tremendous roadblocks that are difficult, and often frustrating to surmount.
In your opinion, what is the top skill every licensing executive should have in order to succeed?
Resilience.  This industry is difficult and filled with doubt, rejection, and detours.  If you can learn from and overcome those setbacks, you can thrive!
What is the best piece of advice you ever received? OR What is your favorite quote?
"Trust your instincts and follow your heart" – my first career mentor saw that my instincts were on point and I should listen to them when it comes to making decisions, achieving work/life balance, and prospering in my career.
What is your favorite licensing deal of all time? (doesn't have to be one that was signed by you)
Frankly, almost anyone who gets the chance to be a Disney licensee.  Most licensees reap incredible benefits when licensing Disney IP despite their tough rev share percentages.  They are, after all, the kings of Omni Entertainment Franchises with top IP such as Mickey & Friends, Winnie the Pooh, Marvel, Star Wars, and Disney Princess. The fandoms of all ages are massive, highly engaged, and consumer products, and experiences are increasingly innovative with new collaborations that are so fresh!
If you weren't in licensing, what would you be doing now?
My original dream was the be a teacher.  I have always held a soft spot for working with and educating children.  If not a teacher, definitely contribute to education in some way through entertainment.  I had dreams of working for Sesame Street early in my career.