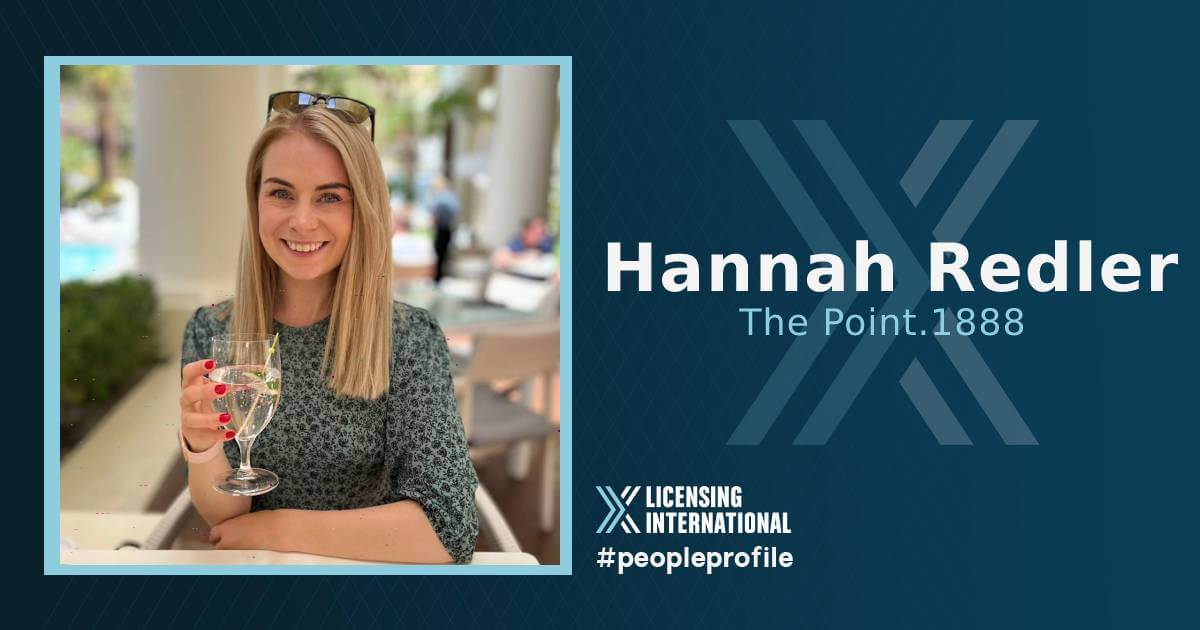 People Profile: Hannah Redler, Director of Retail and Sport at The Point.1888
The global licensing community is powered by an incredible group of professionals whose diverse backgrounds and creative energy drive innovation and excellence. Each week we're profiling one of these professionals in this ongoing series.
How did you get into licensing (or how did licensing find you)?
I was very lucky to find licensing through a placement whilst studying in my second year at university. I undertook an eight-week placement at CPLG in the sports team, and fell in love with the industry from there. So much so that I almost didn't go back for my third year—but I did and following completion of my degree I joined the industry full-time! For the last 10 years I've made it my mission to ensure I can give back, and thus I go back to my university every year to hold talks on this amazing industry, and encourage graduates to join us in the world of licensing! I also mentor both externally and internally at The Point and have recently joined the Licensing International Rising Star Committee, which is all hugely rewarding! 
What's a "typical" day in your current position?
Every day is different, which is why I absolutely love my job! I'm known for being an early bird, and my day starts anytime from 5:30am with a workout and then the strongest coffee I can find! The working day then kicks off with a few catch-up emails, some calls or WhatsApp's with my amazing team, followed by catch-ups with various board members. I am then full-swing into zooms/emails/pitches with various retailers, brand owners, and licensees. There are, however, in this post-pandemic world, many more days out seeing real humans which I absolutely LOVE! I always aim for a 5:30 finish, to spend time with my husband and head out for an evening walk.
What's your biggest personal and professional accomplishment?
From a personal perspective, I've recently got married (hence the name change from Stevens to Redler—Hi everyone! 😊)! From a professional perspective, my phenomenal boss Bethan Garton and our CEO Will Stewart promoted me to director at Christmas, just shortly before my 30th birthday. I also feel particularly proud of The Point and being part of the incredible growth we have had as a business makes me very proud.
In your opinion, what is the top skill every licensing executive should have in order to succeed?
This sounds incredibly cliché but being a clear, positive, and approachable team player. One of the things I love about The Point.1888 is how un-hierarchical the company is. Every voice is incredibly valuable, and we pride ourselves on doing everything as a team. There is something to be learnt from everyone around you throughout your career—No one has all the answers, and you may find your colleague has that magic formula!
What is your favorite licensing deal of all time? (It doesn't have to be one that was signed by you.)
For me, I would say a DTR deal I worked on two years ago right in the midst of the pandemic. I worked with M&S and our licensor Battersea Dogs & Cats Home on a full-scale homewares and gifting range launching in-store October 2020. This was a true three-part partnership between The Point.1888 team, Battersea, and M&S—right in the midst of furlough, shipping delays, retailer closures, factory closures, and enormous uncertainty on how the world and customers would return. When shops reopened and the range launched it couldn't have been more beautiful or have had a better customer reaction. On top of this, the collection raised great funds for the charity—I feel particularly proud of it all coming together!
If you weren't in licensing, what would you be doing now?
I think had I not been lucky enough to find licensing, I likely would have pursued lecturing or a route into education. I get a small snippet of how rewarding it can be on my journeys back to guest lecture and run seminars, so this would likely have been where I would have aimed for!