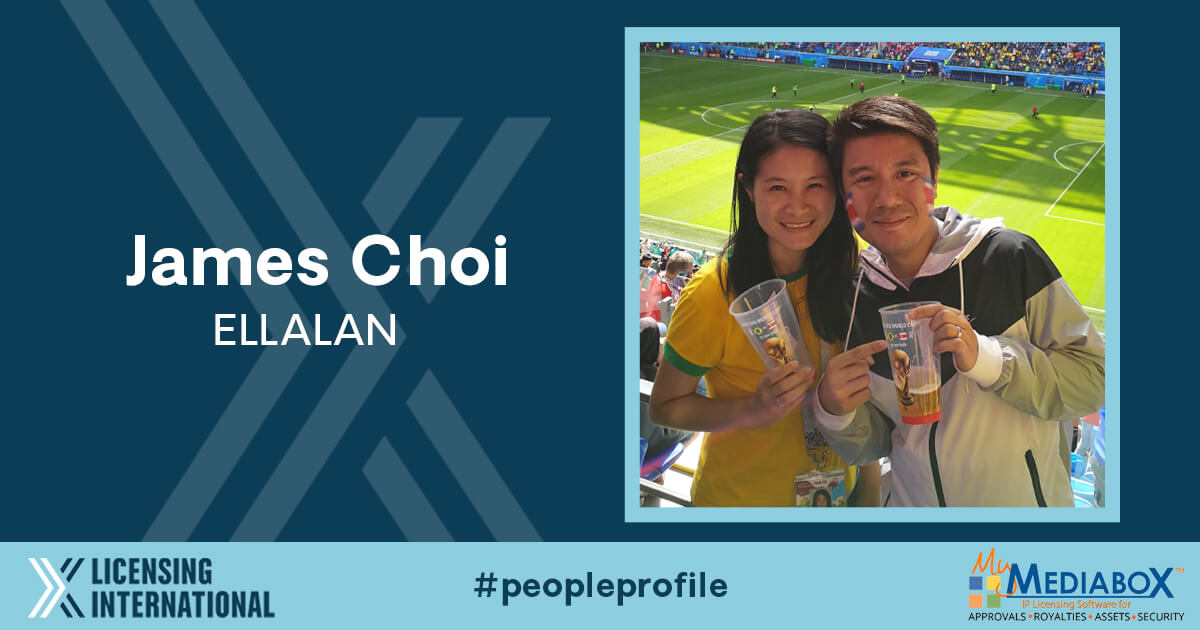 People Profile: James Choi, Senior Associate, ELLALAN
The global licensing community is powered by an incredible group of professionals whose diverse backgrounds and creative energy drive innovation and excellence. This week we're profiling one of 2021 Rising Stars in this ongoing series developed in partnership with MyMediaBox.
How did you get into licensing (or how did licensing find YOU😊)?
I started off as an IP lawyer so I have the chance to serve a lot of brands in advising and enforcing their IP rights in Hong Kong and Mainland China. My first proper licensing client is actually one of Hong Kong's six registered copyright licensing bodies – Hong Kong Recording Industry Alliance, where I enforced against unauthorized commercial users of client's sound recordings and ensure they do obtain proper license for doing so. From then on, I have been handling all sorts of licensing-related disputes as well as advising on licensing matters.
What's your biggest personal and professional accomplishment?
My biggest personal accomplishment is that I have little regrets in life so far. My wife and I also gave birth to our first daughter, Alex, last December which I also see as a great personal accomplishment.
My biggest professional accomplishment is to have joined my current firm ELLALAN when it was first founded in 2016, and be able to contribute to its development from a 15 people IP specialist law firm to a 50+ people full legal service group with presence in Hong Kong, Beijing and Guangzhou. The expansion was incredible for a professional practice, especially when taking into account the social circumstance and global pandemic.
What are the most significant trends or changes that you've seen in the business in recent years?
Businesses are definitely a lot more aware in the Greater China Region about the importance of protecting, commercializing and avoiding from infringing IP rights. Businesses are also more aware of the potential legal issues arising from derivative IPs created from licensing arrangements.
What keeps you up at night? What's your biggest challenge these days?
The short term challenge is definitely the number of contentious IP matters that my team is handling at the moment, but when things quiet down at night, I do think about how to make sure I can keep abreast of all that is happening with IP and licensing worldwide so that our Greater China practice can in the long run benefit from the vibrant commercial activities taking place in this part of the world. In addition to that, I also think about how I can help developing and maintaining a capable, trusting, positive and proud legal team, because our service is only as good as the team we assemble.
What is the best piece of advice you ever received? OR What is your favorite quote?
"All good things are worth waiting for". Time, persistence and patience is the absolute key to building the bigger things in life, such as career and relationships.
What is your favorite licensing deal of all time? (doesn't have to be one that was signed by you)
Pokémon Go has to be one of my favorites. It went global and absolutely crazy, I still remember seeing a huge crowd running in the park to try and catch this rare Pokémon! Until this day, I still see people on the streets being obsessed with the game, an absolute game changer!
The last licensed product I bought was…
A Phoenix Suns NBA New Era 59Fifty Snapback.
THE 2021 PEOPLE PROFILE SERIES IS BROUGHT TO YOU BY MYMEDIABOX

MyMediaBox is the leader in providing online solutions that streamline every stage in the brand licensing lifecycle, from contract management and rights tracking, through style guide delivery, product approvals, security tag management and royalty reporting. With over 54,000 global professionals logging in from 125+ countries, Mediabox is by far the world's most thoroughly tested and widely trusted licensing software.