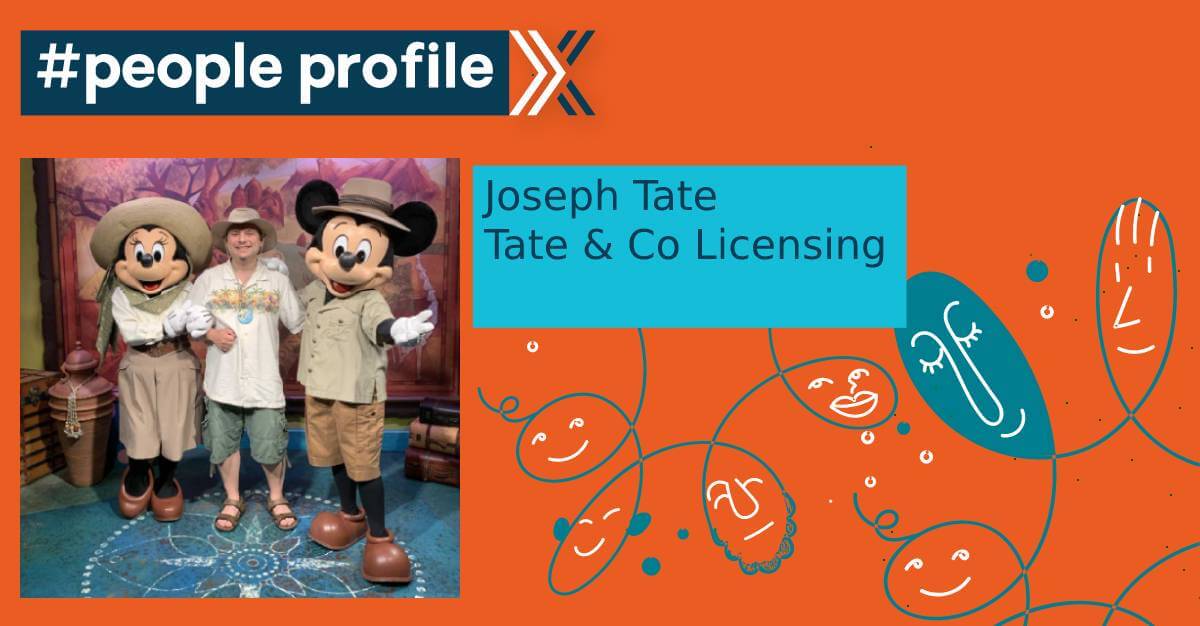 People Profile: Joseph Tate, President and CEO of Tate & Co Licensing
The global licensing community is powered by an incredible group of professionals whose diverse backgrounds and creative energy drive innovation and excellence. Each week we're profiling one of these professionals in this ongoing series.
How did you get into the licensing business, or how did licensing find you?
I don't know anyone in this field who set out to be a licensing agent. It's such an oddly specific job that you kind of just fall into it—I come from an online retail background. In 2004, I founded Fairy Glen, an online retail company focused on the retail sale of fantasy gifts (fairies, dragons, mermaids, etc). Within a year of starting that company we were one of the largest online retailers of those products in the world. We quickly became the top customer for most of our vendors and over time they started asking us what designs we wanted them to make. At the same time, we were selling artwork that we were buying directly from artists and they were asking us to help them get their art made into gift items (mostly figurines and statues). Around 2007 we started putting those two things together and handled the licensing for those artists and products.
What's a "typical" day like in your current position?
I have the pleasure of working from home in this job. After I get my kids to the school bus, I can start my day. I'll usually have 2-3 scheduled zoom meetings during the day, evenly split between prospective licensing partners and existing ones. I also answer a lot of emails every day. To most people it must look like I just sit here all day, but I really am quite busy!
What is your biggest personal or professional accomplishment? 
I have a lot of deals and accomplishments that I'm proud of, but I think the thing that excites me the most is finding our products in a store. For example, if we're on vacation or just out shopping, I'll specifically seek out stores in the area that may carry our products and see how many I can find. I'll often take pictures and send them to the artists. It's a lot of fun to see things that wouldn't exist if I didn't help make them happen.
What are the most significant trends or changes that you've seen in the business in recent years?
We are an art licensing agency that focuses on fantasy artwork. When I started doing licensing, fantasy was considered a category that people didn't want to work with. They thought it was too much of a risk, or didn't understand who the buyer was for these products. I would have to convince nearly every new partner that fantasy is not a niche category. It's probably the most popular category if you include the likes of Disney, Pokémon, Marvel, and Harry Potter. But manufacturers do now want to work with fantasy art and artists and the last few years have really been huge for our company!
What keeps you up at night? What's your biggest challenge?
I have pretty close relationships with our artists and I know this is their life's work. What I do helps them take care of their families and get their artwork out to the rest of the world. So, making sure we're doing the best possible job for every artist and brand we work with is probably the number one thing I worry about.
In your opinion what is the top skill every licensing executive should have in order to succeed? 
Perseverance. The ability to be told "no" a hundred times for every "yes" you receive. That's hard, it can really bring people down. With many of our top licensors, it took me years of work getting them to bring us on board. We had to build up that relationship to the point where they trusted or liked me enough (or just wanted to shut me up!) to try out some of our artwork. Never give up!
What's the best piece of advice you've ever received or what's your favorite quote? 
This is an easy question from my former job running a retail company. That advice was, "make your money on the purchase, not on the sale." I always worked out discounts, used a payment method that got money back, or found some way to improve my margin when stocking my store.
If you weren't in Licensing, what would you be doing now?
I'd probably still be running our former online retail store, FairyGlen.com. Even though the hours were long and retail customer service can take a lot out of you, I really enjoyed following the trends and helping people decorate their homes with products they love.