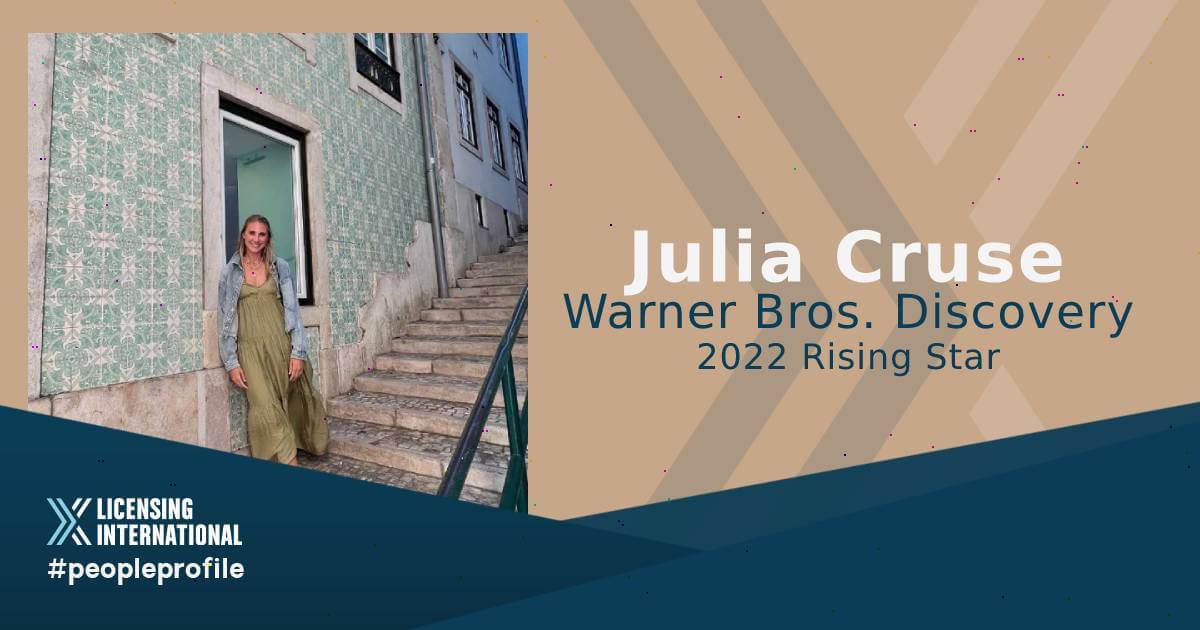 People Profile: Julia Cruse, Senior Manager of Consumer Products Licensing at Warner Bros. Discovery
The global licensing community is powered by an incredible group of professionals whose diverse backgrounds and creative energy drive innovation and excellence. We profile one of these professionals each week, and in this special edition of the People Profile series we are introducing one of the 2022 Rising Stars Award recipients to shine a spotlight on their success.
How did you get into licensing (or how did licensing find you)?
I studied creative writing in college and had internships in journalism and marketing—I was looking for an industry that appealed to my creative side and was collaborative. I was fortunate to have the opportunity to temp at Peanuts Worldwide the summer after graduating and transitioned to a full-time coordinator position after three months. I was able to learn the fundamentals of licensing at Peanuts and gained exposure to multiple product categories and divisions.
What's a "typical" day in your current position?
Every day is different and that is what I love the most. I currently work across multiple brands and categories, so I tend to wear many different hats throughout the day. My time is spent largely on building brand strategies and creative development, pitching and negotiating new business, and servicing and managing licensees. My favorite parts of each day are time spent in product development meetings with licensees and pitching new programs.
What's your biggest personal or professional accomplishment?
Professionally, I am very proud of two big launches this year for our lifestyle brands. HGTV Home Collection by National Tree Company is the first seasonal décor license for the brand with over 300 holiday products across eight trend collections, supported by custom editorial advertising and marketing elements. The second is the launch of our first talent-driven lifestyle brand, Girl Meets Farm by Molly Yeh, a kitchenware program at Macy's. Bringing these two programs to life from idea conception to retail launch and getting to work and build relationships with the many cross-functional stakeholders along the way has been incredibly rewarding.
What keeps you up at night? What's your biggest challenge these days?
Launching new brands and categories in the current retail environment, with concerns ranging from shrinking shelf space in stores and high inventory levels to inflation and a potential recession looming. We have been hyper-focused on ensuring a strong go-to-market strategy with the right mix of marketing and advertising to reach our target audience and build awareness for new programs.
In your opinion, what is the top skill every licensing executive should have in order to succeed?
Adaptability. In my relatively short career in licensing, I have already seen vast change within my own company and the larger industry. I admire executives who can take change in stride—constantly adjusting, reacting, and embracing the things we cannot actively plan for.
What's the best piece of advice you've ever received, or what's your favorite quote?
The advice I always think back on is to be comfortable in the uncomfortable. Being level-headed and authentic while navigating difficult conversations, negotiations, and adverse situations.
What is your favorite licensing deal of all time? (It doesn't have to be one that was signed by you.)
My eyes will always light up when I see Peanuts fashion collabs, including Marc Jacobs, Gucci, and Goyard.
If you weren't in licensing, what would you be doing now?
Something that still satisfies my creative itch. My mom, grandmother, and aunts have passed down a strong love of cooking to me and that is a big part of my day-to-day routine, albeit rarely using a recipe and sometimes quite haphazardly! It would be fun to see my potential in that industry with a proper culinary education.
The Rising Stars Award recognizes the next generation of leaders around the world for their commitment, passion, and contributions to their company and the licensing industry. For the first time, the Rising Stars will be recognized and celebrated at the Hall of Fame Gala Luncheon in New York City on December 7th, 2022