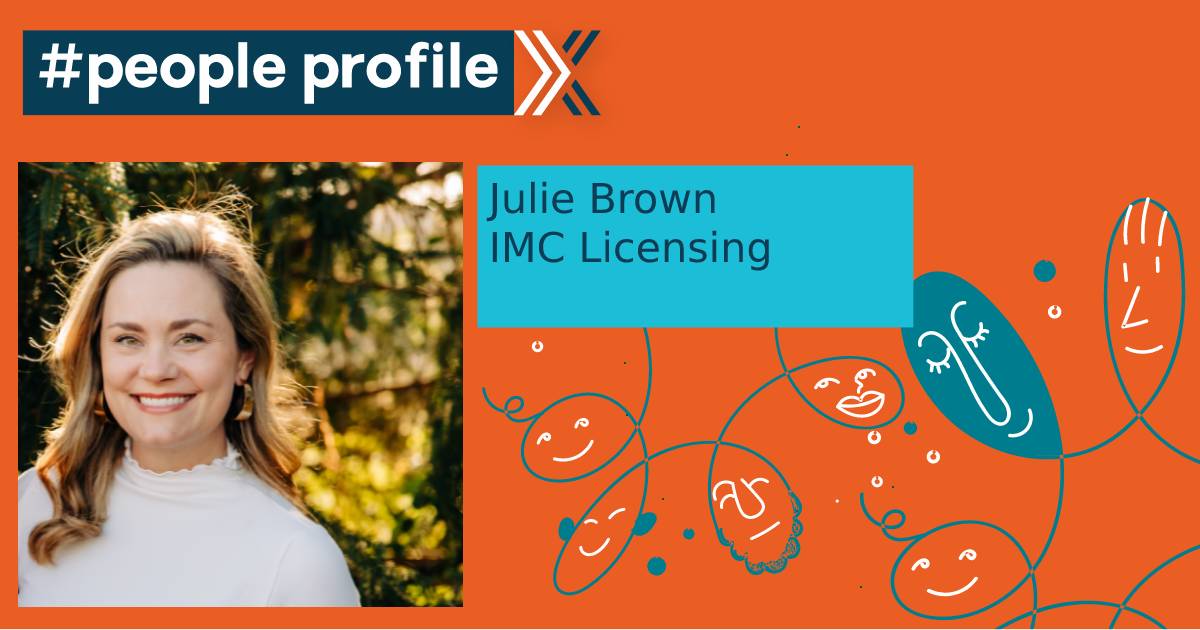 People Profile: Julie Brown, Senior Vice President of IMC Licensing
The global licensing community is powered by an incredible group of professionals whose diverse backgrounds and creative energy drive innovation and excellence. Each week we're profiling one of these professionals in this ongoing series.
How did you get into licensing (or how did licensing find you)?
I found licensing! Initially, I was working in marketing and business development roles for professional services firms, but I found myself craving more long-term client interactions. I became interested in account service and brand management and was referred to IMC by a mentor. At first, I knew nothing about licensing, but when I met with the team members there, I knew it was the perfect fit for me. There was a cultural connection that I felt right away, and I started soon after in an account management role working with the agency's largest client.
What's a "typical" day in your current position?
Honestly, I don't think there is such a thing as a "typical" day in licensing, especially for an agent like me, and that's what makes it so exciting! On any given day, I could be doing anything from meeting with a client and licensee to discussing beef jerky displays, to revising quality processes for household chemicals, to brainstorming ideas for an apparel program. Besides client work, I also manage many functional areas within IMC, including reporting to the IMC board and overseeing general agency operations. However, what I'm most passionate about is any time I get to interact with clients. Whether it's strategizing, collaborating, or simply catching up, that's when I feel most fulfilled in my role.
What's your biggest personal and professional accomplishment?
My biggest personal accomplishment would have to be my kids. Watching them grow into their own unique personalities and pursue their passions brings me immense joy and fulfillment. As for my biggest professional accomplishment, I would have to say becoming Senior Vice President of our agency about a year and a half ago. Since then, I've been overseeing all client relationships and operations for the agency, and I'm proud of how I've been able to put my own stamp on the culture and operations. It's been a challenging but rewarding experience, and I'm excited to see where it takes me and the agency in the future.
What are the most significant trends or changes that you've seen in the business in recent years?
Sustainability! My agency primarily works with consumer packaged goods categories, but we've also started working on apparel partnerships. Across all of these categories, from product development to packaging to sampling requirements, sustainability has become a top priority for both clients and consumers alike. It's exciting to see the industry shift towards more environmentally-conscious practices and products, and I think it will only continue to grow in importance in the years to come.
What keeps you up at night? What's your biggest challenge these days?
To be honest, there are many things that keep me up at night, and I'm not the best sleeper. Most of the time, it's the little details that weigh on my mind because I manage many different aspects of our agency. However, the overarching challenge that I'm most focused on is ensuring that our agency is growing in a smart and sustainable way. This means making sure that we're taking on the right new client relationships and growing our team in a way that's appropriate and aligned with our values and culture. It's a complex and ever-evolving challenge, but one that I'm committed to tackling head-on.
In your opinion, what is the top skill every licensing executive should have in order to succeed?
In my opinion, the top skill that every licensing executive should have is emotional intelligence. The licensing industry is heavily reliant on relationships, and being able to connect with clients on a personal level, understand their needs and concerns, and help solve any barriers is crucial for success. Being able to read people, communicate effectively, and navigate challenging situations with tact and grace is a key component of emotional intelligence, and it's something that can set successful licensing executives apart from the rest. Ultimately, it's all about building trust, fostering strong partnerships, and delivering results for both clients and licensors alike.
What is the best piece of advice you ever received? Or what is your favorite quote?
"Organization is the key to success." My 7th grade science teacher said that.
What is your favorite licensing deal of all time? (It doesn't have to be one that was signed by you.)
My favorite licensing deal of all time is the Tabasco Slot Machine. Although the deal was executed before my time at the agency, I love how it came to be based on insights about the consumer's propensity for risk. It's a perfect example of how licensing can bring together two seemingly unrelated industries to create something memorable. Plus, who doesn't love a little bit of spice and excitement? It's deals like this that show the true potential of licensing and how it can be used to create innovative and unexpected products that resonate with consumers.
If you weren't in licensing, what would you be doing now?
If I wasn't in licensing, I would probably be running a bakery and coffee shop with my husband. We've always joked about it, with him as the barista and me as the pastry chef. I've always had a passion for baking, and being able to create delicious treats and share them with others brings me a lot of joy. Plus, there's something special about owning your own business and being able to build a community around it. While I love my work in licensing, I can definitely see the appeal of running a cozy little cafe where people can come to relax, chat, and enjoy some delicious food and drinks.