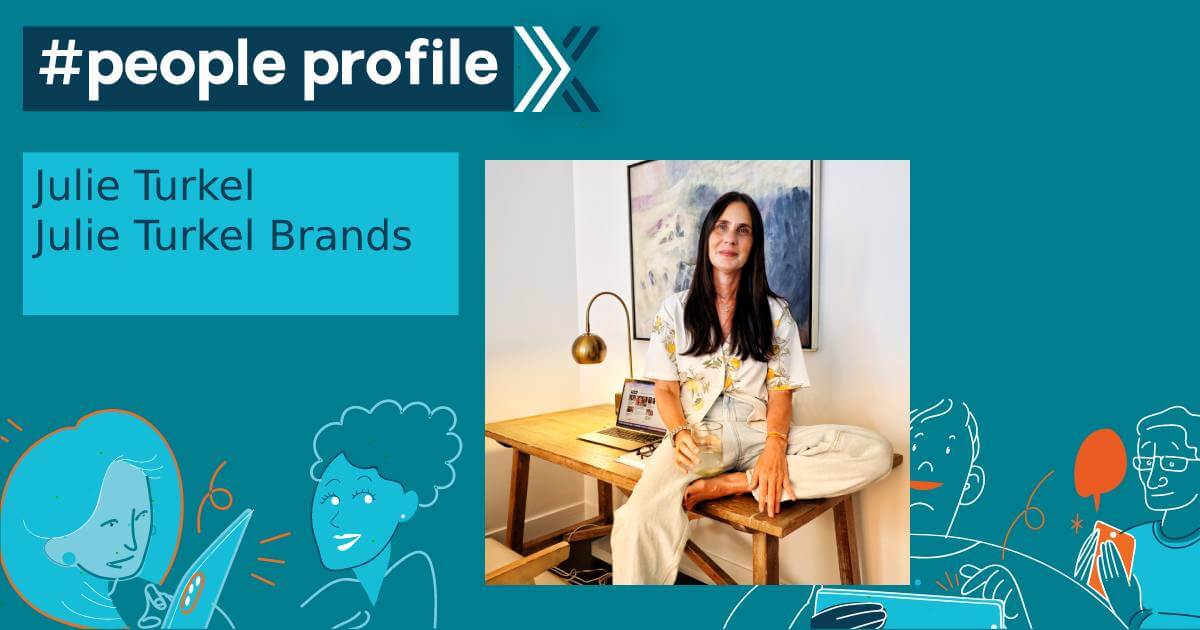 People Profile: Julie Turkel, Founder of Ripe Ideas (DBA Julie Turkel Brands)
The global licensing community is powered by an incredible group of professionals whose diverse backgrounds and creative energy drive innovation and excellence. Each week we're profiling one of these professionals in this ongoing series.
How did you get into licensing (or how did licensing find you)?
I was in graduate school at Columbia University and one of my classmates created the children's show Blues Clues for Nickelodeon. I thought that seemed like the coolest job ever, so I decided to interview for several positions at Nickelodeon. I happened to really click with one of the senior executives in the consumer products division, and that's how I (unintentionally) landed in the licensing business. I was at Nick for many years and then Discovery before I started my own boutique licensing business in 2001, focused on designer brands and media personalities.
What's a "typical" day in your current position?
I recently decided to start a membership platform called Licensing for Creators to support artists, influencers, and other creators who want to learn how the licensing business works. I'm spending time each day signing new members, writing content, and making plans for guest speakers to join the group virtually every month. In fact, if anyone reading this would like to join me as a speaker, hit me up!
I'm also working on a new partnership I have with an influencer agency to co-represent a few of their creators, so I'm finalizing contracts, meeting the influencer teams, and discussing strategies.  At the end of the day, I always take time to check product concept presentations and approvals between the brands I rep and the licensees. That's when I really light up about being in this business. It reminds me of why I do what I do.
What's your biggest personal and professional accomplishment?
I've kept my licensing agency alive and thriving for over 20 years, as well as my two daughters for 14 and 11 years, respectively.
What are the most significant trends or changes that you've seen in the business in recent years?
I gave a career day presentation at my daughter's middle school, and I explained licensing to them using examples of all of the streetwear brands that are licensing lately like Kith, Supreme, Adidas, and Nike. Streetwear brands and how they have helped revive so many corporate brands—like Kith and Cheerios or Supreme and Smarties—have given a whole new life and meaning to this industry (or at least they made me appear relevant for about two hours at my daughter's school).
In your opinion, what is the top skill every licensing executive should have in order to succeed?
I'm always fascinated by how different people I've met in this business come to success via different areas of strength. For me, my intuition and instincts when it comes to spotting brands or designers are my secret sauce.
What is the best piece of advice you ever received or what is your favorite quote?
I was listening to a podcast recently and Bethenny Frankel was talking about making decisions and she said something like, "If it isn't a HELL YES, it's a no." I have a hard time being decisive, especially as a solo act, so this quote is constantly in my head. It's another way of saying always trust your gut.
What is your favorite licensing deal of all time? (It doesn't have to be one that was signed by you.)
It's a toss between Louis Vuitton's collabs with Murakami, Stephen Sprouse, and Supreme, or Target and Liberty of London
If you weren't in licensing, what would you be doing now?
One of my colleagues at Nickelodeon and I read this book called Psychic New York, and we made appointments with various intuitive healers featured in the book. I have been obsessed with astrology, tarot—all of it—ever since. I think if I could have a career do-over, I would be some chic astrologer, using my intuition to guide people and businesses.