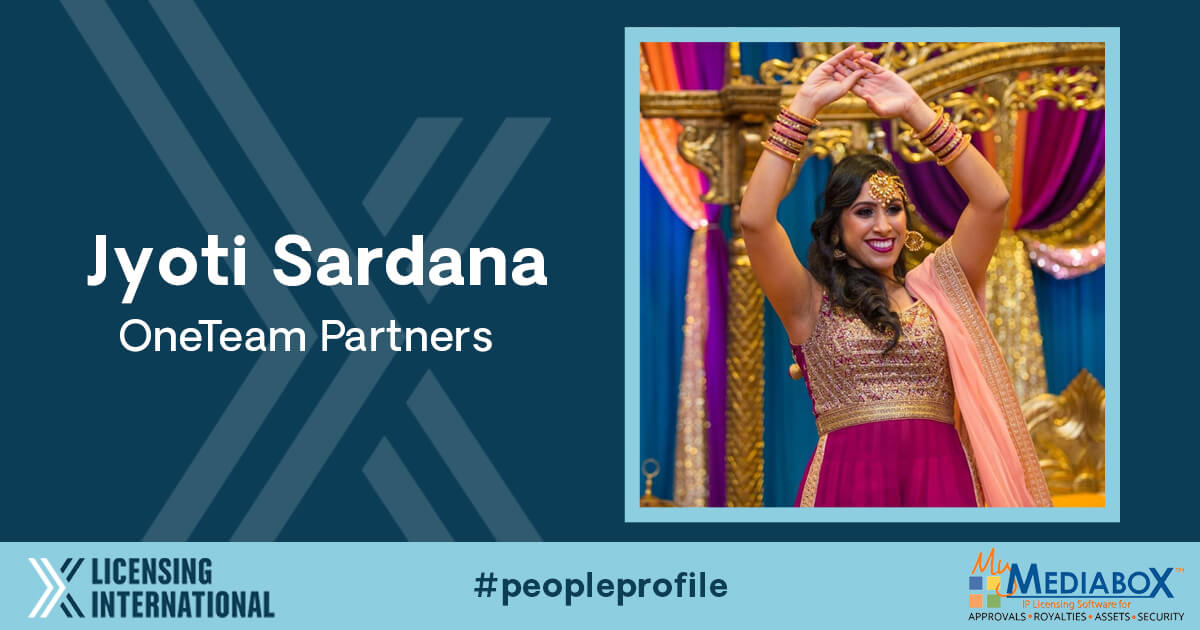 People Profile: Jyoti Sardana, Senior Manager Licensing Strategy & Operations, OneTeam Partners
The global licensing community is powered by an incredible group of professionals whose diverse backgrounds and creative energy drive innovation and excellence. This week we're profiling another of  our 2021 Rising Stars in this ongoing series developed in partnership with MyMediaBox.
How did you get into licensing (or how did licensing find YOU😊)?
Growing up in a house with 2 older brothers, I found myself in love with sports, football and basketball in particular. While attending University at Maryland for my MBA program, I realized that I wanted to fulfill my passion in sports. I ran into a classmate at the career center, explained my passion to her, and was quickly connected to an employee at NFLPA. After interviewing, I was offered a position as a Business Development Associate in the Licensing Department at NFLPA.
What's your biggest personal and professional accomplishment?
My biggest personal accomplishment is obtaining my MBA while working full time. Going back to University of Maryland for my masters was a dream come true. My biggest professional accomplishment is helping build OneTeam Partners. Being one of the first employees, I've been able to support with the growth of our company. It's been amazing to witness!
What are the most significant trends or changes that you've seen in the business in recent years?
NFTs – need I say more?! A couple of other significant trend that I'm seeing is the rise in trading cards and video games. These two trends have soared during the pandemic.
What keeps you up at night? What's your biggest challenge these days?
Recent events such as pandemic, violence, social injustice in this world. It can be very overwhelming at times. I do believe that the world is filled with good but it is definitely hard to see with everything that is happening in the world these days.
What is the best piece of advice you ever received? OR What is your favorite quote?
Education is something that no one can take away from you, something that you will have for the rest of your life. This inspired me to go back to school and get my MBA!
What is your favorite licensing deal of all time? (doesn't have to be one that was signed by you)
We signed a deal with U.S. Women's National Team Players Association and Funko. It's such an exciting time for female athletes. They're on their way (we still have a ways to go) to get the recognition that they finally deserve and I couldn't be more thrilled to work with companies that believe in these athletes.
The last licensed product I bought was…
a USWNTPA jersey for the Olympics! Go USA!
THE 2021 PEOPLE PROFILE SERIES IS BROUGHT TO YOU BY MYMEDIABOX

MyMediaBox is the leader in providing online solutions that streamline every stage in the brand licensing lifecycle, from contract management and rights tracking, through style guide delivery, product approvals, security tag management and royalty reporting. With over 54,000 global professionals logging in from 125+ countries, Mediabox is by far the world's most thoroughly tested and widely trusted licensing software.