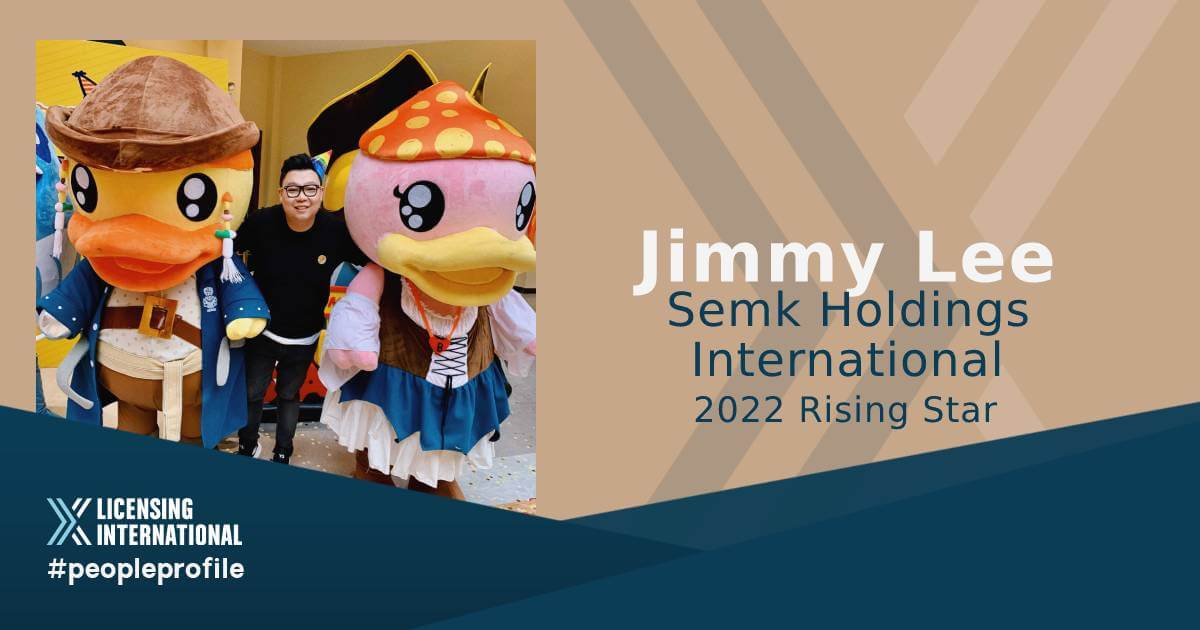 People Profile: Ka Ming Jimmy Lee, Licensing Director at Semk Holdings International
The global licensing community is powered by an incredible group of professionals whose diverse backgrounds and creative energy drive innovation and excellence. We profile one of these professionals each week, and in this special edition of the People Profile series we are introducing one of the 2022 Rising Stars Award recipients to shine a spotlight on their success.
How did you get into licensing (or how did licensing find you)?
I majored in strategic brand management for my Master's degree at the University of Hull and conducted research on Disney for my dissertation. When I returned to Hong Kong, I looked for jobs in IP licensing and joined Semk Holdings International Limited in 2017. I still believe I made the right decision for my career.
What's a "typical" day in your current position?
My "typical" day consists mainly of travel. China has a vast territory, making the Chinese market enormous. We have to learn a lot about, and adapt to, diverse local cultures in order to truly launch a location-based entertainment (LBE) project. I usually fly 50-60 times a year to different cities to make sure I get the latest industry information and to keep myself learning. Every day brings new challenges.
What's your biggest personal or professional accomplishment?
I am currently in charge of the LBE team of Semk. At the beginning, the team's main concentration was on launching mall events. Now, we have developed a number of F&B and cultural & tourism projects. The B.Duck theme park in Nanjing Happy Valley is, in my opinion, my greatest professional achievement. It was an amazing experience to watch a project grow from a simple concept to a 50,000-square-meter theme park.
What are the most significant trends or changes that you've seen in the business in recent years?
The entire offline consumption in the Chinese market has altered dramatically during the past two years. Some of our clients have either left the industry or entirely transformed their organizational structure due to the pandemic. As a result, we must change. By collaborating with our licensees, we are making adjustments to transform our conventional B2B licensing strategy into a B2C approach. By creating a licensing and organizing business model, we are currently attempting to be much more than just a licensor.
In your opinion, what is the top skill every licensing executive should have in order to succeed?
Communication skills! When you have a great concept, you must accurately define it and present a compelling narrative to the market. Although it might not seem tough, accurately expressing your thoughts and synchronizing the right image to clients is never simple.
What's the best piece of advice you've ever received, or what's your favorite quote?
"The only constant in life is change." Due to the pandemic, our industry is going through significant transformation and we are always working to overcome new obstacles. This phrase kind of comforts me. We just need new plans.
What is your favorite licensing deal of all time? (It doesn't have to be one that was signed by you.)
I'd say my favorite licensing deal is the B.Duck theme park in Nanjing Happy Valley. I put a lot of time and effort into the project over those two years and got a sense of accomplishment from that. It was the first B.Duck theme park and Semk's first cooperation with OCT Group. Through this collaboration, Semk and OCT Group were able to forge a longstanding strategic partnership. It also marked a significant turning point in my professional life.
The last licensed product I bought was…
I just bought a "MICKEY MOUSE x the BAPE" figure. It's kind of my habit and I actually have numerous comparable designer toys in my office. I pay close attention to pop culture and the entertainment industry, particularly at the level of co-branding, since we are also engaging with it.
 The Rising Stars Award recognizes the next generation of leaders around the world for their commitment, passion, and contributions to their company and the licensing industry. For the first time, the Rising Stars will be recognized and celebrated at the Hall of Fame Gala Luncheon in New York City on December 7th, 2022.