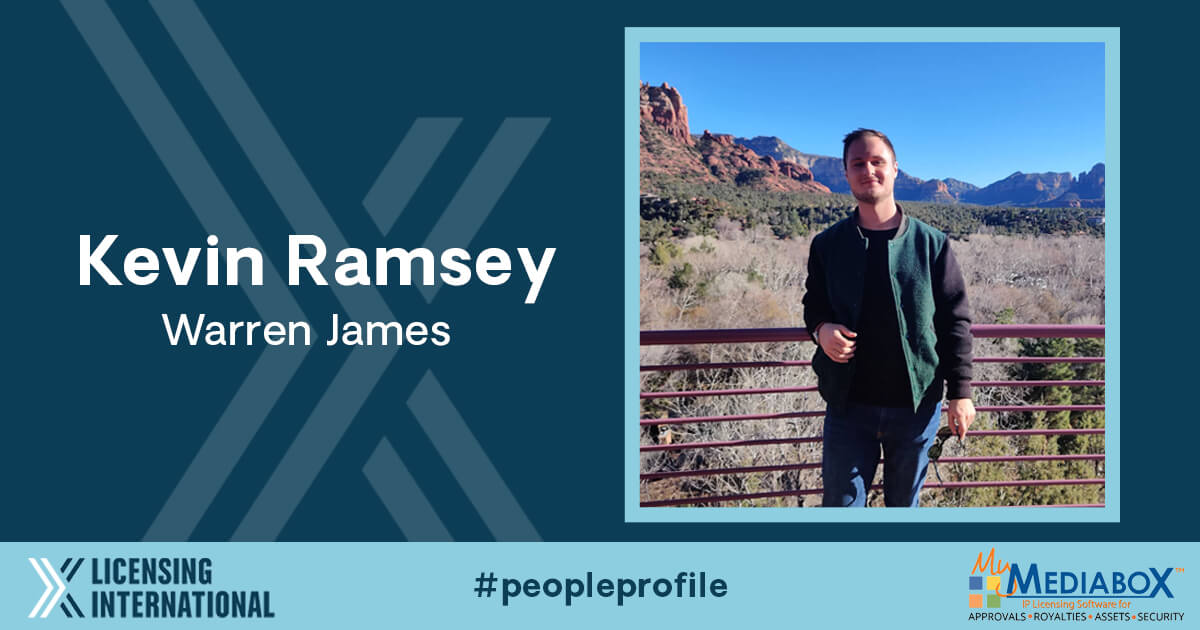 People Profile: Kevin Ramsey, CEO, Warren James
The global licensing community is powered by an incredible group of professionals whose diverse backgrounds and creative energy drive innovation and excellence. This week we're profiling another of  our 2021 Rising Stars in this ongoing series developed in partnership with MyMediaBox.
How did you get into licensing (or how did licensing find YOU😊)?
I was blessed to get my start in licensing during my 1st year working at Jazwares. I had just sold my 1st company, Hungercraft (a Hunger Games in Minecraft server network), and was asked to attend New York Toy Fair and Licensing Expo to talk through the power and relevance of gaming. Jazwares was managing the Minecraft toy line at retail and I was brought along to help educate buyers on the property and what it meant to the audience. It opened up my eyes to this industry and I've been involved ever since!
What's your biggest personal and professional accomplishment?
My greatest personal accomplishment was when I made it to the Pokemon Trading Card World Championships in 2004. I sadly didn't win it all but at least I got a trip to Disney World out of it! My biggest professional accomplishment happened this year when we launched our own 3PL Fulfillment Center in Guangzhou, China. It was in response to the craziness in the freight world and has allowed Warren James to ship orders directly to the customers.
What are the most significant trends or changes that you've seen in the business in recent years?
The most significant trend I have seen in recent years is the dramatic shift to direct-to-consumer. This shift was already taking place and then the pandemic added fuel to the fire. Even now when the world is getting back to a somewhat normal, we are seeing consumers stick with e-commerce purchasing because of the convenience, product variety, and habit.
What keeps you up at night? What's your biggest challenge these days?
Earlier this year, we invested in opening up our own prototyping and apparel factory in Guangzhou. This allows us to be entirely vertical with certain categories. Every step from designing, sampling, producing, packing, and shipping to the end customer is handled by a Warren James employee. One of my biggest focuses at the moment is continuing to verticalize our supply chain and bringing in new categories that we can produce in our facility.
What is the best piece of advice you ever received? OR What is your favorite quote?
The most impactful advice I have received is mastering the power of habits. There are some amazing books that cover this topic in detail like Atomic Habits and The Power of Habits. It boils down to understanding that everything you do from mannerisms in a sales meeting to fundamentally how you problem solve is made up of your habits. By focusing on the habit loop, you can break down why you do something a certain way and change the habit.
What is your favorite licensing deal of all time? (doesn't have to be one that was signed by you)
One of my favorite licensing deals of all time has to be the Call of Duty MW3 x Jeep Wrangler collaboration. It stands out to me because of how unexpected it is. At first glance it's confusing, but when you see the final product it makes total sense how it's amazing marketing for both brands and there is a shared audience.
The last licensed product I bought was…
The last licensed product I bought was a Supreme x Wilson tennis ball collaboration. I've always been so impressed by how Supreme consistently puts their own spin on some of the most unique categories out there.
THE 2021 PEOPLE PROFILE SERIES IS BROUGHT TO YOU BY MYMEDIABOX

MyMediaBox is the leader in providing online solutions that streamline every stage in the brand licensing lifecycle, from contract management and rights tracking, through style guide delivery, product approvals, security tag management and royalty reporting. With over 54,000 global professionals logging in from 125+ countries, Mediabox is by far the world's most thoroughly tested and widely trusted licensing software.