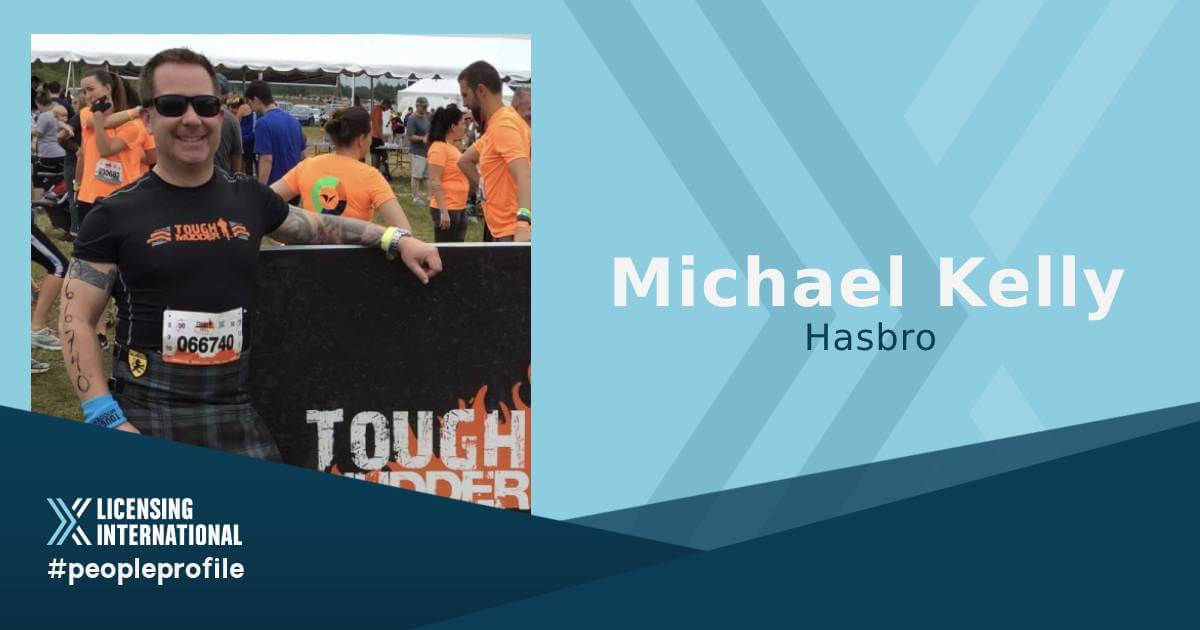 People Profile: Michael Kelly, VP of Global Publishing for Hasbro
The global licensing community is powered by an incredible group of professionals whose diverse backgrounds and creative energy drive innovation and excellence. Each week we're profiling one of these professionals in this ongoing series.
How did you get into licensing (or how did licensing find YOU)? 
I was working for a Boston-area publisher when I received a call from an old friend who was working at Hasbro. They were looking for someone to help grow the licensed publishing business, so I applied for the job and was hired. There's a natural link between working in a rights department and working for a licensor, so a lot of the skills were immediately transferable. Additionally, the publishing business tends to require a strong mix of both creative and business skills, which have served me well working in entertainment licensing. I started as a senior manager working on North American publishing, and helped grow both the business and the role to where I am today.
What's a "typical" day in your current position? 
One of my favorite parts of this job is that there really isn't a "typical day." On any given day I might be pitching a brand or idea to a publisher, negotiating a contract, reviewing and editing manuscripts and art, collaborating with brand teams, or brainstorming with studio creatives. And in the pre-Covid world I traveled a lot, between 80–100 days a year. Having teams and partners on virtually every continent, not to mention book fairs and trade shows, keeps one moving around quite a bit. I miss seeing colleagues and friends face-to-face, so looking forward to getting back to more travel as the situation evolves.
What's your biggest personal or professional accomplishment?
On a broad level, I'd say it is the growth of Hasbro's publishing business and team over the past several years. When I started at Hasbro, publishing wasn't particularly recognized for its contributions to content development and brand building. The team was a total of four people worldwide. Since taking on the leadership of Hasbro Publishing, we've seen a five-fold increase in our business, we publish over 1,000 books per year, and the team has grown into a global network of publishing professionals. And our work feeds a creative pipeline within Hasbro that had previously been untapped.
What keeps you up at night? What's your biggest challenge these days? 
The rising tide of censorship and book-banning around the world definitely keeps me up at night. Not only because books are my livelihood, but also because a world in which people can't choose what they want to read and when they want to read it doesn't sound like a particularly pleasant place. Without imagination and creativity, we can't grow much as a species, and reading and storytelling are such a big part of fostering both qualities. So, I'd say the biggest challenge now is ensuring that reading remains available to everyone.
In your opinion, what is the top skill every licensing executive should have in order to succeed? 
Curiosity. Consumers, markets, customs, and preferences are constantly evolving, and at an increasingly rapid pace. It's imperative now to keep one's eyes, ears, and—most importantly—mind open to new ideas and concepts. Often the best new ideas come from the most unlikely sources.
What's the best piece of advice you've ever received, or what's your favorite quote? 
"Aut inveniam viam, aut faciam," or, "I will find a way, or I will make one." As for advice, I'd say it was when someone told me, "If you can't find the job you want, create it."
What is your favorite licensing deal of all time? (It doesn't have to be one that was signed by you.)
Probably when Lucasfilm licensed action figures to Kenner back in the '70s, because Star Wars toys were such a huge part of my childhood and without a doubt had an influence on the direction of my career.
If you weren't in licensing, what would you be doing now?
Well, at the same time I was interviewing with Hasbro all those years ago, I was also interviewing with the CIA. So, who knows, maybe I'd have ended up as a spy if Hasbro hadn't made the offer? But these days it's far more likely that I'd be operating an independent bookstore in some seaside town, preferably one with a Lovecraftian appearance.