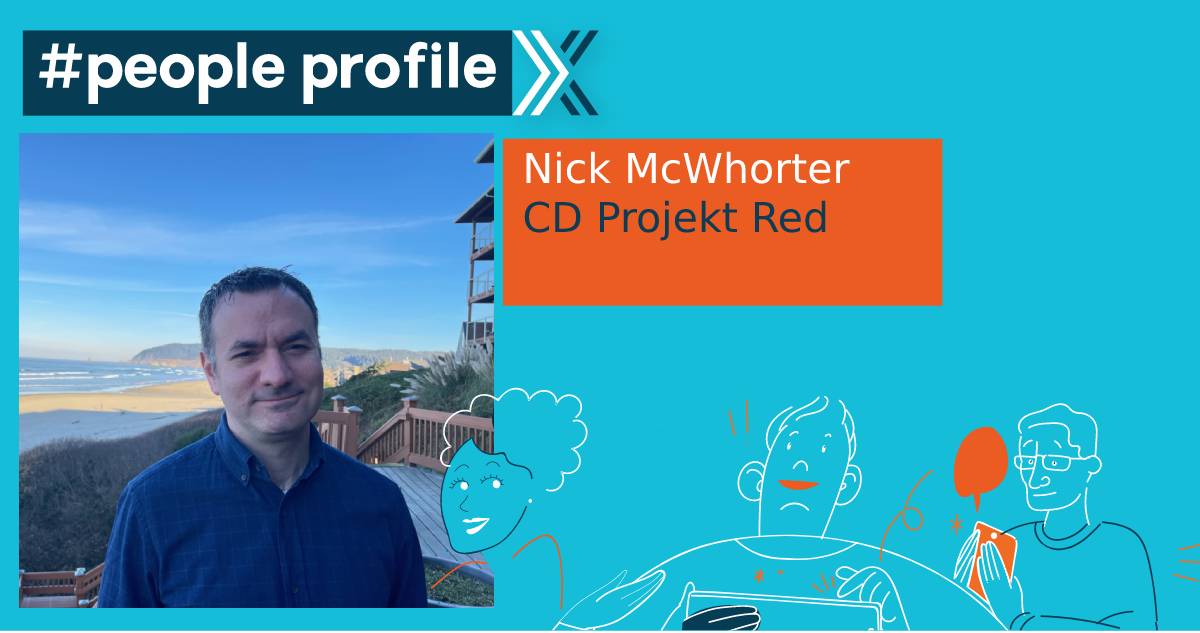 People Profile: Nick McWhorter, Director of Global Licensing for CD Projekt Red
The global licensing community is powered by an incredible group of professionals whose diverse backgrounds and creative energy drive innovation and excellence. Each week we're profiling one of these professionals in this ongoing series.
How did you get into licensing (or how did licensing find you)?
I began my licensing career when I joined the sales department at Dark Horse Comics. I eventually managed their custom publishing division, working on books and products for marketing campaigns and retail bundles. That led to managing all of their licensed merchandise programs, which allowed me to work on licensed IPs from film studios and video game developers. I got to play with a lot of toys in the toy box, including books on some of my childhood favorites like Masters of the Universe, Super Mario Brothers, and Legend of Zelda.
What's a "typical" day in your current position?
Being that I live on the west coast, but our HQ is in Warsaw, Poland, I usually start early in the morning on meetings with our teams in Europe across our legal and franchise groups. The rest of the day involves meetings and correspondence with licensees to update them on our franchises and grow our merchandise programs.
What's your biggest personal or professional accomplishment?
For a personal accomplishment, that would be raising my two children. That is a work in progress, so please check back with me in a few years for an update on how it turned out, haha!
Professionally, I would say it was building the publishing and merchandise program based on video game properties at Dark Horse Comics with their editorial, design, and product development teams. I was able to work on lines that helped grow the business significantly and helped develop their organization to one of the best-in-class licensees for gaming-related comics, art books, and collectibles.
What are the most significant trends or changes that you've seen in the business in recent years?
What has been most exciting is seeing media, gaming, and merchandise become a significant force in mainstream entertainment. As a kid of the '80s, Dungeons and Dragons, video games, and comic books were the kind of thing that you were quiet about or hid away as you matured. Now, we're in a golden age for this kind of content and merchandise, which is popular globally across all demographics. It's a real golden age for geeks like me! The challenge now is how to strategically engage fans with our IPs when there is so much content.
What keeps you up at night? What's your biggest challenge these days?
I think in the world of licensed merchandise, the retail marketplace is very difficult and unpredictable currently. Brick-and-mortar retailers, in particular, are so conservative with taking a position on entertainment properties, driving all of us to find innovative ways to engage our fans. The challenge is how to get the best product lines based off our IPs to our players through innovative retail programs and a combination of online, direct-to-consumer, and targeted mass market programs.
In your opinion, what is the top skill every licensing executive should have in order to succeed?
Developing strong, long-term relationships with your business partners based on mutual trust, growth, and success for all parties. This counts for all relationships, including licensees, retailers, and distributors. Knowing that you are working with partners that are striving towards all parties' respective benefit is the key to sustained business development overall.
What's the best piece of advice you've ever received, or what's your favorite quote?
Never get too high when something is successful or too low when something goes poorly. This is especially good advice in the world of entertainment because it is very hard to know just how projects will be received by the fanbase.
What is your favorite licensing deal of all time? (It doesn't have to be one that was signed by you.)
During my time at Dark Horse, the first licensed project we did with Nintendo was for Legend of Zelda with a book called Hyrule Historia. It was an art and lore book about all the games in the Zelda franchise up to that point. We were sure it would be popular, but the book actuals went all the way to #1 on Amazon and held that position for months. The book was so popular we had to keep finding new printers as each one was running out of paper to keep up with orders. This project really made us aware of just how mainstream gaming merchandise had become (this was 2013, by the way) and was a dream come true as a lifelong fan of Zelda.
If you weren't in licensing, what would you be doing now?
I've always really enjoyed history and would have liked to be a history teacher as an alternate career. I was actually considering going back to graduate school to study teaching at one point before the licensing career path took off.