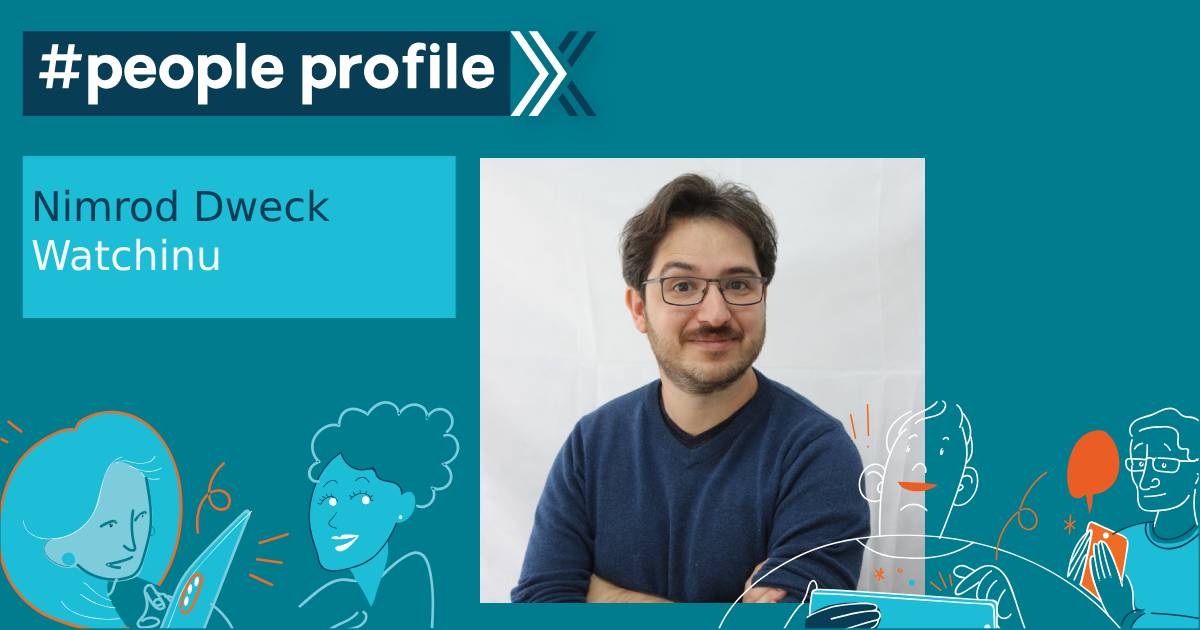 People Profile: Nimrod Dweck, VP Marketing & Brand Relations at Watchinu
The global licensing community is powered by an incredible group of professionals whose diverse backgrounds and creative energy drive innovation and excellence. Each week we're profiling one of these professionals in this ongoing series.
How did you get into licensing (or how did licensing find you)?
In my twenties I owned a record label focused on street culture—mostly Hip Hop and Punk Rock. My biggest inspiration was Wu-Tang-Clan and how the Wu Family brand was built, and eventually licensed. Following their example, we were the first label to introduce merchandise to the budding Israeli Hip Hop scene. We cultivated trust around the label's brand, so we could use it as a stamp of quality for music events, records, and more. This was probably my first real step in the world of licensing. But when I was a teen, I was (and still am) a huge fan of Dungeons and Dragons and I fantasized about working for Wizards of The Coast to create new products, events, and stories.
What's a "typical" day in your current position?
I'm currently part of Watchinu, the team that manufactures and markets Nickwatch, the Nickelodeon-branded children's smartwatch. The team consists of the most fun and talented group I know. On one hand we try to solve the challenges any startup faces—gaining awareness for our fantastic product, creating new deals with retailers and telecom companies, and pushing the direct-to-consumer online sales. On the other hand, every day we get to see how we can create great new experiences for children using our smartwatch and the brands we licensed.
What's your biggest personal or professional accomplishment?
It's really tempting to state a specific professional accomplishment. I worked with top brands, artists, and NPOs here in Israel, and was co-founder of several startups and NPOs. But I'm a big believer in work/life balance, and my biggest accomplishment is becoming a father to two beautiful daughters, taking paternity leave, and being an equal partner in raising my girls all while working on our product. Becoming a dad is something that gives me so much drive to do what I do, and it fills me with inspiration.
What are the most significant trends or changes that you've seen in the business in recent years?
Creator economy is the most significant change. Moving from mere influencers to actual creators who make their own brands, garner trust and followers, and use it to create their own merchandise and build a license around them is utterly amazing. I have friends who built an ecosystem around their creator persona to release books, MOOCs, merchandise, and more. They licensed their brand to other businesses or created capsule fashion collections with known fashion brands. It's interesting to see how it evolved, and I won't be surprised if, in the near future, we'll see agencies specializing in licensing creators as brands.
What keeps you up at night? What's your biggest challenge these days?
I want to see that Nickwatch upholds the promise. We worked so hard in the past two years to create an amazing product. There is no children's smartwatch like it, and we get rave reviews from children and parents. One reviewer even said we reinvented the category, which left me speechless and grateful. But getting positive feedback won't pay the bills. We need to make the business grow and generate more sales while imagining the next versions of our branded smartwatches and experiences.
In your opinion, what is the top skill every licensing executive should have in order to succeed?
Creativity. If you want to use a license in a meaningful way, it's not just about taking a known brand. This will take you only so far. You need to find ways your target audience will appreciate the licensing. These agreements need to resonate the needs, expectations, emotions, and lifestyle of your audience. If it's done right, the emotional equity coming with the license will pay back tenfold.
What is your favorite licensing deal of all time? (It doesn't have to be one that was signed by you.)
Albert Einstein and The Hebrew university in Jerusalem. The university manages the Albert Einstein brand, and I'm amazed by it every time I think of it.
If you weren't in licensing, what would you be doing now?
I'd probably go the Erin Brockovich route, learn the law, and sue polluters wherever they are. I think adding good to the world is crucial, especially these times where so much hardship is upon the planet.
The last licensed product I bought was…
A Cocomelon puzzle for my daughters. They love the brand and I love the brand. It's smart how they appeal to both toddlers and parents. The Cocomelon families give me hope. I don't know why, maybe it's the fact that in some episodes the parents are exhausted and worried as well as loving. There is sincerity in the brand that works on me.