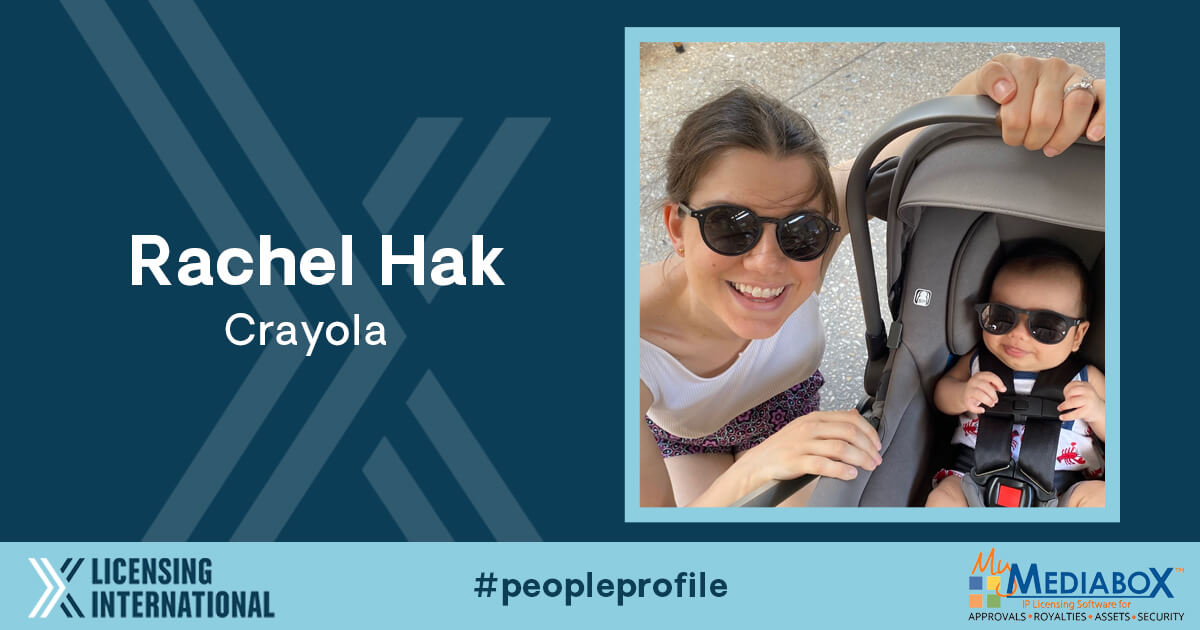 People Profile: Rachel Hak, Category Manager, Outbound Licensing, Crayola
The global licensing community is powered by an incredible group of professionals whose diverse backgrounds and creative energy drive innovation and excellence. Each week we're profiling one of 2021 Rising Stars in this ongoing series developed in partnership with MyMediaBox.
How did you get into licensing (or how did licensing find YOU😊)?
By chance!  When I graduated college in 2011, I aspired to create children's media content (cartoons!).  Little did I know, I had actually accepted more of a business role (vs. creative) with a small boutique production company making shows for PBS Kids.  As part of that role, I took on the responsibilities of a licensing coordinator, and a lightbulb went off in my head – never before did I realize that entertainment brands like Disney were actually outsourcing the manufacturing of their consumer products to category experts (the licensees).
What's your biggest personal and professional accomplishment?
Personally – actually having a chance to complete this email while my newborn son sleeps (I kid!).  On May 5th of this year, I took on a very new role as a mother (see photo of me and my son, Simon).  The past two months have been a sleep deprived, yet incredibly rewarding, roller coaster!  Professionally – pivoting our team's strategies when COVID took the world by storm last March.  Within a few weeks of the shutdown, our team was able to bring on new, best-in-class partners to offer wellness solutions (masks, sanitizers, at-home activities).  It was incredibly fulfilling to leverage the strength of our trusted Crayola brand to offer some stability with so much uncertainty in the world.
What are the most significant trends or changes that you've seen in the business in recent years?
I've seen this mentioned before, and I'll say it again – ECOMM.  Not only is it necessary to be able to react quickly to trends through direct-to-consumer offerings, but it's also essential to know how to market those offerings through social networks & influencers to get to the right consumer.  This is what we were able to achieve with our school mask pack launch in 2020 – in just a few weeks, we developed an innovative 5-day mask pack solution and launched for pre-sale.
What keeps you up at night? What's your biggest challenge these days?
As a licensing professional, you can't look at any product without thinking, "what could my brand offer that would improve this item?"  Given my latest chapter (motherhood), I find myself looking at every baby product (bottles, diapers, etc.) and obsessing over how they could be Crayola-ified.
What is the best piece of advice you ever received? OR What is your favorite quote?
My first boss once told me to never bring a problem or challenge in front of your team without also being able to present a possible solution.  This has stuck with me over the years and forced me to react to professional hurdles more efficiently (to get to a faster resolution).
What is your favorite licensing deal of all time? (doesn't have to be one that was signed by you)
Crayola x Clinique – Big kudos to our team for this one!  Back in 2017, this was Crayola's first entry into the color cosmetics space with a favorite brand.  My mother is a Clinique fanatic – whenever she'd do a mall run to stock up on Clinique cosmetics when I was a teen, she'd always let me choose a goodie from her "free gift."  You know the deal – spend X amount of dollars, get a cosmetic bag with some sample-sized goodies for free.  This partnership opened up doors that allowed us to leverage Crayola's color equity with other dazzling collaborations in the category (Sally Hansen, Lip Smacker, etc.).  More to come here! 🙂
The last licensed product I bought was…
All things Sesame!  I'm lucky to have a great friend in Sesame Workshop's Kerri Estreich (also featured in a recent People Profile) so that she can point me towards her awesome collaborations when they launch, and I can grab up the goods for Simon before they've sold out!
THE 2021 PEOPLE PROFILE SERIES IS BROUGHT TO YOU BY MYMEDIABOX

MyMediaBox is the leader in providing online solutions that streamline every stage in the brand licensing lifecycle, from contract management and rights tracking, through style guide delivery, product approvals, security tag management and royalty reporting. With over 54,000 global professionals logging in from 125+ countries, Mediabox is by far the world's most thoroughly tested and widely trusted licensing software.