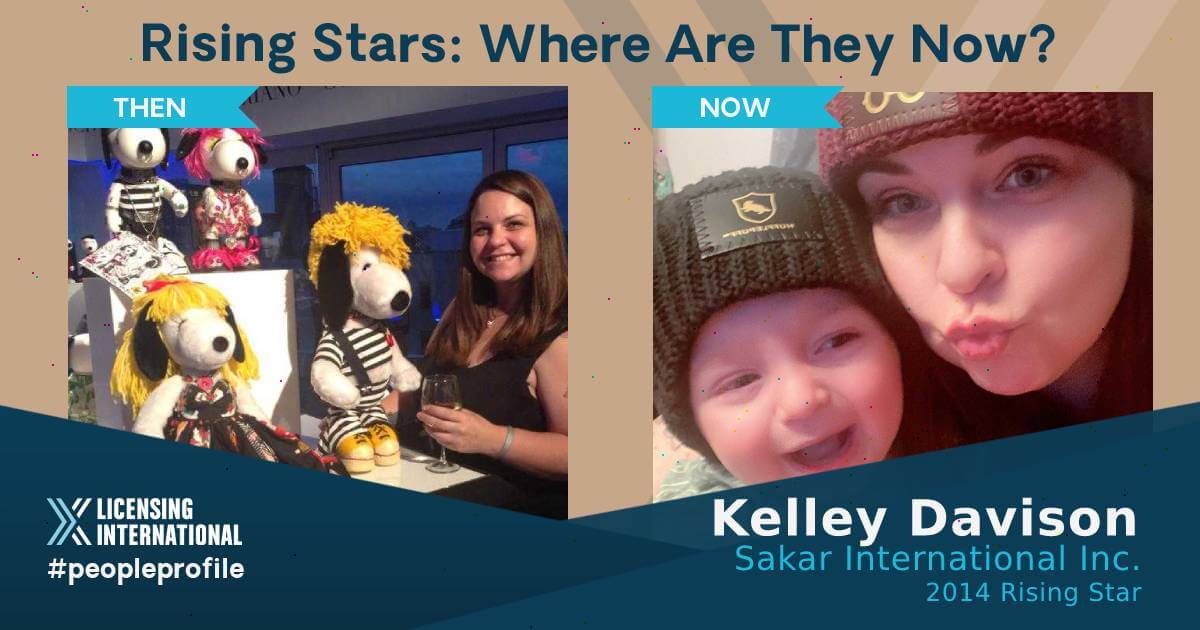 People Profile — Rising Star Edition: Kelley Davison, VP of Licensing at Sakar International Inc.
The global licensing community is powered by an incredible group of professionals whose diverse backgrounds and creative energy drive innovation and excellence. We profile one of these professionals each week, and in this special edition of the People Profile series we are revisiting a former Rising Star Award recipient to shine a spotlight on their subsequent success.
How did you get into licensing (or how did licensing find YOU)?
I went in for an interview for a product development position, my second interview ever. Turns out an old coworker of mine worked at that company as their licensing coordinator. I knew she was moving to another country within a few months and during the interview (which she sat in on), I congratulated her on the move. I had no idea she didn't tell them she was leaving just yet. Needless to say, I let the cat out of the bag. They ended up hiring me in her role because they thought it would be better if she trained someone she knew. From that moment on I knew licensing was for me.
When were you named a Rising Star? Where were you working at the time and what was your title?
I was named a Rising Star in 2014 when I was working as a licensing manager for Added Extras LLC/Global Brands Group.
What was the best piece of advice you received early on in your career?
Be authentic! This whole industry is about building and maintaining relationships. If you are authentic, I find people tend to gravitate to you. Oh, and always feed people during meetings, they are happiest when they are full!
What's your biggest personal or professional accomplishment since being named a Rising Star?
I have worked for three amazing companies in my 15-year career. I have won awards, achieved accolades, and received compliments from some of the smartest people in the industry. However, nothing has come close to what I feel is my biggest accomplishment, my son Axel. I can hands down say I am proudest of being his mom!
What's a "typical" day in your current position?
For me, our partners always come first. Before my day really starts, I make sure I address any urgent needs and wants from licensors. I work for a company that manufactures product in over 10 categories and there is always white space to be had and programs to secure. This is actually my favorite part—there is nothing more satisfying than helping your team grow by going after and securing the best brands out there!
What keeps you up at night? What's your biggest challenge these days?
With consumer habits changing, the retail landscape is evolving at a rapid rate. Staying ahead of the trends is always on my mind. Finding incremental space, getting product to the shelf, sell-thru's to maintain that space—these are challenges that we all face.
What is your favorite licensing deal of all time? (It doesn't have to be one that was signed by you.)
This did not involve me in any way, but one of my favorite deals involves the brand LOVE YOUR MELON. They started with the simple yet beautiful mission to put a hat on every child's head that is battling cancer. Over time they have expanded their assortment and now work with all the top brands. I love how all the brands I work with daily decided to partner with such a great cause. My favorite among the assortment is the Harry Potter hats, of course!
The last licensed product I bought was…
Cotton On Kids just released a line of Harry Potter shirts and PJs. I am the HUGE Harry Potter Fan and I love Cotton On. I was so happy when I saw this come out.
What words of wisdom would you give to the 2022 Rising Stars?
Always listen! We are moving so fast all the time, listening tends to take a back seat in the licensing process. Just stop, listen, and take your time to understand the goals of any partner. In the end, it will save you time and energy. And ALWAYS ask questions. Do not ever be afraid of asking for more information, it only helps, never hurts!
The Rising Star Awards recognizes the next generation of leaders around the world for their commitment, passion, and contributions to their company and the licensing industry. For the first time, the Rising Stars will be recognized and celebrated at the Hall of Fame Gala Luncheon in New York City on December 7th, 2022. Nominations are NOW OPEN!