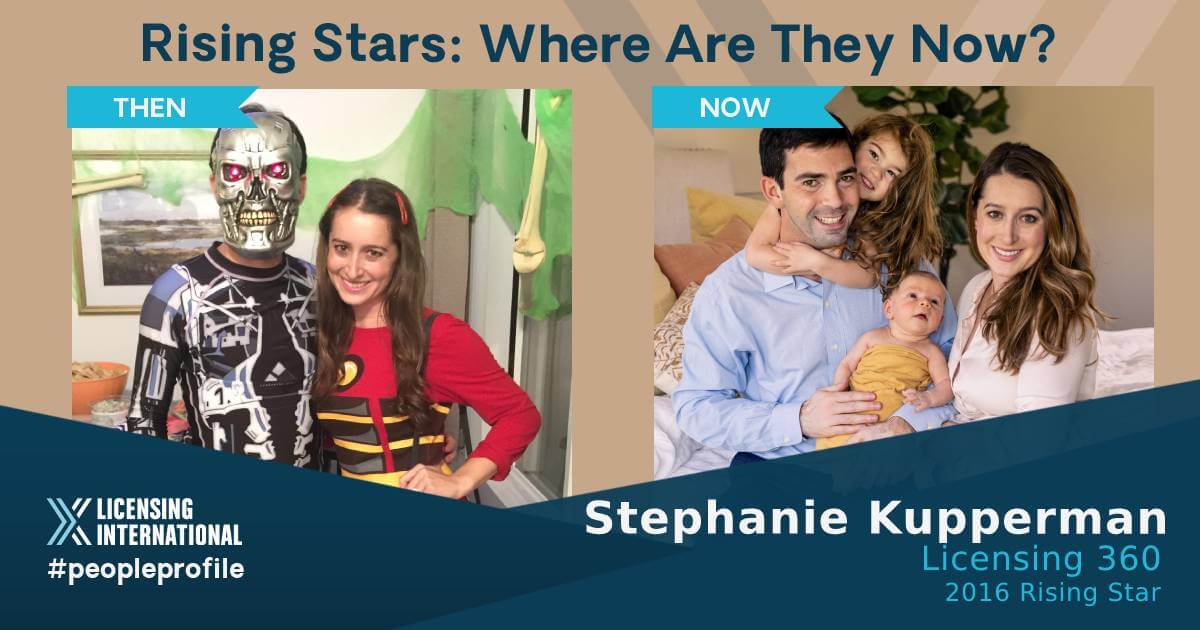 People Profile — Rising Star Edition: Stephanie Kupperman, CEO at Licensing 360
The global licensing community is powered by an incredible group of professionals whose diverse backgrounds and creative energy drive innovation and excellence. We profile one of these professionals each week, and in this special edition of the People Profile series we are revisiting a former Rising Star Award recipient to shine a spotlight on their subsequent success.
How did you get into licensing (or how did licensing find YOU)?
I was fortunate enough to be introduced to licensing through my family's business, Creative Licensing, which is an independent licensing agency representing classic films like The Terminator and Rambo. I remember scavenging through the samples closet and thinking, this seems like a really fun business!
When were you named a Rising Star? Where were you working at the time and what was your title?
I was named a Rising Star in 2016. At the time I was a licensing manager at Creative Licensing Corporation.
What was the best piece of advice you received early on in your career?
You need to make a job for yourself and find your own lane if you want to be promoted. No one will hand it to you.
What's your biggest personal or professional accomplishment since being named a Rising Star?
In January of 2021 I started my own licensing agency, Licensing 360. Going out on my own was extremely daunting at first, but this industry is full of friends and people willing to offer advice, so I felt supported and never looked back!
What's a "typical" day in your current position?
Most of my career I've been on the licensor side but, since starting Licensing 360, I now work mainly on the licensee side, so much of my day is client management.
What keeps you up at night? What's your biggest challenge these days?
Growing at a pace that will still allow me to be a sole proprietorship and how Web 3/Metaverse/NFTs will play into my business.
In your opinion, what is the top skill every licensing executive should have in order to succeed?
FANS FIRST. If you think you know what fans want and you impose your will on them, you will miss. Ask the fans what they want and try to tap into their ecosystem. If you're a fan of the brand yourself, even better, as this will aid in the direction of the merchandise program.
What is your favorite licensing deal of all time? (It doesn't have to be one that was signed by you.)
The restaurant "Saved by the Max," inspired by the TV show Saved By the Bell, stands out in my mind. It tapped into consumer nostalgia and allowed patrons to have a fun dining experience at the same time.
The last licensed product I bought was…
Def Leppard tee by Life Clothing Co.
What words of wisdom would you give to the 2022 Rising Stars?
I try to run my business with this proverb in mind—a bird in the hand is worth two in the bush. The things you already have are more valuable than the things you might get. In licensing, if you have a good deal but you might get a better one, go for the good deal and be satisfied with that. Build off the good deals.
The Rising Star Awards recognizes the next generation of leaders around the world for their commitment, passion, and contributions to their company and the licensing industry. For the first time, the Rising Stars will be recognized and celebrated at the Hall of Fame Gala Luncheon in New York City on December 7th, 2022. Nominations are NOW OPEN!