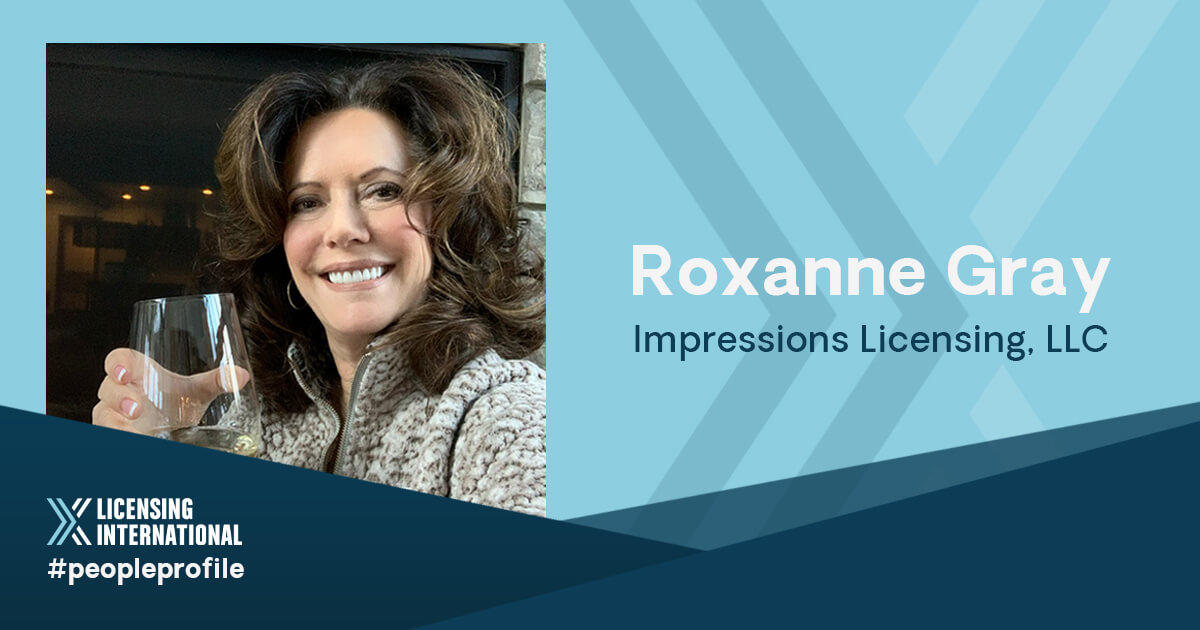 People Profile: Roxanne (Rox) Gray, Owner of Impressions Licensing, LLC.
The global licensing community is powered by an incredible group of professionals whose diverse backgrounds and creative energy drive innovation and excellence. Each week we're profiling one of these professionals in this ongoing series.
How did you get into licensing (or how did licensing find YOU😊)?
After many years of being a retail merchandiser and buyer for JCPenney in Chicago, Philadelphia, New York City and Dallas, I needed a change of scenery and took an opportunity with The Bombay Company. The opportunity was short lived as the company went out of business within 6 months of my arrival. In my search for a new opportunity, I saw an advertisement for a Warner Bros. Licensing Account Executive in a trade publication called Home Furnishings News (when there were still trade magazines!) and immediately pursued it. I still have the advertisement! The qualifications matched my buying experience and since I had always wanted to live in Southern California, it was a dream come true. The WB team was welcoming, fun and creative and it just seemed like everything was possible and it was a movie Studio, very cool!
What's a "typical" day in your current position?
After being with Warner Bros. Consumer Products for 25 years, I retired in May 2020 and moved to a small town in Washington State thinking I would never work in the licensing industry again. I soon learned that my 'typical' retirement day wasn't going to happen. After becoming friends with a new neighbor, we soon realized that we knew many of the same people and that she needed a licensing consultant to help her license out her intellectual property called The Moodsters. The Moodsters were created to help children thrive socially and emotionally in all aspects of their lives. The goal of the brand is to provide children with emotional support, hands-on tools—and play to improve their mental health outcomes, helping them develop the skills needed to be resilient. This is a property that appealed to my desire to truly help children; not just entertain them. Much of my day is spent in educating my client on the ins and outs of licensing and preparing presentations and pitches. But since I'm back in the game anyways, I am fortunate to work with couple of other clients too and am helping them to secure licenses for their products. There is no typical day!
What's your biggest personal and professional accomplishment?
My biggest personal accomplishment is still being happily married to my high school sweetheart for more than 35 years. My biggest professional accomplishment is being a key player in the creation, execution, and operations of The Wizarding World of Harry Potter parks under license to Universal Parks and Resorts while at Warner Bros. The parks have won more than 25 industry awards since 2010 but seeing the fans rush in on an opening day is the best feeling of accomplishment in the world.
What are the most significant trends or changes that you've seen in the business in recent years?
Media – The types of media (Broadcast, Streaming, Film, Social) is much broader today than ever and the demand to feed that beast with content continues to grow. It gives consumers a lot of choices, but it also fragments the market and makes it more of a challenge for properties to rise above the noise and become brands that can be licensed across a broad spectrum of products.
Advertising/Marketing – And to rise above that noise, the amount of advertising and promotion and creating new content to keep the property in the zeitgeist is costly and time consuming.
What keeps you up at night? What's your biggest challenge these days?
Thankfully, I'm finally in a place that not much of anything keeps me up at night. My schedule is manageable, and I only work with clients who I'm passionate about helping. The biggest challenge is having to create and build this new business via Zooms, Teams and E-Mails. Although I'm thankful for the technology, there's just no replacement for being able to meet with someone one-on-one in person.
In your opinion, what is the top skill every licensing executive should have in order to succeed?
Listening, empathy and asking lots of questions. The challenge with the world moving so fast these days is that we're just skimming the top of subjects and conversations and not really understanding what the other person needs or wants. It is only through listening, empathy and asking questions that I can truly understand the situation and person and be able to find alignment to move forward.
What is the best piece of advice you ever received? OR What is your favorite quote?
I have two favorite quotes. Licensing and then building a product assortment or opening a themed attraction requires dozens or maybe even hundreds of people so my favorite quote is by President Ronald Reagan, "There is no limit to the amount of good you can do if you don't care who gets the credit." And since Harry Potter has been instrumental to my professional life, I love this quote from Professor Dumbledore too, "We are only as strong as we are united, as weak as we are divided."
What is your favorite licensing deal of all time? (doesn't have to be one that was signed by you)
My favorite is the Harry Potter/Universal Parks & Resorts/Warner Bros. deals that have been tremendously successful and gave me the opportunity to work with the most amazing and creative people in the world. But I have a few other favorites and firsts from my time at WB like… Looney Tunes & Scooby Doo Chia Pets, Hasbro/Cap Candy and then Jelly Belly for Harry Potter Confections, Rubies for Pet Costumes, Giftco for In-School Fundraising, Harry Potter Concert Series licensed to CineConcerts, Scooby Doo live show licensed to MonLove and the upcoming Arkham Asylum experience licensed to Department Studios.
If you weren't in licensing, what would you be doing now?
If I hadn't pursued that post in Home Furnishings Network, my professional name would be Karen Gray and I would have gone back to school to become an Interior Designer as I love home décor. Thankfully, I got to play that role when we built our new home in the mountains last year.
So, here's the funny story about my name… when I interviewed with Karen McTier (SVP of North America Sales at the time) of Warner Bros. Consumer Products in 1994, she asked if I had a nickname. I thought that odd so asked her why. She said that I was a Karen replacing a Karen and since she had just hired a Karen who replaced another Karen and her name was Karen, she just couldn't possibly hire another Karen. I wanted the position and loved Karen's logic and enthusiasm, so I told her to use my middle name – Roxanne or Rox. I moved to Hollywood and changed my name! The story makes for great conversation and ice breakers.