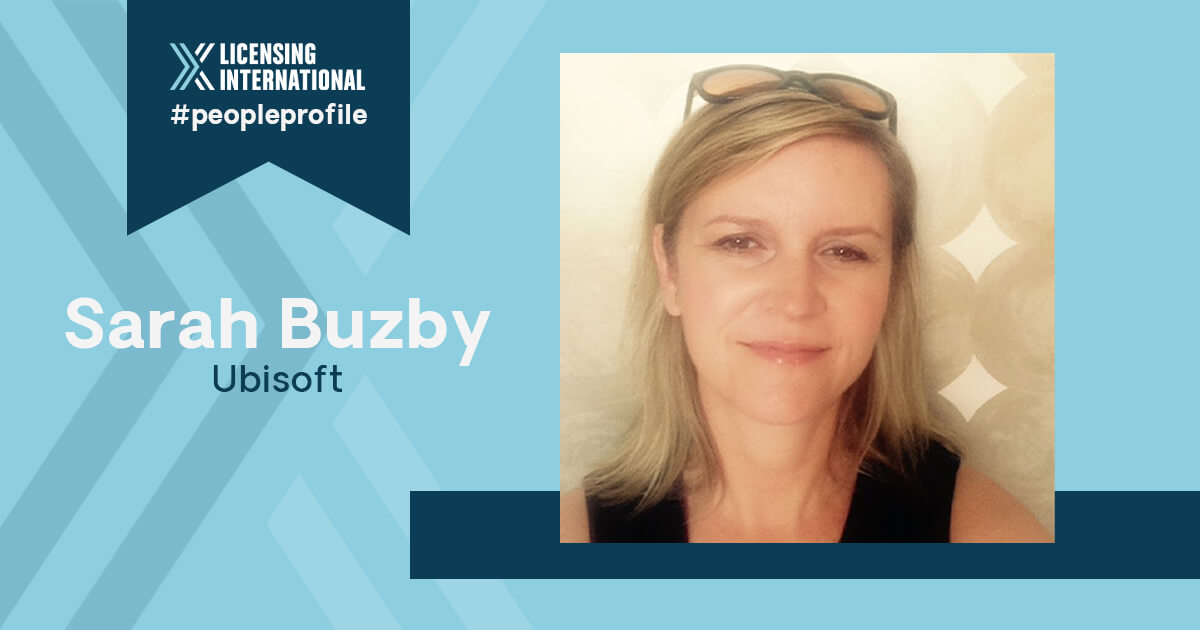 People Profile: Sarah Buzby, Vice President of Global Consumer Products at Ubisoft
The global licensing community is powered by an incredible group of professionals whose diverse backgrounds and creative energy drive innovation and excellence. Each week we're profiling one of these professionals in this ongoing series.
How did you get into licensing (or how did licensing find YOU😊)?
I was working as Director of Global Marketing for Barbie, overseeing Barbie Entertainment, and had been in the group for about 10 years. A role was offered to me on the Mattel Brands Consumer Products team, and while I was reluctant at first, I was intrigued about working with partners in other companies across a range of product categories. So I made the leap, and have never looked back!
What's a "typical" day in your current position?
Typical? Does that exist?! I would say I spend most of my time on calls – with the team, partners, retailers, etc. I miss traveling to meet with partners or attend trade shows – traveling is a great source of inspiration for me, and hopefully we can get back to shows and in-person meetings soon.
What's your biggest personal and professional accomplishment?
My biggest source of pride is watching my son, Jackson, grow up into an awesome person and head off to college. Professionally, making the leap into licensing – I really wasn't sure I was making the right decision for my career, and in retrospect it was the best decision I've made.
What are the most significant trends or changes that you've seen in the business in recent years?
Let's just call it "Digital Everything!" From the way we consume content, to interacting with each other, to how we shop, order food, to digital products we buy/wear/collect (NFT's, anyone?), it's really mind-blowing. It's our new normal – it's almost not even a trend now. It just is…
What keeps you up at night? What's your biggest challenge these days?
I think the usual things…COVID, the environment…I could go on.  One of my biggest challenges is keeping our teams motivated, happy and fulfilled in what we do.  Working from home has impacted us all in one way or another; it's so important to keep everyone in a positive head space and enjoying what they're doing, as well as giving them space to disconnect and recharge.
In your opinion, what is the top skill every licensing executive should have in order to succeed?
Flexibility, and the ability to listen actively, without distraction
What is the best piece of advice you ever received? OR What is your favorite quote?
"Nothing worth doing is ever easy." And "Don't burn your bridges…." So true in the world of Licensing, right?!
What is your favorite licensing deal of all time? (doesn't have to be one that was signed by you)
I love collaborations because they bring 2 seemingly different brands together and turn them into something completely unexpected. When you back to the original collabs that Uniqlo did with designers like Jil Sander (+J collection), or what Target did with Missoni or Liberty of London – that was fresh and new, and accessible. Those programs were the foundation of what we see today in the collab space. I love it when brands aren't afraid to try something different.
If you weren't in licensing, what would you be doing now?
That's a tough one! I love what I do, but in my dream world, I'd like to be a pastry chef with my own bakery, so I could combine the creativity of baking amazing desserts with the analytical side of running a business…I love the mix of both. And I could eat all the desserts!