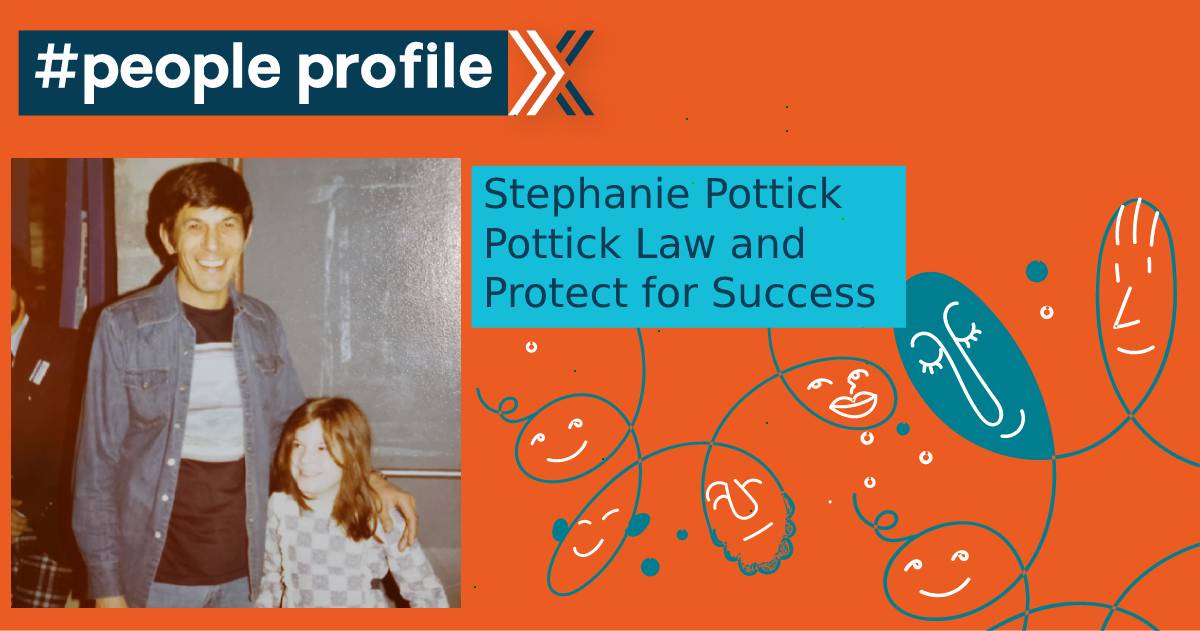 People Profile: Stephanie Pottick, President of Pottick Law and Co-Founder of Protect for Success®
The global licensing community is powered by an incredible group of professionals whose diverse backgrounds and creative energy drive innovation and excellence. Each week we're profiling one of these professionals in this ongoing series.
How did you get into licensing (or how did licensing find you)?
I think licensing actually found me. My father, Murray Pottick, worked in the toy industry (for companies like Mego and Remco) when I was a kid. We would travel to toy shows all around the world, including NY Toy Fair and Licensing Expo, and I learned from a young age about licensing, creating, and selling successful products. And I got to meet celebrities like Leonard Nimoy (that's who I'm with in my picture). So much fun! I worked on licensed brands like Sesame Street, Burger King, and Wizard of Oz when I worked in the toy industry and now, as an attorney, I work with so many other licensors and licensees helping make deals come to life.
What's a "typical" day in your current position?
I would like to say that it is something out of a Hollywood movie, running from one high-profile meeting to the next and closing multimillion deals every day. But although my "typical" day is a little more grounded, I am excited to come to work each day and provide as much value as possible to my clients. I split my time between my two passions: Pottick Law and my new venture Protect for Success®, an online course providing valuable business and legal skills to business owners and entrepreneurs. On any given day I can be working on multiple licensing agreements, NDAs, and other business contracts as well as managing trademark and copyright applications. The amazing thing about what I do is that no day is ever the same—there is a new deal, a new trademark, a new contract. I LOVE what I do!
What's your biggest personal or professional accomplishment?
On the personal side, my marriage is one of my greatest joys in life.  I actually met my husband when I worked in the toy industry—he was in charge of one of the logistics companies we engaged to deliver our toys to Walmart, etc. We started talking, met when I traveled out to California, and the rest is history.
On the professional side, I would say my biggest accomplishment is my law practice, which I started from scratch in 2008. I absolutely love helping clients achieve their goals by closing licensing deals and protecting their businesses using solid contracts and intellectual property. I feel fortunate that I have been able to grow my practice, and more importantly been able to maintain and create meaningful relationships.
What is the best piece of advice you've ever received?
My biggest life lessons were from my father. He taught me to act with integrity, treat people with kindness, never give up, always pursue my dreams, not to take things personally, and to keep things simple. He also would say (although I know he didn't come up with the saying) "Easy now, hard later; Hard now, easy later," meaning if you put in the hard work up front, then things should be easier in the long run. I've found this to be true in my experience.
The last licensed product I bought was…
The last licensed product I bought was my Star Wars Stormtrooper purse. I am a huge Star Wars fan!