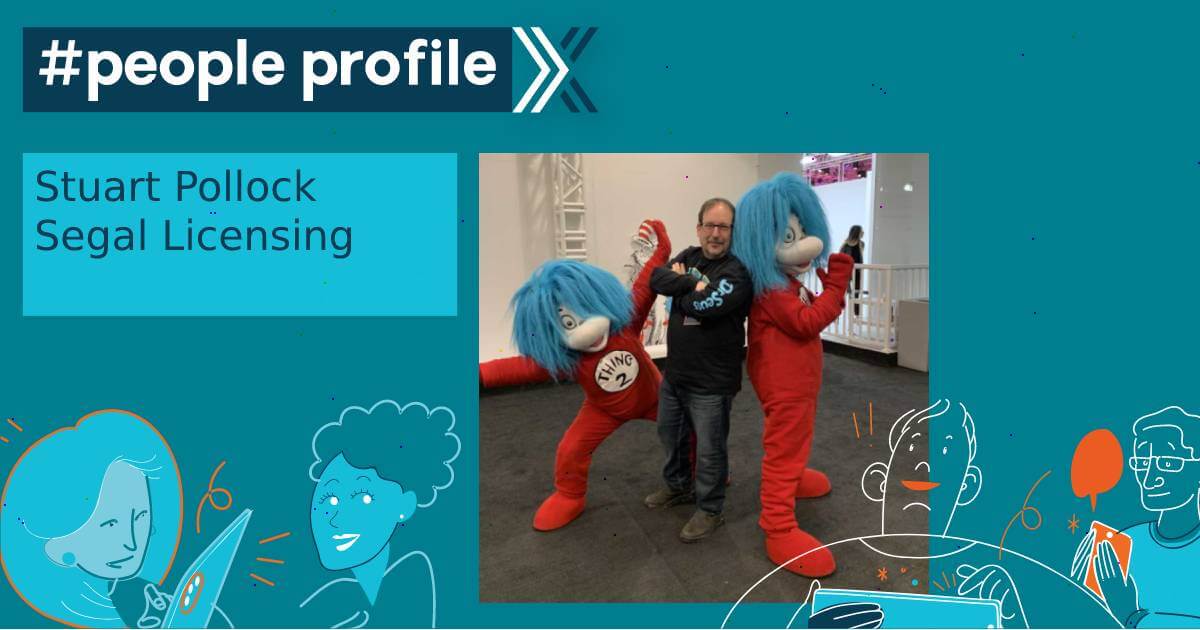 People Profile: Stuart Pollock, President of Segal Licensing
The global licensing community is powered by an incredible group of professionals whose diverse backgrounds and creative energy drive innovation and excellence. Each week we're profiling one of these professionals in this ongoing series.
How did you get into licensing (or how did licensing find you)? 
I had spent 13 years at a movie theater company in Canada called Famous Players, where I was VP of Marketing. During that time, I was lucky enough to work with a number of the marketing people at the film studios in Los Angeles. After I left that company to join Xbox, I got a call from a friend at DreamWorks SKG asking if I had ever wanted to get into licensing. I flew down to Los Angeles for meetings and was chosen to work on DreamWorks' Shrek 2 as my first property. I never realized that I would still be doing this 20 years later!
What's a "typical" day in your current position? 
What I love about licensing is that every day is a little different. One day could be all about retail meetings and another could be licensing meetings or internal meetings. Since the pandemic began, our agency has gone to a hybrid model with working from home and in the office. The most typical part of my day, honestly, is the fact that I love what I do and most days are fun!
What's your biggest personal or professional accomplishment?
One would have to be the business we built during the pandemic, our Mooby's Pop-Up Restaurants. Before Covid hit, I had signed a deal to do a pop-up based on Kevin Smith's fake fast-food restaurant, Mooby's. When lockdowns happened, we thought it could be something that would be a good distraction from the new normal and we honestly thought we would do one pop-up in Los Angeles. We recently opened our 30th Mooby's in San Diego on Comic Con weekend!
What keeps you up at night? What's your biggest challenge these days? 
My biggest challenge is something that I put upon myself. I always like to challenge myself and my team to figure out something new that we can create to help drive more revenue.
In your opinion, what is the top skill every licensing executive should have in order to succeed? 
In all aspects of business, I think communication skills are the most important. I work crazy hours because I want to and I pride myself on replying to outstanding requests on a timely basis out of respect for our partners. I think to be successful you need to be a strategic communicator who values other people's time as much as your own.
What's the best piece of advice you've ever received, or what's your favorite quote? 
After receiving samples, a partner sent me a simple text saying "Thanks for sending, you are truly a bridge to joy." I love that the stuff we do can make people happy, and I always like to think that what we do is bringing joy to consumers through the items or experiences we're providing.
What is your favorite licensing deal of all time? (It doesn't have to be one that was signed by you.)
Over the past year I was lucky enough to work with our sister agency, FCB Toronto, on a cool collaboration between Mr. Saturday and LottoMax. The program, named Dream Drop, sold out in minutes and we were lucky enough to win two Silver Lions and two Bronze Lions at this year's Cannes Lions International Festival of Creativity. This was truly a dream project to play a part in.
If you weren't in licensing, what would you be doing now?
In a perfect world, I would be the play-by-play announcer for the Toronto Maple Leafs.