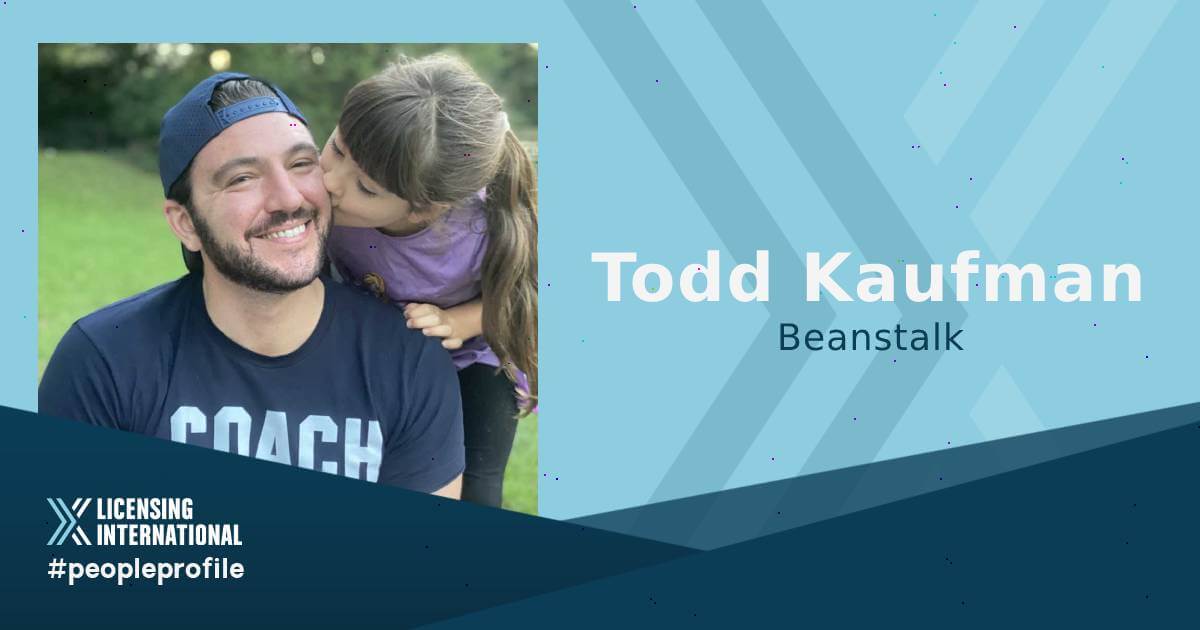 People Profile: Todd Kaufman, VP of Strategy and Partnerships at Beanstalk
The global licensing community is powered by an incredible group of professionals whose diverse backgrounds and creative energy drive innovation and excellence. Each week we're profiling one of these professionals in this ongoing series.
How did you get into licensing (or how did licensing find YOU)?
Almost everyone I've met in this industry has their story of how they got into licensing by accident. I like to joke that I'm the only person that got into it on purpose! I majored in Sports Management at NYU and in my final semester, I was enrolled in Stu Seltzer's Sports and Entertainment Licensing class. Each week he brought in guest speakers from all sides of the industry and two things really resonated with me. First, I loved the idea of so many different parties coming together to create a new product. And second, as somebody who enjoys working on several things at once, I loved that a single licensing deal can expose you to strategy, sales, legal, product development, and finance. When the semester ended, Stu recommended me for an entry-level role at a home textiles licensee (Dan River) and my licensing journey began!
What's a "typical" day in your current position?
I don't have one yet! Just this week, I moved into a newly created role within the agency that is focused on strategic partnerships and non-traditional brand extension models. While I will still work on the sourcing and development of new client relationships, I will now be working closely with existing clients and new prospects on establishing a more wholistic agency scope that factors in consumer and retail data and trends, and their impact on the evolution of brand extension.
What's your biggest personal and professional accomplishment?
Quite simply, the ability to evolve. Over my 15 years at Beanstalk, I've lived on two coasts and have had at least five different jobs. At each turn, I've been able to make a shift that enhanced both the capabilities of the agency as well as the trajectory of my career. From helping to launch a digital division to implementing trend reporting to formally committing to working with more diverse clients, the ability to take things that I am passionate about and turn them into personal and professional growth opportunities is an absolute gift.
What are the most significant trends or changes that you've seen in the business in recent years?
It's the shift from "licensing" to "brand extension." Historically "licensing" meant finding a manufacturer to sell a physical product at retail. Now, from collaborations to web3 to LBE, there are so many ways for brands to extend beyond their core in unexpected yet strategic ways. We're no longer just creating products. We're creating new consumer experiences and cultural moments that transform how consumers interact with their favorite brands. These partnerships occur at that perfect intersection between consumer behavior and brand messaging. It requires more creativity and collaboration than ever before.
What keeps you up at night? What's your biggest challenge these days?
Aside from the Mets' bullpen? It's the responsibility of being a brand guardian. Consumers no longer purchase from brands because of product quality/aesthetic. They buy brands that they feel represent their own personal values and mission and continue to demand more from them throughout their purchase journey. Brand extensions need to strengthen that connection.
In your opinion, what is the top skill every licensing executive should have in order to succeed?
Adaptability! For the first time in history, there are five generations working together in corporate America. As a member of the middle (Generation Y), I know that I have as much to learn from Millennials and Gen Z as I do from Boomers and Gen X. At the same time, the nature of our business is evolving every day. Retail is now both transactional and experiential. Grocery shopping has gone online. Are you even a food brand if you don't have a sneaker? How consumers engage with brands and what they expect from them presents so many fun opportunities to creatively extend through innovative partnerships and products.
What is your favorite licensing deal of all time? (It doesn't have to be one that was signed by you.)
Though it was a marketing activation, the Taco Bell hotel is my absolute favorite brand extension example. When we pitched Taco Bell, we talked about the importance of emotional connection and brand experience. The activation resulted in billions of impressions for Taco Bell and created the experience (or desire) of "Live Más" in an immersive and authentic way.
If you weren't in licensing, what would you be doing now?
Given my sense of nostalgia and love of storytelling, I likely would have found a career as a writer somewhere along the way. Whether pizza, parenthood, or professional sports… I love the idea of creating a shared experience around people's passions.