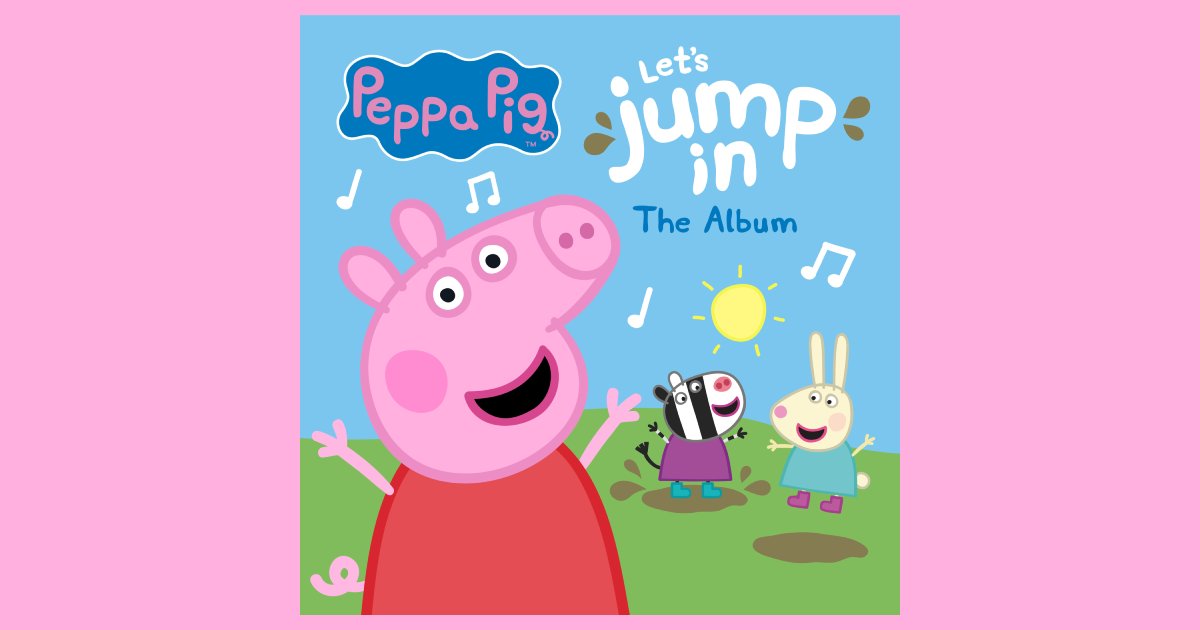 Peppa Pig's "Let's Jump In! The Album" Out Today Via Hasbro/Magic Star 
PEPPA PIG's fourth studio album, Let's Jump In: The Album, is out today, September 8th, across all digital streaming platforms including Spotify, Apple Music and Amazon Music. The album, released by Hasbro and Magic Star, consists of seven brand new songs inspired by PEPPA's tagline 'Let's Jump In!' – a call to action to JUMP IN and embrace every one of life's adventures, from the everyday to the epic. The focus single, "Let's Jump In!", is an anthem that will inspire children to feel confident in trying new things, with their best friend Peppa by their side.
Other tracks include "Bing Bong Garden," tied to Season 9's Playgroup Garden episode which encourages children to grow their own plants, flowers and vegetables from seeds; "Cruise Ship Holiday,"  which captures the tropical vibe of Peppa's family holiday, shown in this year's 4-part Cruise Ship special and, for any parents who are potty training their little ones, "The Magic Word is Potty" will be the perfect accompaniment to help children as they navigate away from nappies. Plus, for the first time ever, kids and families can enjoy a Sped-Up Dance Remix of the iconic PEPPA PIG Theme Song. The album release will be supported by a strong marketing plan including key activations across PR, social and digital, with lots of snorts and giggles guaranteed!
"Music is such an important part of PEPPA PIG and acts as a powerful learning tool, so we're excited to deliver another upbeat album that teaches her fans about the world around them and instills confidence to dance like no one's watching," said Matt Proulx, Vice President, Global Experiences, Partnerships and Music at Hasbro. "With catchy new songs such as 'Cruise Ship Holiday' alongside refreshed favorites like the sped up dance remix of PEPPA PIG's theme song, fans and parents alike are sure to groove and sing along. Ahead of PEPPA's big 20th anniversary in 2024, we are laser focused on delivering fresh content across platforms and formats for all to enjoy, so stay tuned for more from everyone's favorite pig!"
PEPPA PIG music has over half a billion streams across three albums and more music is coming soon with a DELUXE version of the album with FIVE additional and original songs releasing on November 3rd.
Complete album track listing below:
1            PEPPA PIG Theme Song (Sped Up Dance Remix)
2            Let's Jump In!
3            Peppa's Favourite Places
4            Bing Bong Garden
5            Cruise Ship Holiday
6            Bobbing Up And Down
7            The Magic Word Is Potty
Listen to the Album here: https://orcd.co/letsjumpin
"Let's Jump In: The Album" Release Dates:
09/08 Full Album Release
11/03 Deluxe Album Release  (featuring five additional tracks)
PEPPA PIG is a British preschool animated television series that has been airing for almost 20 years, across nine seasons in over 180 territories as of 2023. The series follows Peppa Pig, a cheeky little piggy who lives with her family – younger brother George, Mummy Pig and Daddy Pig – as well as her diverse community of friends. Globally successful, the brand connects with consumers across every touchpoint, from TV to theme parks to retail. As a lifelong friend, Peppa Pig encourages kids to jump in together and explore the world around them, while giving kids the confidence to treat every first step as a new adventure, from the everyday to the epic.
About Hasbro
Hasbro is a leading toy and game company whose mission is to entertain and connect generations of fans through the wonder of storytelling and exhilaration of play. Hasbro delivers engaging brand experiences for global audiences through toys, consumer products, gaming and entertainment, with a portfolio of iconic brands including MAGIC: THE GATHERING, DUNGEONS & DRAGONS, Hasbro Gaming, NERF, TRANSFORMERS, PLAY-DOH and PEPPA PIG, as well as premier partner brands.
Hasbro is guided by our Purpose to create joy and community for all people around the world, one game, one toy, one story at a time. For more than a decade, Hasbro has been consistently recognized for its corporate citizenship, including being named one of the 100 Best Corporate Citizens by 3BL Media, one of the World's Most Ethical Companies by Ethisphere Institute and one of the 50 Most Community-Minded Companies in the U.S. by the Civic 50. For more information, visit https://corporate.hasbro.com.
About Magic Star
Magic Star is the Global Division of children's and family entertainment at The Orchard. Launched in October 2019 as part of Sony Music Entertainment UK, Magic Star is dedicated to children's audio and audiovisual content from pop music and spoken word to live events for the whole family. Magic Star's partner offerings include music engagement & marketing strategy, video creation, distribution, brand partnerships, spoken word production and press/publicity campaigns.