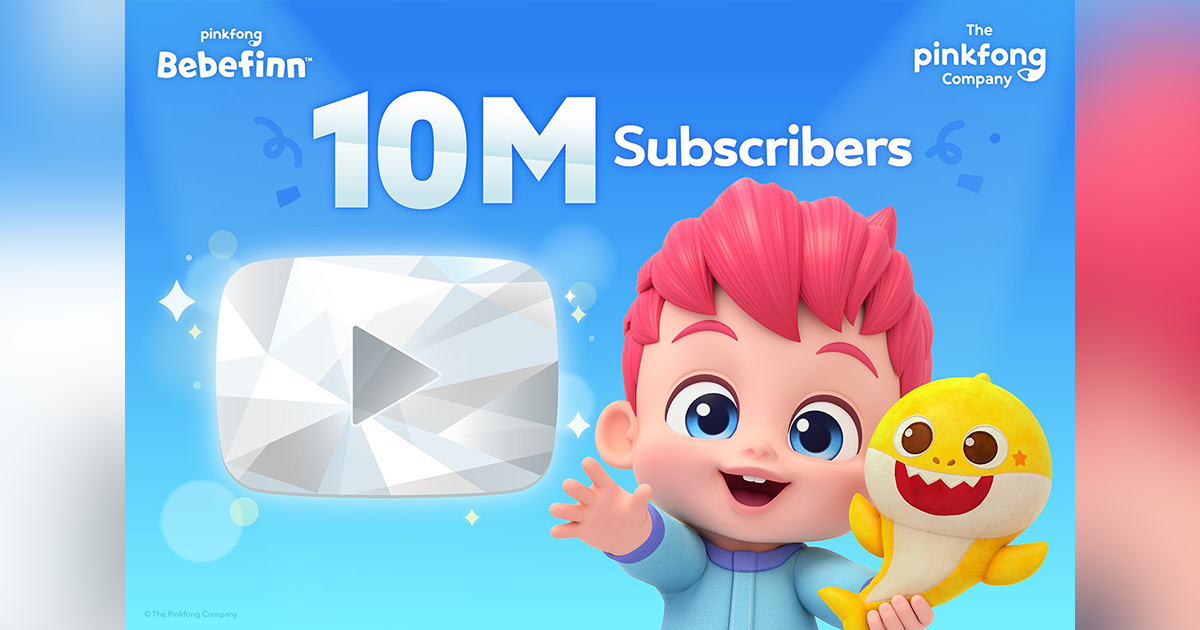 Pinkfong's Bebefinn Surpasses 10 Million YouTube Subscribers, Setting New Company Record
Seoul, South Korea – June 20, 2023 Baby Shark creator expands its empire on YouTube, earning its fourth Diamond Creator Award with its latest 3D animated series Bebefinn.
The Pinkfong Company, the global family entertainment company behind the cultural phenomenon Baby Shark, today announced that Bebefinn's YouTube channel had surpassed 10 million subscribers. Having achieved YouTube's Diamond Creator Award in the 14 months since its launch, Bebefinn became the fastest YouTube channel launched by The Pinkfong Company to reach this milestone.
Bebefinn is a 3D animated series that follows the daily lives of a close-knit family of three siblings and their parents. With its engaging visuals, catchy songs, and relatable stories, the sing-along series has captivated kids and families around the world, making the Top 10 Kids on Netflix today in 12 countries. Recognized as one of the most beloved series by kids and families, Bebefinn was highlighted at the 2022 Asian Content Awards, where The Pinkfong Company won the Best Creator category.
Since its debut in April 2022, Bebefinn's English-language YouTube channel has experienced exceptional growth, amassing 10 million subscribers, 3 billion views, and 210 million watch hours in 14 months. Among the countries where Bebefinn is most watched on YouTube, the U.S. tops the list with a 206% quarter-over-quarter growth rate in views in the first quarter of 2023. In addition to the U.S., Canada, the U.K., Australia, the Philippines, and Brazil are on the same list. Available in English, Spanish, and more, Bebefinn will be expanded to eight languages including Chinese and Indonesian.
"As Bebefinn is quickly gaining a global fan base, we will broaden our reach beyond spin-off content by introducing merchandise, licensing programs, live shows, and more. Leveraging Pinkfong's unparalleled content creation abilities, we'll keep providing new ways for Bebefinn to connect with fans in fun and creative ways," said Bitna Kwon, Chief Strategy Officer of The Pinkfong Company. "We're thrilled to witness another remarkable milestone for our Bebefinn and look forward to the exciting journeys ahead for this lovable family."
Following its success on YouTube and Netflix, Bebefinn has widened its reach to global audiences by expanding distribution channels internationally including linear TV, AVOD and FAST channels, and more. 
About The Pinkfong Company
The Pinkfong Company is a global entertainment company that delivers content and entertaining experiences around the world. Driven by award-winning brands and IPs, the company has created and distributed a range of content across genres and formats including original animated series, world live tours, interactive games, and more. Believing in the power of entertaining and engaging content, The Pinkfong Company is committed to connecting people around the world and bringing joy and inspiration to worldwide audiences of all ages. For more information, please visit the website or follow the company on LinkedIn.