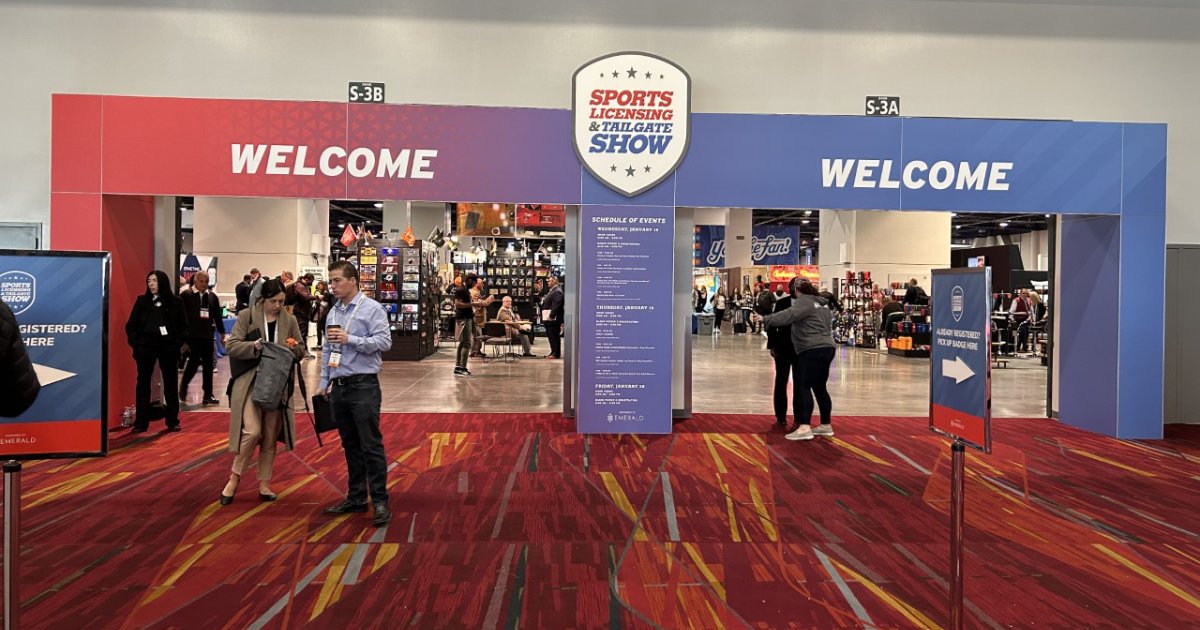 Print-On-Demand Scores in Sports Licensing
Print-on-demand (POD) is becoming a big part of the licensing playbook when it comes to the sports business, according to licensing executives at last week's Sports Licensing & Tailgate Show in Las Vegas.
POD isn't new to the game—BreakingT, for example, has used social media data and U.S.-based production facilities to create "in the moment" apparel that celebrates game-changing plays or other events—but it's increasingly becoming a go-to in the sports licensing lineup.
Brands like Tommy Hilfiger and G-III Apparel, which has agreements with former NFL stars Carl Banks and Michael Strahan, are weighing options for the POD business, said Jacqui Booker, National Sales Manager for G-III's Starter brand.
And apparel licensee Blue 84 typically keeps $28 – $40 million of blank apparel in inventory to enable it to ship "hot market" product tied championships and other events within five days, said James McCollough, Director of Licensing Sales. When former NFL quarterback Eli Manning did a well-publicized walk-on at a Penn State University practice last September (which generated 13 million views on YouTube), Blue 84 was able to produce 6,000 t-shirts marking the event within 36 hours, McCollough said.
"We are definitely getting into the [POD] business because we want to make sure you have everything for every team, but at the same time no one wants to hold that much inventory," Booker said. "Consumers are fickle and they want to buy now, wear now, because it is an emotional experience for them, so we want to be able to offer the breadth of everything we make and sell."
POD also is being viewed as a tool for Name, Image, and Likeness (NIL) programs for collegiate athletes. Screen printing company Campus Ink has agreements with more than 700 student athletes to produce t-shirts and other apparel at its Urbana, IL, facility. For the time being, Campus Ink has focused on football as well as both men's and women's basketball, said Sean Ellenby, NIL Marketing and Communications Manager.
POD has, to date, largely focused on apparel like t-shirts and jerseys. However, several companies are working to expand their print-on-demand offerings.
For example, licensed home textiles supplier The Northwest Group (which gained new owners after emerging from bankruptcy) plans to use it for towels, blankets, and other products, said Ryan Valentine, VP for Global Marketing and Web Services. And Foco is weighing POD for hardlines, including bobble heads, said Matthew Katz, Foco's Senior Manager of Licensing. In fact, Foco recently signed a deal to produce co-branded bobble heads featuring Major League Baseball teams and Peanuts' Charlie Brown and Snoopy characters.
The appeal of POD continues to grow as retailers work through excess inventory—some of which might not clear until mid-second quarter—and react to changing costs, licensing executives said.
Coming off a year in which most suppliers raised wholesale prices to offset increased costs, many suppliers at Tailgate said they are reducing prices this year. Blue 84 will cut wholesale prices 20-25% in the case of more premium fleece-based products and Foco will drop prices by the same amount in some categories, according to Katz.
"The costs are coming down for transportation, materials, and other things, and we are looking at passing those savings on depending on the category," McCollough said. "Companies are now taking a deep breath and looking at their costing, but there was a time a year ago when retailers would buy whatever you had and didn't ask about price. Now many are overstocked, and they are checking the price."
In addition to focusing on tools like POD that allow them to be more price- and inventory-conscious, many companies are also seeking out new products and categories in a bid to stand out to sports fans.
For example, Baseball BBQ is shipping outdoor cooking utensils (including tongs, spatulas, forks, and bottle openers) with baseball bat-like handles that sport MLB player and team names. The company also boasts cutting boards commemorating championship teams and the late Babe Ruth, CEO Mike Mullen said. Kitchen Innovations is partnering with various schools to launch sippy cups featuring mascot heads. And StadiumSpot is shipping dog beds that look like beloved college and university stadiums.