Pūkeko Pictures writes new chapter for Book Hungry Bears with Publishing and Broadcasting deals Ten new publishing titles developed by Martin Baynton planned for new series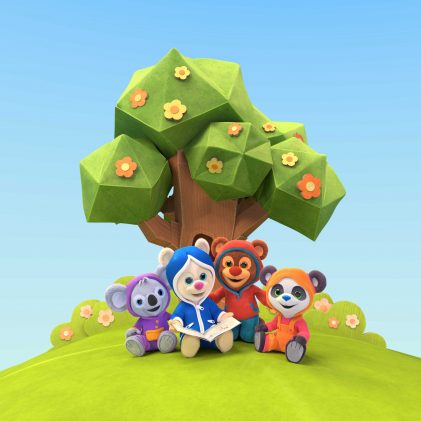 Pūkeko Pictures has unveiled deals with top international publishers on its new CGI picture-book preschool series Book Hungry Bears [52×11'] as well as details on ten brand new picture books to feature in the TV series.  The slate of new books were developed by the company's Chief Creative Officer and acclaimed writer Martin Baynton, who also created the series.  High-res image attached for media use. 
In broadcast deals, TVNZ and ABC Australia have signed up to air the preschool series that is co-produced with Canada's Breakthrough Entertainment and Hengxin Shambala Kids in China.  Book Hungry Bears has been commissioned by Canada's TVOkids and TFO, in association with Knowledge Kids.
Publishing partners that have come on board to supply picture books for inclusion in Book Hungry Bears include: Scholastic Canada; Pajama Press; Kids Can Press; Tradewind Books; Inhabit Media; Editions D'eux; Owl Kids Books in Canada.  Pūkeko Pictures has also signed deals with Macmillan Children's Publishing and Simon & Schuster Children's in the US; Walker Books and Child's Play in the UK; Harper Collins in Australia, and Gecko Press, Duck Creek Press for NZ as well as two Martin Baynton books from Scholastic NZ Why do you Love Me and Daniel's Dinosaurs.
In addition, Pūkeko Pictures' own slate of ten original picture books have been written and illustrated by a group of accomplished and award-winning creatives including Kimberly Andrews, Sacha Cotter, Josh Morgan, K.S. Kulak, Paul Beavis, Roxane Gajadhar, Fifi Colston, Rob Foote and Terri Rose Baynton to feature in episodes of Book Hungry Bears to cover themes for the TV series that were hard to source – themes such as acceptance of diversity and the transient nature of things and blended families.
Martin Baynton is Head of Creative at Pūkeko Pictures and an internationally renowned writer and illustrator of more than 30 children's books including Jane and the Dragon, and the Fifty the Tractor series.
Here come the Bears!  The Book Hungry Bears!  Hungry for Books and stories to share!  Our Book Hungry Bears – Crystal, Boomer, Melody and Scout – LOVE picture books.  Every day they go on adventures in a beautiful papercraft world in search of a book they can share, catching books which flit and flutter like birds amid the paper trees.
Each adventure in the show finishes with the Bears successfully finding, and settling down to enjoy together, a story book that underscores the themes of the episode including topics such as change, diversity, perseverance, new experiences, shared responsibilities and making friends.
They cuddle up "close and comfy" to enjoy the story, always checking first: 'Is everybody close and comfortable?'  The Bears share their delight and engagement with the book as they ask each other questions, point to the illustrations and get caught up in the story.
The Bears' adventures take place in a crafted world of paper and cardboard that every family can recreate on their kitchen table.  Every tree, bush and flower the bears hide behind, every squirrel and rabbit they meet, has been created from card or paper in simple forms that all children will recognise.
Pūkeko Pictures' Chief Creative Officer Martin Baynton said: "Children's love of stories and pictures books is universal, as well as being an important step in development, and sharing the reading experience with grown-ups or peers helps kids form bonds and facilitates emotional learning.  This show brings together my love of compelling narrative and passion for creating content that supports kids in their emotional journeys as they make sense of the world around them."
Book Hungry Bears is produced with the Financial Participation of Shaw Rocket Fund and Canada Media Fund and Produced in association with Knowledge Kids.