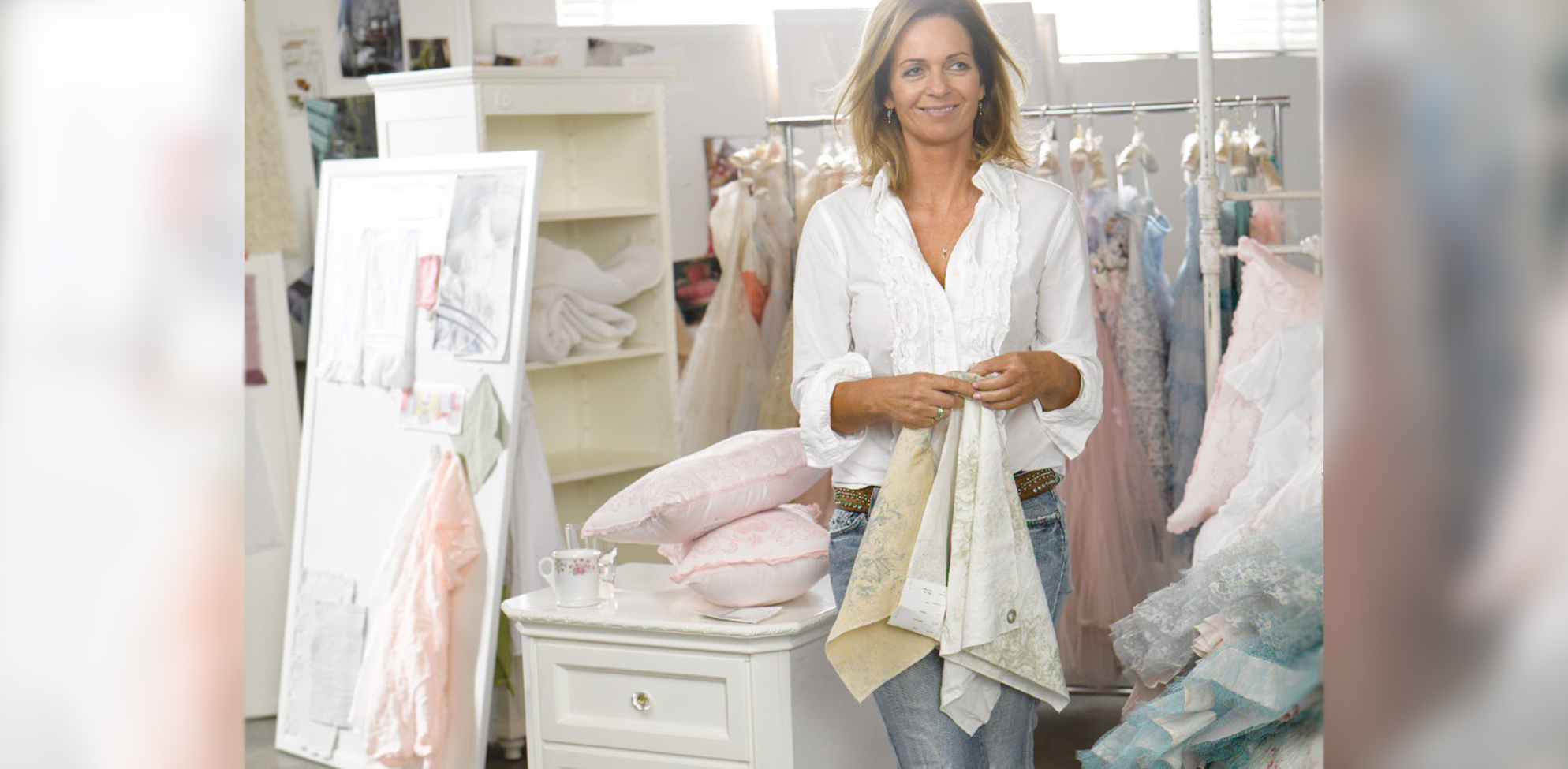 Rachel Ashwell Announces New Partnership With NEXT plc
February 2022 – Rachel Ashwell, founder of the iconic brand Shabby Chic® is delighted to announce a new partnership with leading UK retailer, NEXT plc, brokered by her UK agency, IPR Licensing.
Born and raised in England before moving to California in the mid 1980s, Rachel Ashwell launched Shabby Chic® in a small store on Montana Avenue in Santa Monica California in 1989. It was her love of vintage style, flea market finds and the edgy, nostalgic prettiness of her signature designs that built a huge global following and her becoming synonymous with an interiordesign aesthetic celebrating the 'beauty of imperfection'.
Shabby Chic by Rachel Ashwell® for NEXT plc is a new exclusive licensing collaboration launching later this year. The extensive launch collection will comprise bed and bath linens, soft furnishings including cushions, throws and rugs, furniture for living room, dining room and bedroom, including sofas, chairs, tables, beds and storage alongside complementary homewares including lighting, mirrors, tableware, cutlery and other decorative accessories. Rachel's partnership with NEXT will also feature curated seasonal collections of fresh and 'forever' blooms inspired by her latest book, 'My Floral Affair', with flowers and floral decoration featuring at the core of her designs. The Shabby Chic by Rachel Ashwell® collections will be sold exclusively on next.co.uk and in selected NEXT stores. It is part of a wider lifestyle and fashion programme in the UK building on her successful long-established USA interiors business.
Rachel Ashwell comments:
"My new partnership with NEXT marks a significant new milestone for the Shabby Chic by Rachel Ashwell ® brand and I am delighted to be working with the UK's leading retailer and be one of their main featured brands as they continue to invest and grow their home business. Working with the NEXT design teams across so many categories enables me to bring my furniture and homewares vision to the widest audience and I am excited about this long-term partnership. To have the opportunity to continue to evolve and incorporate new layers of the Shabby Chic ® story over the next several years with NEXT is truly exciting".
Judith le Fleming comments:
"Securing a long-term UK retail partnership for Shabby Chic by Rachel Ashwell® is a key element of IPR's growth strategy for the licensing programme. NEXT plc, with their ambitious growth plans for their homewares business over the next several years, provide the brand with a strong foundation and opportunity to add further complimentary categories across fashion and lifestyle".
About Rachel Ashwell:
Designer Rachel Ashwell's signature is vintage, romantic, relaxed and totally liveable. Drawing on her English heritage and eclectic California life, Rachel Ashwell is known for a design aesthetic that combines English heritage and heirloom pieces with a laidback California casual spirit. Her distinct creative approach has been adopted by many clients over the years including from the worlds of film, TV and music. She has published 11 books, featured in countless TV shows, including her own style series. She was an early adopter of social media and continues to create unique content influencing and inspiring a global fanbase across all age-groups and demographics. Her work has influenced the home furnishings industry for decades and been incorporated in a myriad of furniture, home décor and lifestyle products over the years, whether through her own curated collections or via several licensing collaborations.
About NEXT:
NEXT plc (LON: NXT) is a FTSE 100 company based in Leicester and is one of the UK's leading online clothing retailers. NEXT has around 500 stores in the UK and Eire and an online presence in over 70 countries selling the NEXT brand and over 700 other fashion, home, and beauty brands.