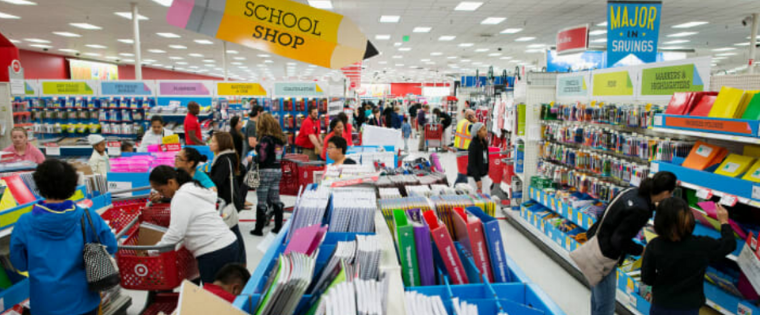 Retailers Tiptoe Into Back-To-School
It's a back-to-school season unlike any other.
The widespread, localized uncertainty about whether and how K-12 schools and universities may reopen is enveloping retailers who normally would be moving into a prime selling season for apparel, backpacks, lunch bags, electronics, dorm décor and a host of other products. It's enough to make some merchants skittish about promoting BTS in their ads.
Tech rules
Sales projections are all over the place. The National Retail Federation forecasts BTS sales – college and K-12 – to increase 25.8% to $101.6 billion while Deloitte projects combined spending of $53.2 billion, up less than one percent from a year ago as apparel, accessories and traditional school supplies drops 17%. While the magnitude of their numbers is wildly different, NRF and Deloitte agree that tech – in large part computers and accessories, including furniture — will drive BTS spending.
Lots of unknowns
Much of the uncertainly hinges how students "attend" school — remotely, in-person or some combination of the two. If they're not physically attending classes, for example, are parents and students going to invest in new clothes? Retailers typically make buying decisions for the next BTS season nine months to a year ahead of time, but merchants may be forced in many cases to hedge their bets and adjust assortments based on region, says Jake Cohen, Head of Product Marketing at the email marketing firm Klaviyo.
"Retailers that can stay nimble and react quickly to the changing needs for education amid the challenges of COVID-19, will likely be the ones that have an opportunity to appeal to shoppers this season," Deloitte's Rod Sides said.
Deloitte expects sales of BTS apparel to drop 17% as students stick with more casual fashion. At the same time, though, well-known apparel brands could benefit as retailers carry narrower assortments and stick with top-sellers, says Janine Stichter, specialty retail analyst at investment firm Jefferies. Another new addition to the BTS shopping list: personal hygiene supplies, presumably including facemasks.
While BTS sales typically kick off this month – the strongest sales periods are the last two weeks of July and first two weeks of August — consumers will likely postpone buying decisions until there seems to be a clear plan for their schools.
"So far BTS has been a non-event at retail," says Concept One CEO Sam Hafif, whose company sells backpacks and other BTS accessories. "I've spoken to backpack buyers in the off-price and club channel and both have said they are not seeing any action on backpacks or BTS seasonal items like school uniforms. They are hoping that it's a timing issue, and that as school districts announce their official opening dates parents will come out to shop, but that remains to be seen."
The experience may be channel-specific. Bioworld, which sells apparel primarily through Walmart and Target, has seen "strong support and buying power for BTS" and demand for backpacks and school accessories is "still high," says Bioworld's Jason Mayes.