Sesame Workshop Characters take over Suburbia Retail Stores in Mexico to Celebrate their 50th Anniversary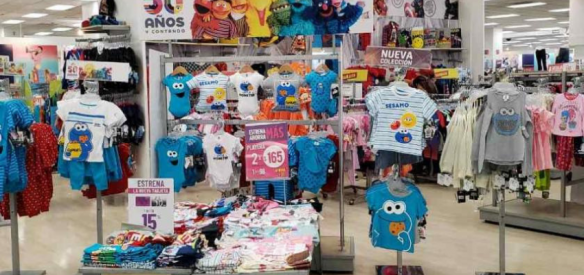 Cookie Monster, Elmo, Big Bird, Bert and Ernie, Count von Count, Abby Cadabby, and all Sésamo characters are already at 126 Suburbia retail stores throughout Mexico and its online store, with more than 50 products
La Panadería, licensing agent for Sésamo in Mexico, was in charge of negotiations to join Sésamo and Suburbia together, and to design a strategy including great visuals in stores, and a wide range of products
Mexico City, April 4, 2019 .- La Panadería, the licensing agent representing Sésamo in Mexico, announced its DTR strategy, Direct to Retail, to continue Sesame Workshop 50th anniversary celebrations this 2019. This campaign consists of the exhibition and point of sale in 126 Suburbia retail stores with different products with Sésamo characters for babies, kids, and adults; as well as a special exhibition of Sésamo designed furniture and its 50th anniversary.
The campaign was rolled out in 126 Suburbia stores throughout Mexico and started on February 14th with Suburbia's BBfest.
Sésamo is a global brand that represents education, inclusion, social responsibility, diversity, respect, values, and entertainment for kids and adults. Throughout its 50 years, Sesame Workshop has adapted to changes in the world and to different cultures, always preserving its essence and reinventing itself to offer educational content for kids, focused on their development.  
"We are very excited about this association with Suburbia. Our mission has always been to reach as many kids and families as possible, and this association supports this mission," said Lewis Kofsky, Vice President and General Manager for Latin America, and Executive Producer, International, at Sesame Workshop. "This is only the beginning of an amazing celebration."
Sesame Workshop, the non-profit organization behind Sésamo, has several social and educational programs that benefit kids in Mexico and globally. This is why the synergy between Sésamo and Suburbia is a big success, since all profits coming from Sésamo licensees in Mexico are reinvested in these programs to support their mission and to give kids the tools to develop their cognitive, emotional and physical abilities, and to be intelligent, strong and kind. Suburbia, on its side, is positioned in the mindshare of Mexican families as the retailer where they can always find a wide variety of products.
This campaign in Suburbia represents the largest DTR in the history of Sésamo because it includes more than 50 products for babies, kids, and adults. Besides POP, La Panadería will organize several activities with Sésamo characters like Meet & Greet, games and contests, so kids can play along with Elmo and Cookie Monster.
"At La Panadería, we are proud to represent such a noble brand, with all its history of having a strong commitment with children around the world", said Maca Rotter, President and CEO, La Panadería Licensing & Marketing. "This campaign is only one of the many activities we have prepared to celebrate Sesame Workshop's 50th anniversary in Mexico, and we know that many kids will be more than happy to see their favorite characters and the products they like the most".