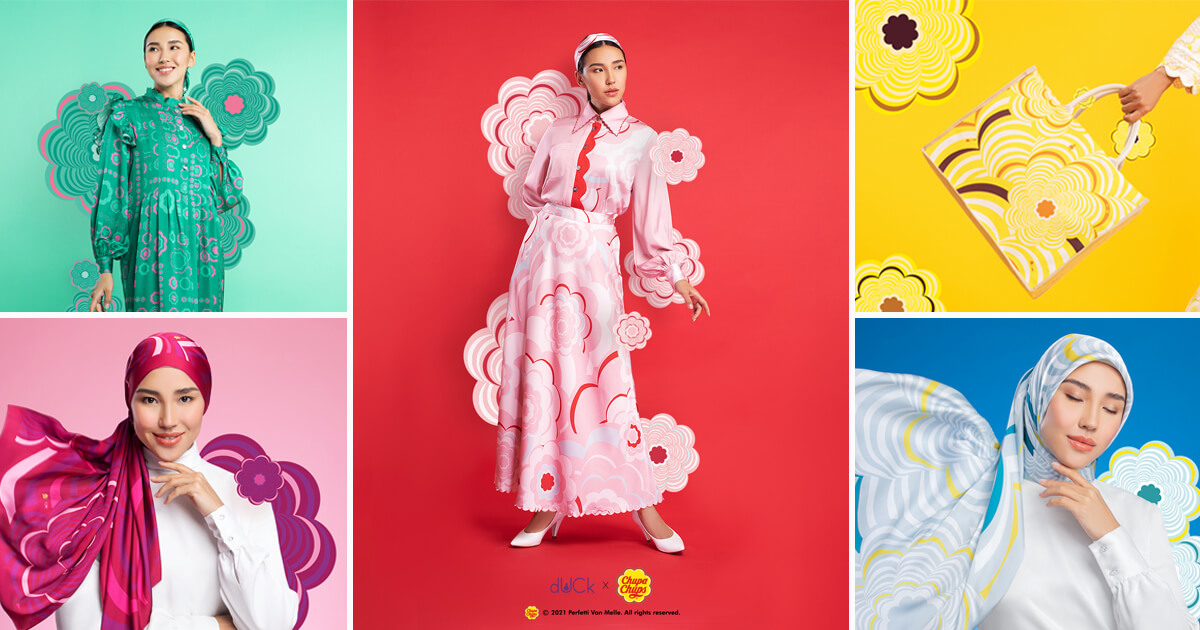 Shine This Summer With the "Pop-timistic" dUCk X Chupa Chups Fashion Collection
Perfetti Van Melle group has teamed up with prestigious Malaysian fashion company The dUCk Group, to create a colorful and "POPtimistic" apparel collection featuring the well-known brands dUCk x Chupa Chups.
This is a bright, upbeat and unique fashion collection. The complete line of apparel and scarf accessories features the Chupa Chups flower-power pattern, based on the iconic logo designed by famous Spanish artist Salvador Dalí.
This good-vibes, vibrant collection includes dresses, blouses, pants, skirts, twillies and scarves made from delicate, high-quality textured satin silk. dUCk has also developed a range of cute shopping bags to create looks that are perfectly coordinated from head to toe.
"We are very excited about this new fashion collaboration with dUCk. They have captured the colorful fun essence of Chupa Chups perfectly, combining it with their own characteristic elegance. dUCk x Chupa Chups is a casual but high-end collection made with delicacy, love and taste. It's going to be a real success!" says Vanessa Grande, Licensing Coordinator at Perfetti Van Melle.
"Chupa Chups's fun and creative personality are the values we cherish at dUCk so we are beyond excited to kick off our first collaboration of the year with such a renowned brand. And we are the first local brand to do so too," said Vivy Yusof, founder of The dUCk Group. She continues, "So much is happening around us and, with this Chupa Chups collection, we hope to bring back some optimism and sweetness into your life."
The dUCk x Chupa Chups limited edition range has been just launched in retail stores in Malaysia and Singapore, and is also online at dUCk's website, for all those stylish, self-confident, optimistic women out there who are looking forward to indulging themselves a little!
About the dUCk Group
dUCk is an aspirational lifestyle brand for modest women around the world. Founded on its love for well-branded scarves, the brand has expanded to become The dUCk Group and has won a global following for its scarves, bags, accessories, ready-to-wear, home & living and the beauty line, dUCk Cosmetics.
Fun, imaginative, and expressive: these characteristics have become hallmarks of the brand. dUCk is narrated by D, a fashion-forward entrepreneur who enjoys that li'l dash of luxury in life, and the brand translates her stories into the world of dUCk.
Founded by business icon and entrepreneur Vivy Yusof, dUCk has been featured in international media including the BBC, The New Yorker, Forbes, CNN and The Business of Fashion. The dUCk Group has also collaborated with some of the world's most renowned brands and personalities, including Disney, Barbie, Warner Bros., Miss Universe and Fox Movies, to name but a few.
Visit us at www.getducked.com for more information and make sure to follow D's adventures on her Instagram @theduckgroup and @duckcosmetics.
 About Perfetti Van Melle Group
The global confectionery group Perfetti Van Melle is a privately-owned company producing and distributing candies and chewing gum in more than 150 countries worldwide and it owns many much loved brands. Perfetti Van Melle is always striving to create innovative treats and a better future for its consumers.
Perfetti Van Melle also unlocks the power of several of its most popular brands through a successful licensing program: Mentos, Chupa Chups, Airheads, Frisk, Brooklyn, Smint, Fruittella, Alpenliebe and Big Babol all have sweet or fresh lifestyle oriented programs in key markets across the globe. By merging art, fashion, pop culture and candy, the brands' style guides offer original creativity to develop an ever-expanding universe of exciting lifestyle products, brand and retail experiences.
Moreover, the Chupa Chups and Airheads brands offer the opportunity to take their characteristic and unique flavour profiles to selected categories in the food and beverage aisles with leading FMCG partners.
Chupa Chups has been conquering the heart and taste of kids and teens since 1958. The brand has become world famous for its round lollipops in many flavours and the flower shaped logo which was designed by the famous artist Salvador Dalí in the late sixties. Today the brand launches novelties in more than 130 countries in a sustainable manner.
Based on the brand's strong personality and identity, a vibrant pop style has been developed for licensing that is always on trend. The forever fun style guides offer endless possibilities to create colourful lifestyle products and a one of a kind brand experience all over the world.
Chupa Chups' characteristic flavour profile is also ideal to bring credibility and to inspire innovative food and beverage products that never fail to stand out on retail shelves.