Small, Medium-Size Toy Companies Increasingly Become Licensors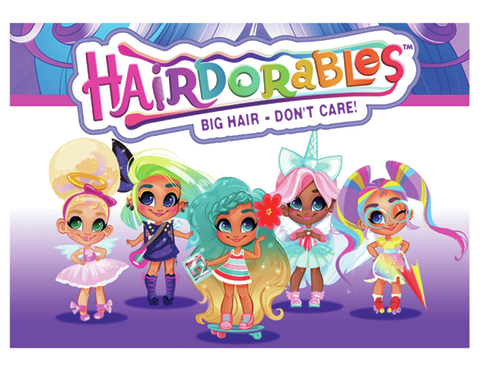 While large toy companies have traditionally developed IP for  core products and potential outbound licensing, small- and medium-size firms are increasingly following suit.
Those companies are seeking to move into the role of licensor with an eye toward two major goals. One, of course, is the revenue that can be generated by a successful licensing program. The other aim to extend the life of the core product via the exposure that comes from having it appear on store shelves and web pages far from the toy section.
"Licensing provides an avenue to extend our brand to new fans. It's a domino effect – we engage consumers through our toys who then want to buy the consumer products, and vice versa. "It's a win win," says Nicole Hardiman, Senior Licensing Manager of Moose Toys, whose Shopkins success set the stage for other recent outbound licensing efforts.
Companies such as Just Play (Hairdorables collectible dolls), Jazwares (Nanables app-connected collectibles with miniature structures filled characters called Nanos), Basic Fun (Cutetitos, blind bags featuring stuffed animals wrapped and hidden in a "burrito") and Kellytoy Worldwide (Squishmallow plush) have launched lines and are weighing or readying licensing programs for their brands. They're following in the footsteps of Moose Toys, which was relatively small company when it introduced Shopkins in 2014, kicking off a collectibles craze, and setting the stage for a licensing program that was shepherded to market in North America by The Licensing Shop.
"Developing our own IP allows us to have control over the direction of the line as well as grow our position in the categories that we may not have been in previously," says Just Toys Co-President Geoffrey Greenberg. "If an IP is successful, it opens opportunities for outbound licensing which creates an additional revenue stream as well as helping to promote the brand."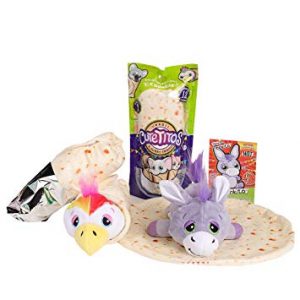 Brand Building
Brand building is a goal also cited by Davin Sufer of WowWee, whose Fingerlings are the subject of an outbound licensing program. "Licensing the brand out to other companies provides revenue, but it is more about keeping mindshare alive. We also have Fingerlings content for YouTube. It is about building that fan base and doing it to ensure the continuity of the brand."
While some of the smaller and medium-size toy companies are increasingly developing products with potential licensing in mind, sometimes it's an afterthought that comes into play after a line proves successful at retail.
For WowWee, Fingerlings, which now has 30 licensees, didn't have stylebook or licensing plans until well after the line took off at retail in 2017; it subsequently hired Striker Entertainment to represent the brand. But with a new Fingerlings line due in mid-2020 with new characters, a licensing program will be firmly in place, says Sufer.
It's a change in the toy company's general business model. Money that in other circumstances would be spent on paying royalties for somebody else's license can be allotted to funding an advertising campaign for the initial introduction of internally developed IP, says Sufer. And the revenue (and marketing exposure) from outbound licensing can be used support the core toy line.
Deciding whether the internally developed IP is ripe for licensing requires crossing several thresholds. Broadly, industry executives say annual sales need to surpass $20 million, which often also means a steadily increasing amount of shelf space it gets in the toy department. Most properties need about two years to establish themselves at retail and prove enough consumer recognition to attract other companies to the brand. There's also the need for content to drive the brand, on YouTube, social media or other platforms.
Strong Franchise Plan Needed
"It's not enough anymore to launch a licensing program off the back of strong toy sales," says Hardiman of Moose Toys. "You need a strong franchise plan including toys and content to help build a licensing program and brand affiliation. The market is more competitive than ever, you need to differentiate your brand for retailers to jump on board."
In the case of Hairdorables, licensed products will be introduced next year, two years after the line debuted at retail, says Evolution Management President Travis Rutherford, whose firm is representing the brand. Licensee Innovative Designs will launch stationery, journals and other product for the back-to-school season in 2020. In the case of Cutetitos, Basic Fun already new it had a built audience since the toy itself took its cues from social media where in video people were wrapping their pets in towels to resemble a burrito, says Basic Fun's Ashley Mady. Basic Fun took note of the trend in December 2017 and introduced product eight months later.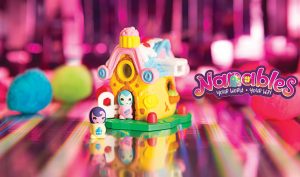 For Nanables, which launched at Target on June 23 and was introduced at Walmart this month, Jazwares foresees a licensing program, though nothing has yet been set in motion, given how new it is in the marketplace, and no established track record, says the company's Ashley Ferguson.
In many cases, the companies are asking for lower minimum guarantees to encourage potential licensees to test the property, say industry executives.
From the licensee's perspective, says Susan Peia of children's apparel manufacturer Bentex the property has to have some distinctive aspect, such as a play pattern or supporting content. The company is currently negotiating a license for Hairdorables.
To build a base of potential products brands, Jazwares created a JazWings incubator program in 2015 for inventors to develop their ideas with the company's guidance. A few products – Panda-a-Panda plush being one — made it to retail.
Some ideas from such programs might be more practical as licenses than as company-produced toys. "Toy companies are full of creative people, and the vast amount of ideas don't meet the return on capital needed to build a toy program," says Jefferies Senior Research Analyst Stephanie Wissink. "These still might be fantastic ideas, and licensing could be one way of getting the value of the ideas without putting a lot of capital and risk on the table. Let the capital continue to focus on what the company does best from a design and development perspective."
Contacts:
Basic Fun, Ashley Mady, Head of Brand Development, 561-997-8901, Ashley.mady@basicfun.com
Bentex Group, Susan Peia, EVP Licensing, 212-594-4250, susan@bentx.com
Evolution Management, Travis Rutherford, President, 512-828-6362, travis@evomgt.com
Jazwares, Ashley Ferguson, Business Development Mgr., 854-358-8059, aferguson@jazwares.com
Jefferies, Stephan Wissink, Senior Research Analyst, 212-284-1713, swissink@jefferies.com
Just Toys, Geoffrey Greenberg, Co-President, ggreenberg@justtoyproducts.com
Kellytoy Worldwide, Jonathan Kelly, CEO, 323-588-8697
Moose Toys,  Nicole Hardiman, Senior Licensing Mgr., nicole.hardiman@moosetoys.com
Striker Entertainment, Russell Binder, Partner, 818-225-9355, russell@strikerent.com
The Licensing Shop,  Nancy Fowler,  President, 416-322-7300 x202, nancy@thelicensingshop.com
WowWee Entertainment, Davin Sufer, Chief Technology Officer, 514-344-1250