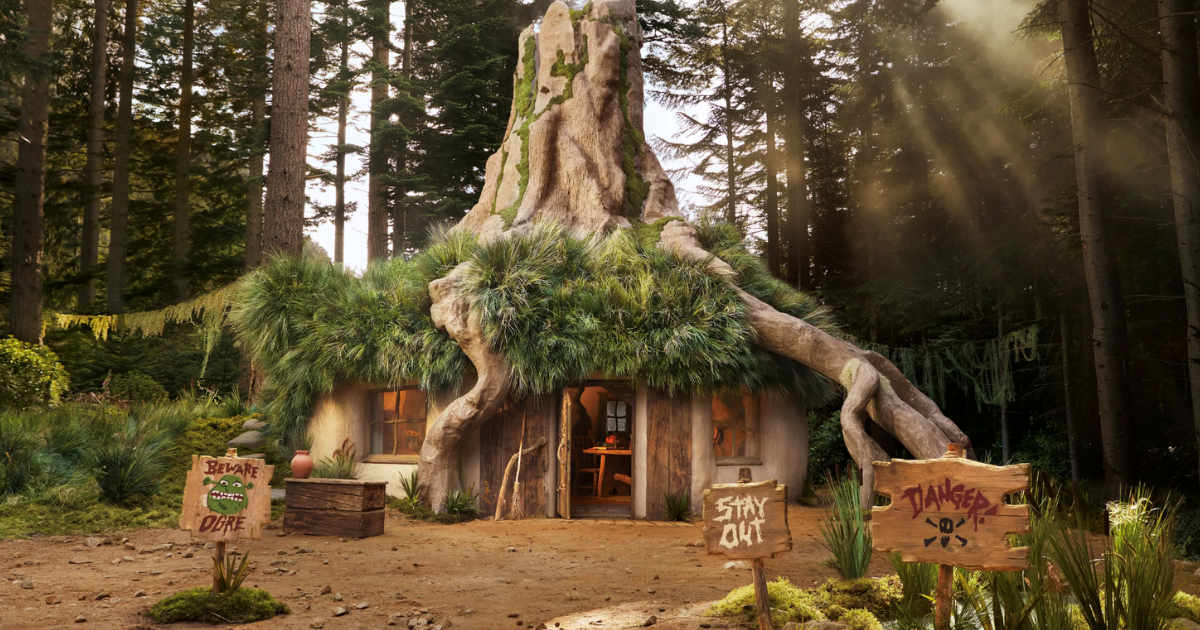 Spend the Night in Shrek's Swamp, Now on Airbnb
This Halloween, Donkey is swamp-sitting for his best pal, DreamWorks Animation's SHREK, and he's rolling out the welcome mat to host fairytale creatures of all kinds while he's there.
Shrek's mud-laden, moss-covered, murky-watered swamp is situated among the rolling hills of Scotland where guests can stay up late, swap stories, and eat like an ogre – because in the morning, Donkey's making waffles!
Onion and ogre enthusiasts can request to book this fairytale stay in Shrek's Swamp beginning October 13 at 6 p.m. BST.
Once upon a time, a very chatty donkey agreed to swamp-sit for Shrek. Before he hits the road again, Donkey is inviting guests near and far, far away to sleep like an ogre in Shrek's Swamp, only on Airbnb.
Located among the hills of the Scottish Highlands, Shrek's Swamp is a stumpy, secluded haven fit for a solitude-seeking ogre – and for the first time ever, a handful of his biggest fans.
"Shrek's Swamp is lovely. Just beautiful. The perfect place to entertain guests," Donkey said. "You know what I like about it? Everything. The overgrown landscaping, the modest interiors, the nice boulders, all of it. I can't wait for guests to experience this muddy slice of paradise for themselves."
With Donkey in charge, guests will have the chance to live their own versions of the layered ogre life for two special, starry nights (minus the torches, pitchforks, and intrusive Duloc Knights).
A former refuge for fairytale creatures, Shrek's Swamp brings a whole new meaning to the term 'treehouse.' With its clever use of forestry, charmingly rustic interiors and iconic outhouse, the swamp is certain to offer an experience unlike any other.
For £0 a night  – a nod to the priceless refuge Shrek's Swamp has provided fairytale creatures of all kinds – 'brogres' will be able to request to book an exclusive two-night swamp stay* for up to three guests October 27-29.
During their stay in this spectacularly secluded swamp-scape, guests can:
Relax in the ambiance of "earwax candlelight"
Kick their feet up with a parfait (everybody likes a parfait!)
Swap stories around the fire until late in the night
Enjoy a stack of freshly made waffles in the morning
And of course, enjoy the ultimate privacy of Shrek's trusted outhouse (you know the one)
Onion and ogre enthusiasts can request to book Shrek's Swamp beginning October 13 at 6 p.m. BST at airbnb.com/shrek. Guests are responsible for their own travel to and from Scotland.
To honor good childhood memories that last a lifetime, Airbnb will make a one-time donation to the HopScotch Children's Charity, which provides some of Scotland's most vulnerable and disadvantaged children with respite breaks through nurturing and dynamic holiday trips.