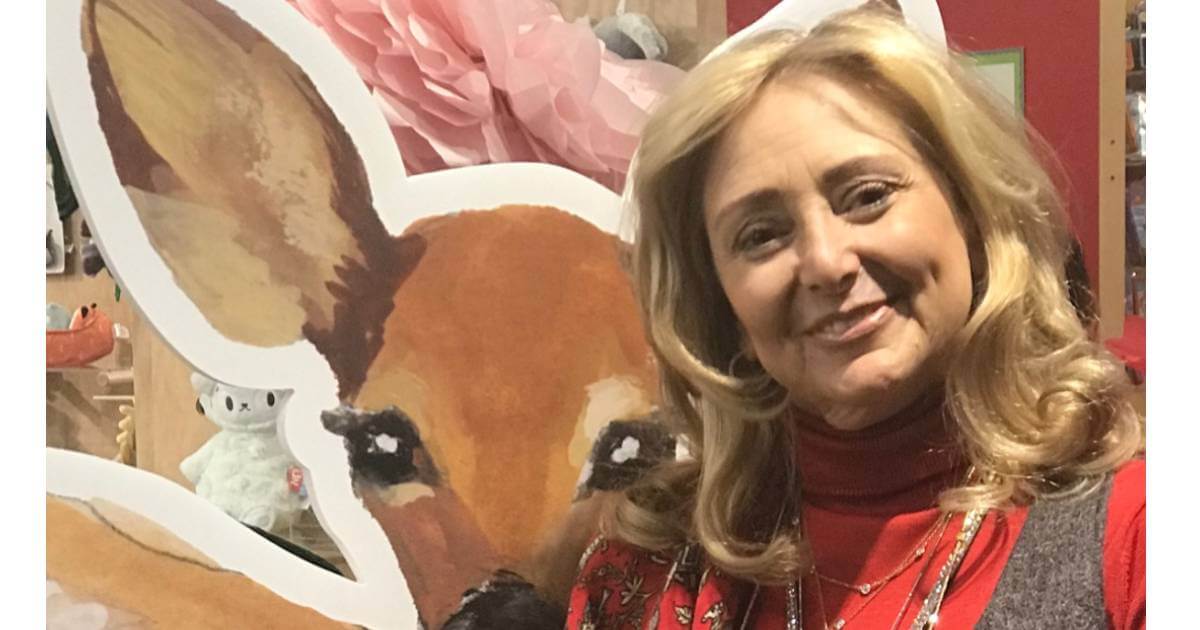 Spotlight on Spotlight: Carole Postal Celebrates 25 Years at Licensing Agency
2023 is shaping up to be the year of the anniversary for the global licensing industry. Both Disney and Warner Bros. are marking their 100th anniversaries with extensive consumer products programs, while brands like ET The Extra-Terrestrial (40 years) and Jurassic Park (30 years) will also mark major milestones.
But Carole Postal, president at Spotlight Licensing & Brand Management, is getting a head start on her own celebrations.
Carole launched her agency in June 1997 as what was then known as CopCorp…AKA…Carole Orgel Postal!  After a brief merger and re-name in 2012 (after the passing of Carole's husband, Bob Postal, a licensing pioneer in his own right) Carole renamed her agency Spotlight!  And with her remains her first two employees, Jodi Gottlieb, SVP Licensing and Ken Wong, Director of Marketing/PR.  Together they remain a powerhouse in representing everything from entertainment brands, (Downton Abbey; Outlander) beloved children's brands like Little House on the Prairie and Ringling Bros. and Barnum & Bailey, social media animal celebs like BOO, THE WORLD'S CUTEST DOG, trend sweet PRECIOUS MOMENTS and, of course, an unknown character brand that became a mighty force in altering the course of licensing and credited with initiating the first "trend" brand ever, for the fickle tween and teens…Jim Benton's "It's Happy Bunny".
"Hot Topic Inc. has had the pleasure of working with Carole and her team for the last 25 years. Carole's unique approach to licensing, and category opportunities have taken strong IP to market in unique and innovative ways.  She has an eye for finding white space openings in the marketplace that both surprise and delight customers. Carole's attention to the details, as well as her understanding of both the IP holders and the end use customers has made her an important pillar of the Licensing Industry," says Ed La Bay, SVP GMM of Hot Topic and Her Universe.
Carole's background in licensing extends to celebrated years in the entertainment industry with Turner Home Entertainment (now part of Warner Bros. Discovery) before being named VP of Licensing, Marketing, Strategy and Retail of the Americas for Sesame Street. When Carole set out her licensing shingle, the focus was always having an eye to the retailer and Licensor, and how the retailer needs to be introduced to an entertainment opportunity directly from the source and not just the licensee.  Carole's first clients were with major entertainment companies like New Line Cinema, Paramount Pictures, and Marvel, as well as children's entertainment brands like THOMAS THE TANK ENGINE AND FRIENDS (and through Carole's efforts, renamed THOMAS AND FRIENDS)  to help actively engage retailers in licensing programs.
In her 25 years at the helm of her own licensing agency, Carole—along with her team, Ken and Jodi —has built a reputation for finding, championing, and strategically positioning lesser-known, niche, or specialty properties for licensing success. That out-of-the-box thinking has served her well in her career so far, and Carole says creativity will be the best way to stay competitive over the course of the next 25 years.
"I love that this industry, and products in general, are going to the metaverse. There are so many new ways to express brands now, in ways we previously never would have thought could exist."
"I have had great times, many laughs, few tears all while making a lot of money working with the Spotlight team for more than 22 years. I could not be prouder of my very good friend, Carole Postal for taking a risk 25 years ago and being tenacious enough to still be standing stronger than ever. Very excited for both our current, as well as many more future partnerships to come," says Frank Bottaro, SVP Sleepwear and Business Development of Bioworld Merchandising.
Carole's career has also included significant charitable work. She currently serves on the Executive Committee and Board of Directors for Delivering Good, a charity dedicated to getting new product donations to those in need. Carole was also formerly on the Board of Directors of the Museum of Comic and Cartoon Art, a LIMA officer from 1989-1994, and a member of LIMA's Executive Board from 1994-1998.
With all of that experience informing her next steps, Carole said she is just as excited about the industry now as she was in 1997. And as brands of all ages fight for shelf space for their anniversary offerings next year, she recommends celebrating every win, both big (like making the 25-year milestone) and small.
"When you see one of the products that you worked on sitting on a shelf, it's still thrilling."