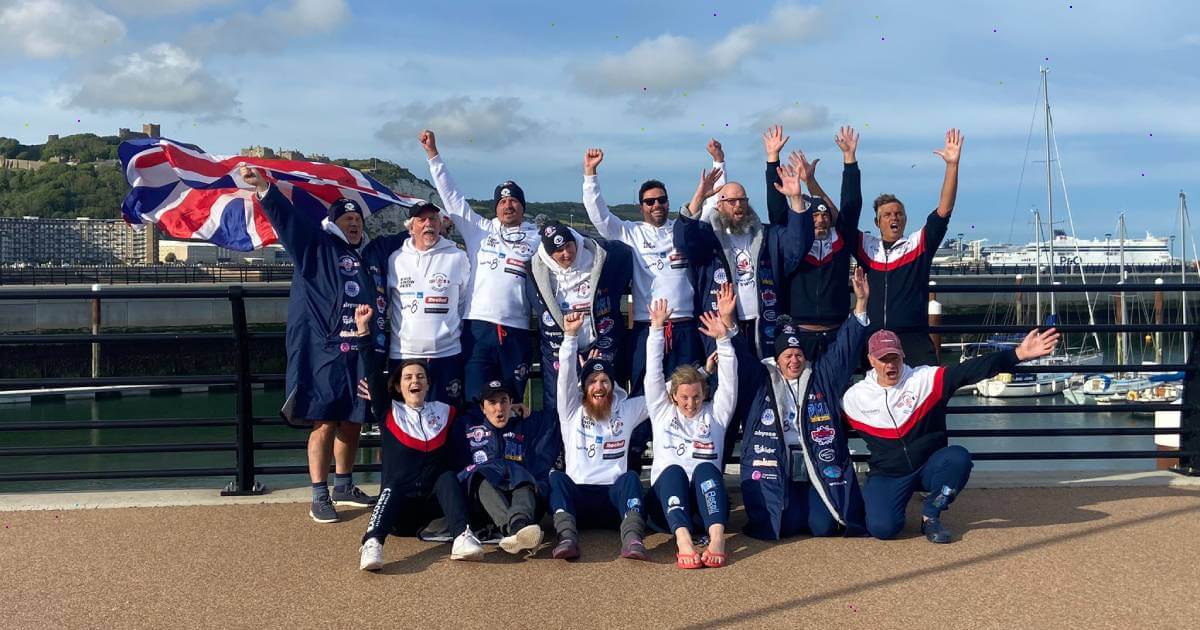 The Light Fund Raises Over £212,000 in English Channel Relay Swim
UK-based charity The Light Fund successfully completed its latest fundraising event, the 2022 English Channel Relay Swim. Two teams raced across the English Channel, starting in Dover and ending on the French coast, raising over £212,000.
The English Channel is 21 miles at its narrowest point, though the teams swam much farther due to nearly seven-foot swells and tidal shifts during the course of the relay, which began on June 29. Team High Hopes completed the relay in 14 hours and 56 minutes and Team Optimist finished in 15 hours and 24 minutes.
Team High Hopes was captained by Stephen Gould (Bear Conran), and included Mark Kingston (Paramount), Rhys Fleming (Dependable Solutions), Anna Hewitt (Spin Master), Anne Bradford (Poetic Brands), Simon Gresswell (SGLP), and reserve Terry Lamb (Corsair). Team Optimist was captained by Ian Down (Keystone Law) and included Eion Wallace (Jaguar Landrover), Katie Price (The Roald Dahl Story Company), Jason Goonery (SEGA), Mark Bezodis (YMU Group), Kevin Langstaff (GB EYE), and reserve Tasmyn Knight (Hasbro).
"The bond we all have now is unique and will never be taken away from us," Stephen Gould said in a post-swim statement on The Light Fund's donation page. "We dared to do something that others only dream of and, in the face of great adversity, we triumphed. The industry support for what we have done has been tremendous."
Donations are still open, with the 2022 English Channel Relay Swim aiming to raise £250,000. Additionally, Bioworld International plans to launch a series of celebratory t-shirts with a limited number of sponsorship opportunities. Those interested in one of the 10 corporate logo slots can contact Mark Kingston.
The money raised will go to The Light Fund and the Royal National Lifeboat Institution. The Light Fund supports organizations including Maggie's, New Life, Orchid, Motor Neurone Disease Association, The Brain Tumour Trust, MIND, Pancreatic Cancer UK, Alzheimer's Society, MS-UK, Bower Cancer UK, Children with Cancer UK, Acorns Children's Hospital, Francis House Children's Hospice, and The Teenage Cancer Trust.
To date, The Light Fund—which was founded by a group of licensing executives in 2004—has raised over £1.7 million ($2.06 million USD) for hundreds of different projects.