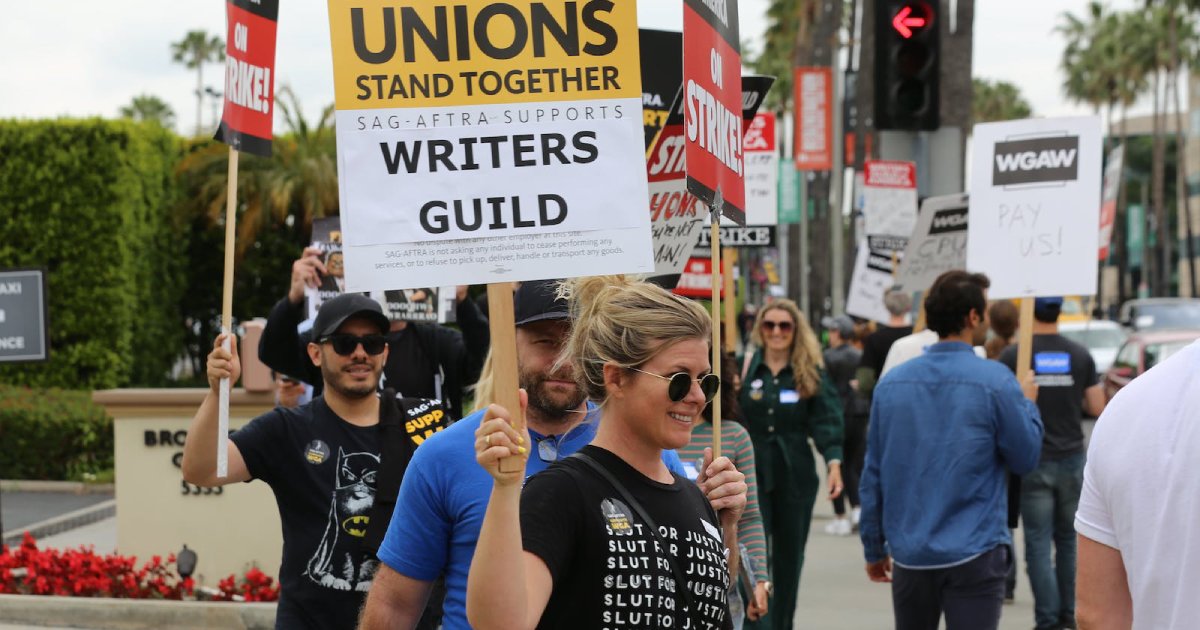 The Path for Products During Strikes
By Mark Seavy
The Writers Guild of America (WGA) and Hollywood studios have resumed negotiations but until the joint strike by the WGA and the Screen Actors Guild-American Federation of Television and Radio Artists (SAG-AFTRA) officially ends, the licensing industry continues to gauge the long-term impact of the shutdown.
For the most part, licensees report they haven't felt much impact yet despite earlier concerns about how business might fair if a settlement wasn't reached by September, a key time for production of streaming and TV series. Because many licensees are increasingly reliant on evergreen IPs—which aren't as subject to the vagaries of release dates—product development hasn't slowed, licensing executives said.
The dual writers' and actors' strikes have, however, halted production on several major projects with licensing programs, including Netflix's fifth season of Stranger Things. The release of Marvel Entertainment's Blade shifted to September 2024 from February 2024 and the newest season of Paramount's Evil has not had a new release date set since being delayed from July 6. Amazon Prime Video's Bladerunner 2099 series has had filming delayed until spring 2024, meaning it likely won't be released before mid-2025.
The Avatar films, which have a history delays, have had their releases further postponed. Avatar 3's release has been pushed back to December 2025 from December 2024, while Avatar 4 has moved from 2026 to 2029. And Crayola, which unveiled plans for a film studio earlier this year, hasn't set a date to start production on The Alien Adventures of Finn Caspian, which is being co-developed with MIMO Studios. It's based on a children's podcast that debuted in 2016 and has since produced 260 episodes. In addition to co-producing the animated series, Crayola will handle licensing, Crayola CEO Rich Wuerthele said.
Yet some film releases have benefitted. Blumhouse Productions' Five Nights at Freddy's film now stands as the sole horror film being released on October 27 after Lionsgate's Saw 10 release was delayed.
"The strikes will impact the licensing business, but nothing to the level of what occurred during Covid-19," said Russell Binder, CEO at the agency Striker Entertainment, which represents, among others, Five Nights at Freddy's. "It will impact the big five studios who are in the franchise delivery business. They are used to having films come out on a regular basis and supporting them with merchandise is a big part of their business. But everyone else will be OK."
One reason licensees have yet to feel the squeeze is because of their broad portfolios. They have been able to focus on the likes of children's programs, anime, and videogames, which haven't been affected by the strike. For example, Netflix released its One Piece live action series on August 31 (production was completed before the strike) and products related to the original anime will likely benefit. Additionally, licensees can "chase" product for popular films like Barbie, a practice that is expedited by the growing use of print-on-demand.
The financial impact of the increasing number of film and TV releases that are being delayed is already starting to be felt by the film studios, however. Lionsgate cut its forecast for earnings before interest, taxes, and depreciation (EDBITA) through September—an important financial gauge—by $30 million, said CFO Jimmy Barge.
WildBrain, which counts Peanuts, Strawberry Shortcake, and Teletubbies among its IPs, lowered EBITDA forecasts for the year by $10 – $15 million. And Warner Bros. Discovery said the ongoing strike by WGA and SAG-AFTRA will result in a $300 – $500 million hit to annual earnings.
"We are being conservative in our outlook for the studio amid the direct and indirect impact of the ongoing strikes," WildBrain CEO Josh Scherba said. "There is heightened volatility in the near-term as the industry tries to come together to find an amenable solution for all parties involved."
Warner Bros. Discovery's CFO Gunnar Wiedenfels said there is very little content production happening right now and that the ongoing strike could "potentially hurt" the company's Q4 earnings.
And until deals are reached, retailers—much like licensees—will have to rely more heavily on evergreen IPs to stock their shelves and eCommerce stores, industry executives said.
"The strike is significantly impacting retailers' planning strategies around both theatrical and streaming release dates and, as a result, they are leaning more into classic [properties]," Concept One Accessories CEO Sam Hafif said.