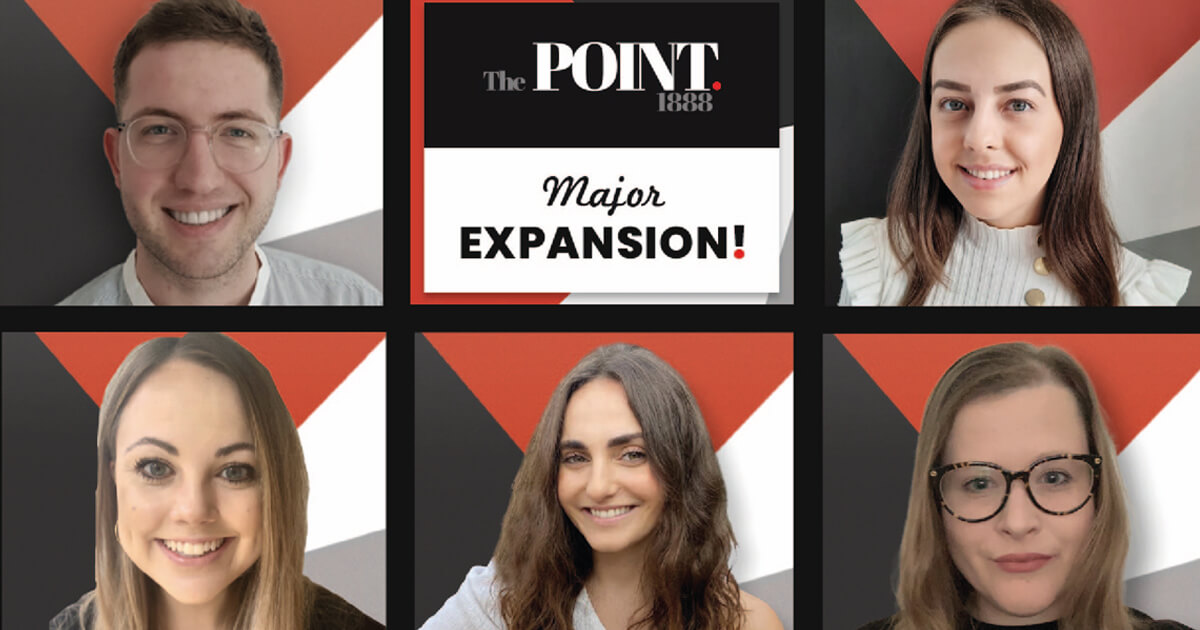 The Point.1888's Post-Pandemic Expansion Plan Gathers Pace
Just weeks after announcing three appointments within its marketing division and for marketing agency Story.1888, The Point.1888 has expanded four more of its departments – Commercial, Retail, Product Development and Finance.
The agency, which has established itself as the next generation in brand licensing, has appointed five new recruits across its business to support its every increasing client base and busy product development programme.
Joining the agency are:
Rosanna Cousins, who has several years' of Retail Buyer experience at John Lewis and Harrods, is The Point.1888's newest retail manager. She will report to Head of Retail & Sport, Hannah Stevens, supporting the division as it prepares for a busy year ahead;
Sophie Fennessy, as Senior PD Executive, will be working within the fast-paced Product Development division, putting to use her vast licensee experience gathered at previous employer Poetic Brands;
Naomi Serradimigni, who previously worked at Brandbassador, the ambassador marketing platform, is The Point.1888's new Senior Commercial Executive and will focus on Health & Beauty categories;
Max Pilcher, the agency's newest Commercial Executive, joins from ViacomCBS and will report into Senior Commercial Manager of Soft Goods, Becky Langer, to support work across the portfolio and assisting with sub-agents in Italy and Iberia; and
Mia Wakeling, as Finance Assistant, will work in the agency's busy Finance Department.
Despite the pandemic's best efforts, The Point.1888 has welcomed 11 new clients and this growth in the agency and its client book made the decision to recruit once more an easy one.
Bethan Garton, Commercial Director at The Point.1888 said, "This is a hugely exciting time for us as we expand the licensing arm of our agency, continuing the growth we have seen in recent years. Bringing Rosanna, Sophie, Naomi, Max and Mia to the commercial and brand teams at The Point.1888 allows us to continue the fantastic work we do with Moonbug, Rachel Ellen and all of our other brands, whilst still attracting new clients."
Commenting on the appointments, Will Stewart, Managing Director of The Point.1888 said, "I am incredibly excited to welcome Rosanna, Sophie, Max, Mia and Naomi to Team.1888 family. Our amazing book of clients and our high profile within the industry mean we have no shortage of talent to choose from when new roles are created and I'm confident that we've picked the very best.
"Their energy and enthusiasm as well as the diverse experience they bring will undoubtedly give our team the support it needs to continue our growth."
Established in 2014, The Point.1888 delivers retail focused brand extension programmes by creating new products based on the gaps it sees at retail, rather than what it thinks the brand's target demographic might like. This supports a higher chance of retailer buy-in and a better sales performance.
About : The Point 1888.
The Point.1888 is the next generation of brand licensing. Matching brands with retailers and manufacturers to create powerful new products, The Point.1888 helps its clients boost revenue, brand awareness, consumer engagement and brand love. It also donates 11% of its profits each year to charities that have an emotional connection to each collaboration. Borne from Joseph Miller & Sons Ltd, The Point.1888 is a fifth-generation family company with 130 years' experience in bringing products to market. It believes that making more money and getting closer to customers is easy when you have the right partner. You go out of your comfort zone, create something new and work with businesses you never thought you would. And the results can be incredible. That's The Point(.1888) of brand licensing.