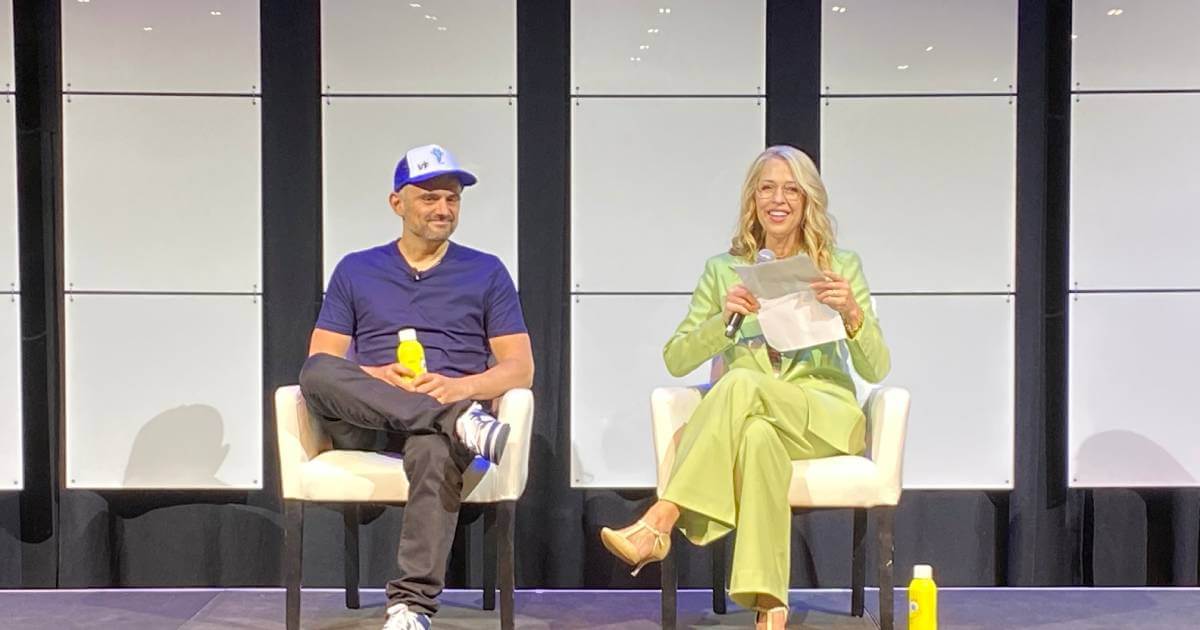 The Tech Trends of Tomorrow
Licensing International is thrilled to be back in Las Vegas for Licensing Expo. Whether you're attending in person and struggling to see it all or were unable to make the trip and want to know what you're missing, we will present event highlights each day with a focus on key insights, emerging trends, and major announcements.
What's New with NFTs
The first keynote of Licensing Expo, The Power of Possibilities: What's Ahead for Licensing, saw Pam Kaufman, president of global consumer products and experience at Paramount, and Gary Vaynerchuk, CEO at VaynerX and VaynerMedia, examine the endless possibilities available to IP owners, creators, licensees, and retailers as they seek to connect with consumers. When it comes to NFTs, Vaynerchuk recommended brand owners start all new IPs as NFTs, and then expand to create content and consumer products. For his own VeeCon event, which took place earlier this month in Minneapolis, the event was only open to owners of VeeFriends NFTs. "NFTs will affect the people in this audience for the rest of their lives," he said.
Licensing U session WTF Is Up With NFTs, hosted by Jed Ferdinand, senior managing partner at Ferdinand IP Law Group, touched on the volatility of the NFT market and mitigating the risks associated with emerging technologies. "NFTs, the Metaverse, and blockchain aren't going away. [Recent declines in value will lead to] a reckoning and a reevaluation, in a hopefully healthy way," Ferdinand said. Moving forward, he believes NFTs will continue to serve as a valuable marketing tool for brands in categories like sports, fashion, and gaming.
The LBE Lowdown
In location-based entertainment, many companies were pitching projects postponed by the pandemic or planning new ones as brands seek to tighten ties with consumers. For example, Hasbro licensee Chong You will open the first 146-room My Little Pony/Transformers Hotel attached to a 100,000-square-foot family entertainment center (FEC) in Shanghai, China this fall. It will feature separate floors for each brand and builds on the company's 35 branded facilities, said Matt Proulx, VP LBE at Hasbro.
And Paramount, having recently completed its merger with ViacomCBS, plans to continue Nickelodeon resorts—the most recent one opened last August in Cancun, Mexico—and use the Nickelodeon name on packaging and products, said Veronica Hart, executive vice president for global franchise planning and experiences at Paramount Consumer Products. Nickelodeon closed the last of its standalone stores in London in 2017.
"We will continue to lean into the Nickelodeon brand for product and things that are launching on linear TV and streaming," Hart said. "There is so much brand equity [with Nickelodeon] with parents and kids. And while dedicated [Nickelodeon] stores aren't our core business, we are more focused on the [third-party] retail business and experiential is important."
Food for Thought
Brandgenuity will deepen the White Castle, Sazerac's Fireball Whiskey, and Pernod Ricard's Kahlua brands in food licensing, joining an ever-growing field of competitors. The Fireball brand will initially target salty snacks, said Rachel Humiston, VP client services at Brandgenuity.
"A lot of it is the flavor and fan passion for the brand, and that's what is driving interest in licensing the brands," said Humiston, whose firm also signed on to represent the chili-infused Mike's Hot Honey brand for licensing to bring it into salty snacks, ice cream, nuts, and restaurants.
Starting Something New
Other brands are being extended in new directions. Royal Dutch Shell's Shell Eastern Trading, the petroleum producer's licensing arm, has signed licensees for electric scooters and bikes, lithium ion batteries, charging stations, and potentially roof top solar panels, said Rahul Malhotra, head of group brand strategy and stewardship at Shell. Shell, which licenses its brand for many of its 46,000 gas station/convenience stores, developed the new strategy during the pandemic to meet changing consumer tastes, Malhotra said.
"Licensing will extend our brand into categories that we can't do ourselves," said Malhotra, whose company is working with Beanstalk and sells products through an Amazon store. "As we move toward this new world we need to offer new things through licenses. Licensing gives us opportunity to have conversations with consumers that we might not otherwise have."