The Unlikely Brands that are Giving Polish to the Furniture Industry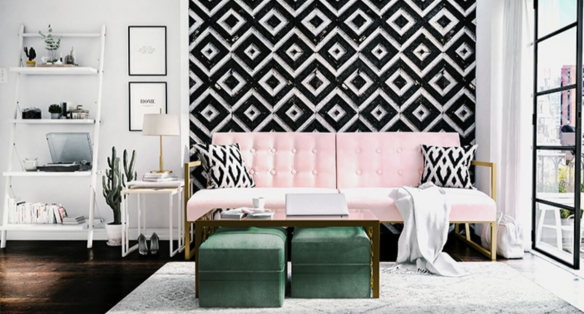 What do Drew Barrymore, Star Wars and Coastal Living have in common?
These and other lifestyle/entertainment brands are becoming the new faces of the once traditional furniture industry. To be sure, interior designers remain a go-to authority for licensed furniture designs, but one-time stalwart brands such as Thomasville, Drexel, Henredon and others are increasingly supplanted by licensed labels. Even the heritage brands may change.  Authentic Brands Group bought the Thomasville, Drexel and Henredon brands out of Heritage Home's bankruptcy last year in a joint venture and has licensed the Fung Group's Living Lifestyle Group (formerly LF Products) for Thomasville furniture that will be introduced at the High Point Market in October.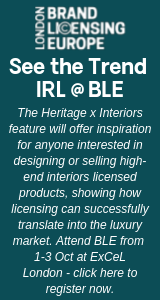 It's not a new phenomenon – think of the furniture success enjoyed by Kathy Ireland, among others – but recently has been picking up steam.
"Furniture has needed something to keep it fresh, relevant and cool," says Patricia Mercer, Licensing Director at CAA-GBG Global Brand Management Group, which represents Barrymore and her Flower brand. "And it has become more relevant through licensing because retail is challenging right now and you need something to put you in a different playing field. Telling a story with a personality or brand behind it gives furniture a reason for being and a point of uniqueness."
The furniture industry's gradual change of heart – many suppliers once had a strong aversion to licensing, instead focusing on their own labels – is being driven by changes in the retail landscape and consumer buying habits, the latter being led by the coveted millennial and Generation Z customers.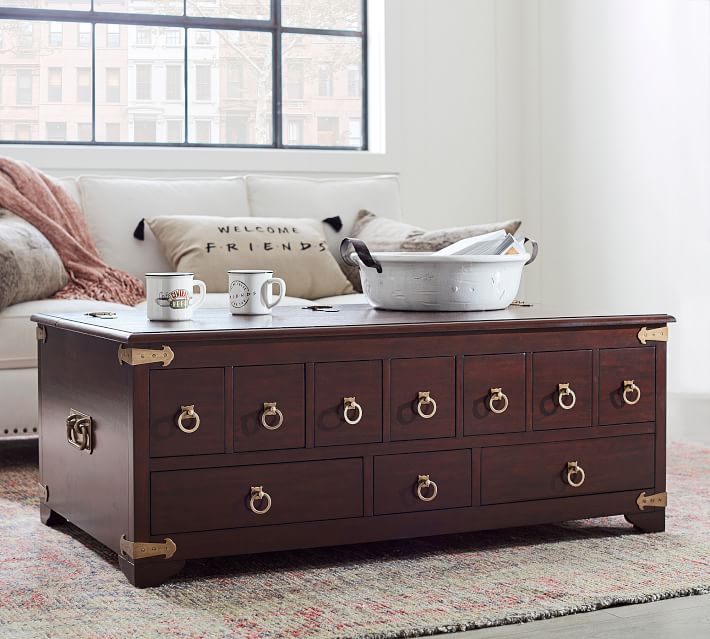 Brick-and-mortar retailers such as Williams-Sonoma's West Elm, Restoration Hardware and others are becoming more lifestyle-oriented in their displays and product offerings. Online retailer Wayfair has an exclusive for Hearst licensee Dorel Home's CosmoLiving by Cosmopolitan furniture and has a dedicated web page that features both Dorel's products and those of other Cosmo licensees. And Walmart's own and Hayneedle.com web sites were the launchpad earlier this year for Barrymore's Flower furniture collection of coffee tables, accent chairs and love seats.
This is all part of a strategy to attract younger consumers with experiential, story-telling brands and one that is becoming a staple across all stripes of licensed products in furniture and other categories.
For example, when Pottery Barn launched a limited-run DTR collection last week based on Warner Bros. "Friends" TV series, it came with a story line. The star of the collection was an apothecary table ($1,099) that in a season six (1999-2000) episode was passed off as a vintage flea market find by actress Jennifer Anniston's Rachel character in order to gain the approval of Phoebe (Lisa Kudrow), who hated Pottery Barn. Pottery Barn also has fielded a Harry Potter DTR line and recently formed a partnership with fashion designer Rachel Zoe.
"With trends becoming shorter and a 'need to have', people are looking for a story and anything that is memorable," says Michelle Lamb, Editorial Director at The Trend Curve, which tracks trends in consumer products, including furniture. "Sometimes just good design on its own doesn't do it anymore, and that is one of the reasons for the rise in licensing in case goods."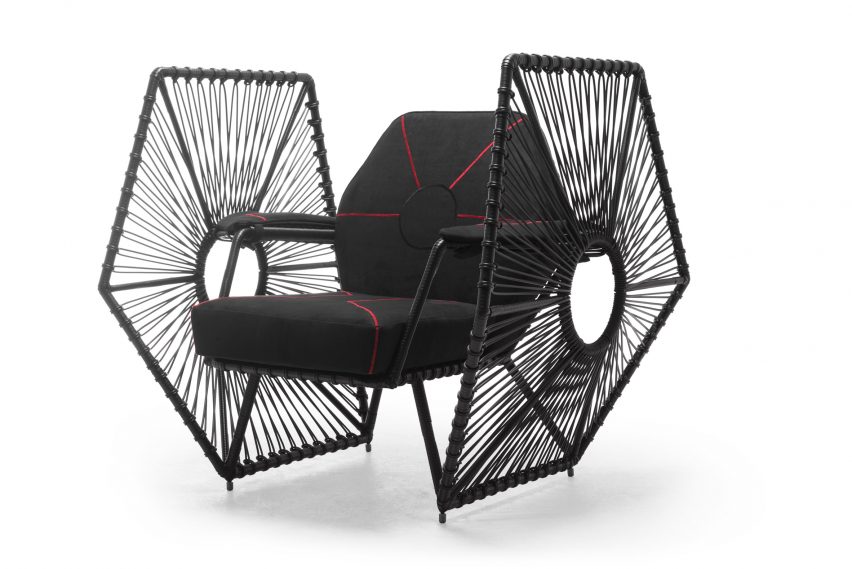 Furniture suppliers' ability to craft stories using licensed brands leverages both the reach and immediacy of social media, as well as more readily-available consumer data.  For example, in developing what has become a 150-SKU CosmoLiving line, Dorel used insights gleaned from the magazine's subscriber data to create a line targeting 18-35-year old female customers. The ready to assemble (RTA) furniture is priced ($109-$699) to match the budgets of many first-time buyers, and is designed to fit into smaller living spaces such as apartments. There's also crossover between Cosmopolitan subscribers and Wayfair customers, says Dorel VP Steve Wahrhaftig.
Dorel was attracted to Cosmo by the lifestyle the brand represents as well as the magazine's ability to support the CosmoLiving line to followers on social media, says Wahrhaftig.
"We had stayed away from just putting a [licensed brand] on product and hoping for placement because there was no guarantee of sell-through," he said.  "We have looked at a lot of potential licenses, but not all of them denote a lifestyle image," which is important in a category in which females make 70% of the buying decisions.
Adds Hearst Chief Brand Licensing Officer Steven Ross: "We found an esthetic that resonates with the Cosmo subscriber and a pathway to market that aligns with the way Millenials are shopping these days. "We realized that subscribers were passionate about designing their homes and wanted to live as stylishly as they dressed."
While furniture makers deploy licenses to attract a brand's most ardent followers, in some cases they're also trying to gain the trade's attention in a bid to widen demand for their other lines. Universal Furniture is counting on Australian model Miranda Kerr's brand and social media presence – 25 million followers across various platforms — to be a success in its own right, but also to attract retail buyers to its High Point showroom to get a sampling of the company's own brands.
"Licensing has been a way for us to introduce [ourselves] to a certain customer segment that may not be familiar with Universal," says Marketing Director Neil MacKenzie. "The licensing relationship is about telling a story and establishing credibility; ultimately there already is a built-in audience for the brand."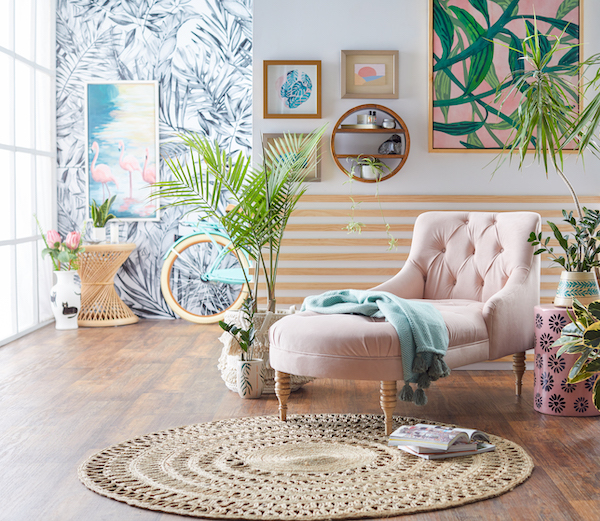 Story-telling is a hallmark of the entertainment business, and large studios have gotten into the game on a variety of levels. A recently introduced line of Star Wars-themed furniture developed by Filipino luxury products designer Kenneth Cobonpue is a departure for an entertainment brand more typically linked to lower-priced goods. The collection, which Cobonpue unveiled at his showroom in Manila last October, ranges from a $699 side table to a $4,000 Darth Vader arm chair.
On a more typical level, Disney also introduced Star Wars, Mickey Mouse and Minnie Mouse collections with high-end furniture retailer Ethan Allen, given that the chain's long history in the category, rooted in storytelling, says Disney Global Licensing EVP Josh Silverman.
"When we compared what was important to us and what was important to them, it was a natural fit to intertwine our brands," says Silverman.
Contacts:
CAA-GBG Global Brand Management Group, Patricia Mercer, Licensing Dir., 646-786-2424, patriciamercer@caaglobalbrands.com
Disney, Josh Silverman, EVP Global Licensing, 818-544-0041, josh.silverman@disney.com
Dorel Home, Stephen Wahrhaftig, VP Marketing, 610-431-7885, stephen.wahrhaftig@dorel.com
Hearst Corp., Steve Ross, Chief Brand Licensing Officer, 212-649-3259, sross@hearst.com
The Trend Curve, Michelle Lamb, Editorial Director, 952-893-1245 x3, michellelamb@trendcurve.com
Universal Furniture, Neil MacKenzie, Marketing Dir., 336-822-8888
Warner Bros. Consumer Products, Maryellen Zarakas, SVP Worldwide Franchise Management and Marketing, 818-954-4170, maryelle.zarakas@warnerbros.com
Williams-Sonoma/Pottery Barn. Marta Benson, Pres., 415-421-7900, mbenson@wsgc.com