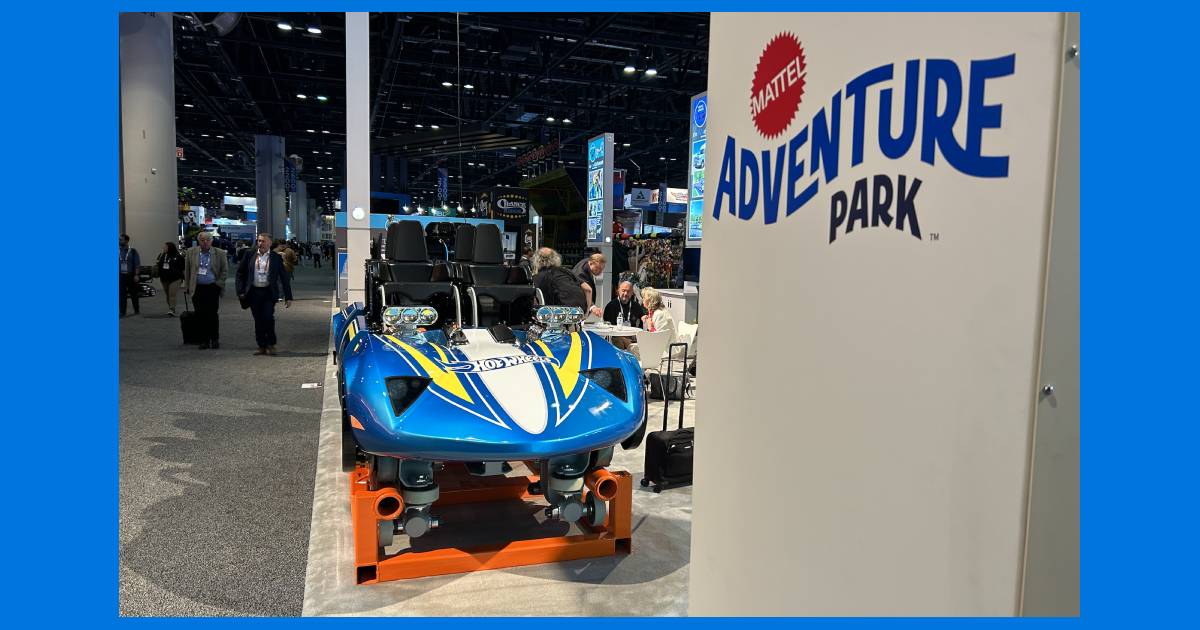 Theme Parks Look for Point of Difference
In the past, some theme park and attractions operators were reluctant to bring in licensed IPs due concerns about the costs associated with those agreements.
But as more families are focused on location-based entertainment (LBE), finding a point of difference is more important than ever and more operators are embracing brands, licensing executives said last week at the IAAPA Expo in Orlando, Fl.
Breakout Games, which previously operated non-licensed escape rooms, has converted 17 of its locations to feature Hasbro's Clue board game brand. Galaxyland, located in Triple Five Group's 42-year-old West Edmonton Mall in Canada, was renamed Galaxyland Powered By Hasbro and construction on the new offering is about 60% complete, said Matthew Proulx, VP of Location- Based Entertainment at Hasbro. Circus Circus in Las Vegas will fill a long vacant 5,000-square-foot former restaurant with Sally Dark Rides' SpongeBob SquarePants dark ride.
Moving forward, the gamification of theme parks will provide a more interactive experience for consumers and take in-person experiences to the next level, industry executives said. Gamification has been around for years (in 1998, Disney's Buzz Lightyear dark ride featured an interactive shooting gallery) but has started to pick up speed in recent months.
"The opportunity for IP has been growing and now that you are seeing gamification within the parks, it is headed in the direction of being associated with a strong brand," said Jim Seay, President of Premier Rides, which built West Coast Racers, a collaboration between West Coast Customs and Six Flags Entertainment's Magic Mountain Park in Valencia, CA. "The clientele with every generation is getting more and more sophisticated and experiences are part of their lives."
Circus Circus, in addition to filling a vacant space, is betting on the SpongeBob SquarePants ride to help distinguish it from other casinos in Las Vegas that have little in the way of IP-based rides, said Shana Gerety, EVP and General Manager at Circus Circus. The Las Vegas-based immersive entertainment venue AREA 15, meanwhile, has started construction of a Universal Horror Unleashed section that will be dedicated to Universal Pictures IPs.
Mattel Adventure Park will be one of main entertainment features at VAI Resort in Glendale, AZ when it opens in 2024. Among the features will be a three-story Barbie Dream House featuring a bar and restaurant and a Hot Wheels-themed roller coaster. The installation of the first of the rides featuring the Hot Wheels brand is expected by mid-2024, said Cindy Emerick, VP of Attraction Development for Mattel Adventure Park. The park is expected to serve as blueprint for similar facilities that Mattel plans to open with licensee Epic Resorts Destinations, said Julie Freeland, Senior Director of Global Location-Based Entertainment at Mattel.
Hasbro, meanwhile, is reviving plans for a Monopoly Mansion hotel, having scrapped an earlier effort with developer M101 Holdings in Kuala Lumpur, Malaysia due to the pandemic, said Proulx. And Nickelodeon, which initially opened a 777-room Nickelodeon Suites in Orlando in 2005 (it closed in 2018), has since added hotels and resorts in Punta Cana, Dominican Republic and Rivera Maya, Mexico with licensees Karisma (2016) and Groupo Lomas (2021), respectively.
"Consumers are just looking for a deeper level of immersion," a licensor executive at a film studio said. "[Brands provide] a deeper level of experience because consumers will stay longer and spend more money. There previously was a resistance to sharing any revenue [via royalties to licensors], which really isn't the case. They are making money because the per capita spending is higher."
This is especially true, the executive said, because consumers now expect to be able to interact with a popular IP in a number of ways. These different brand extensions keep IPs alive longer and increase affinity, a conclusion that it seems many brand owners and attractions operators are incorporating into upcoming plans.
That conclusion is likely to be further amplified by the pending merger between park operators Cedar Fair Entertainment and Six Flags Entertainment, which, when combined, will potentially have WildBrain's Peanuts and Warner Bros. Discovery's Looney Tunes and DC Comics brands. And, with a combined 42 theme (27) and water parks (15), the operators will be in a stronger bargaining position for future brand partnerships. Cedar Fair and Six Flags declined to comment on merger plans.
"They will control the theme park business in the United States, but their parks are spread out and it is not like they will be killing competition," said Basic Fun CEO Jay Foreman, whose Good Stuff Division is a supplier to both park operators. "And their combined size will likely make them more appealing to licensors."