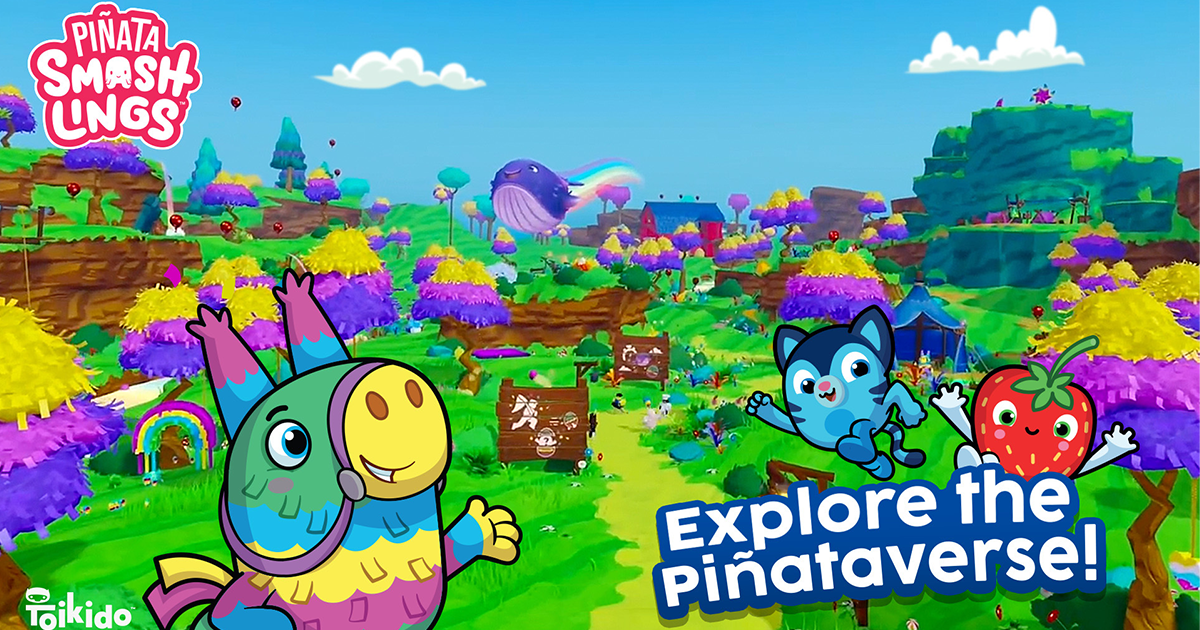 Toikido and Supersocial Ignite a Global Phenomenon with Piñata Smashlings, An Unparalleled Roblox Adventure
LONDON, July 18, 2023 – Toikido and Supersocial are thrilled to announce the global launch of Piñata Smashlings, an imaginative, visually stunning, multiplayer game that will captivate audiences worldwide and kids of all ages. The innovative, blockbuster, premium quality game offers players a unique social experience as they explore, capture, and train Smashlings, the magical pet-like creatures that live in the Piñataverse – and marks the first of its kind integration of digital gameplay alongside physical product, experiential entertainment, and more.
The partnership between Toikido, the London-based entertainment company on the cutting edge of digital design and toys, and Supersocial, US-based developer and publisher of metaverse games and experiences, represents a transformative step forward in both digital and traditional entertainment. While the two companies have come together to craft the fascinating Piñata Smashlings universe for Roblox, the Piñataverse extends far beyond the virtual realm. Hot on the heels of the game launch, a vast array of consumer products, encompassing everything from toys and collectibles to apparel, will hit the market. This makes Piñata Smashlingsthe first-ever fully-native entertainment franchise to spring forth from a Roblox game world. It stands as a testament to the future of brand expansion, successfully blurring the lines between physical and digital realms and creating a dynamic, multi-channel engagement – both in real life and the digital world. Developed in unison to ensure a seamless integration between the toys and online gameplay, the physical products will encourage a whole new level of fan engagement, and will be accessible in more than 70 countries, with initial rollouts in the UK and U.S. The Smashlings universe will also extend into an exciting new animated television series, set to debut on a major streaming network soon, further immersing fans in this enchanting world.
"Piñata Smashlings is in a unique position to help reshape the global gaming landscape and become the next breakout worldwide IP from a gaming platform," said Darran Garnham, founder and CEO of Toikido. "We are extremely excited about our partnership with Supersocial, and look forward to seeing how players engage with this immersive universe that encourages connections, imagination, and interactive fun."
"We're incredibly excited to bring the vibrant universe of Piñata Smashlings to life inside the digital realm," said Yonatan Raz-Fridman, founder and CEO of Supersocial. "Leveraging Toikido's inspiring and creative characters, we have crafted a rich, engaging world within Roblox, and are giving fans the opportunity to engage with the Smashlings characters in new, tangible ways in their daily lives. This is more than just a game; it's a whole new adventure that starts in the digital sphere and echoes into the real world."
Toikido recently joined forces with the Union of European Football Associations (UEFA) and UEFA EURO 2024 master licensee, Fanatics, to create the EURO 2024 mascot, Albärt, for the #MakeMoves campaign, aimed at encouraging children to be more active and health-conscious. Albärt, a lovable teddy bear character, will also be integrated into the Piñata Smashlings Roblox game as part of "football island," which will feature a host of interactive mini-games and challenges focusing on physical activity and well-being. The mascot will be featured in an expansive merchandise program spearheaded by IMG, the brand's exclusive licensing agent in key markets.
Piñata Smashlings stands as a testament to the power of technological and creative integration with its highly-interactive, unparalleled gaming experience, complex NPCs, and lasting real-world impact. By delivering engaging experiences across different mediums, this partnership sets a new standard for the seamless blending of digital and physical spaces, creating unforgettable adventures that both entertain and inspire. And with a robust consumer products program and entertainment experiences that will provide enticing physical links to the brand, the interconnection of the immersive online  landscape with the tangible world embodies the innovative spirit that pushes boundaries and bridges the digital-physical divide.
With this latest launch, Supersocial further solidifies its reputation as a trailblazer in creating memorable Roblox game worlds and experiences.
Piñata Smashlings is available to play now, exclusively on Roblox. To join the adventure, create or log into your existing Roblox account and begin your journey into the enchanting world of Smashlings.
About Piñata Smashlings
Piñata Smashlings are the inhabitants of the Piñataverse, a world of unimaginable wonders where anything is possible. There are hundreds of these cheeky little characters as they explore the expansive and ever-growing world. But not everything is sweetness and light as darkness looms with menacing Meañatas up to no good, turning Smashlings into bitter Bashlings. Luckily there are Piñatas to help save the day!
About Toikido
Toikido Ltd is a new KIND of entertainment company that sets itself apart. An innovative, fun and fast paced studio which has become renowned for growing global audiences through the creation of captivating toys for emerging digital brands. With a global reach, Toikido offers an ecosystem across licensing, gaming, music, marketing, and entertainment and is dedicated to developing its own exceptional intellectual properties (IP) across all entertainment genres. Piñata Smashlings™ is Toikido's first internally developed IP and set to become one of the most exciting children's brands, with the launch of a Roblox game, a range of toys, including collectables, action figures, plush and playsets, an official collectors guide and magazine and an animated series to bring the Piñataverse to life. 
Toikido was founded by serial entrepreneur Darran Garnham in 2020.
About Supersocial
Supersocial is a developer and publisher of games and experiences for metaverse platforms. The company builds and operates cutting-edge virtual worlds on Roblox and Fortnite with insanely engaging gameplay and a superior user experience. Our mission is to create and empower digital communities to play, explore, socialize, and meaningfully express themselves. In the past six months, the Supersocial team has grown rapidly with top industry talent joining the organization from companies such as Nintendo, EA, Ubisoft, Epic Games and others. Supersocial's remote-native workplace enables talent from all over the world to seamlessly collaborate and create, combining hundreds of years of expertise in Roblox and the broader games industry to create authentic experiences designed to surprise and delight. For more information, follow Supersocial on Twitter and LinkedIn.
Supersocial was founded in 2020 by repeat entrepreneurs, Yonatan Raz-Fridman and Pedro Romi alongside creative and marketing leaders, Tatiana Wlasek and Luiza Justus.