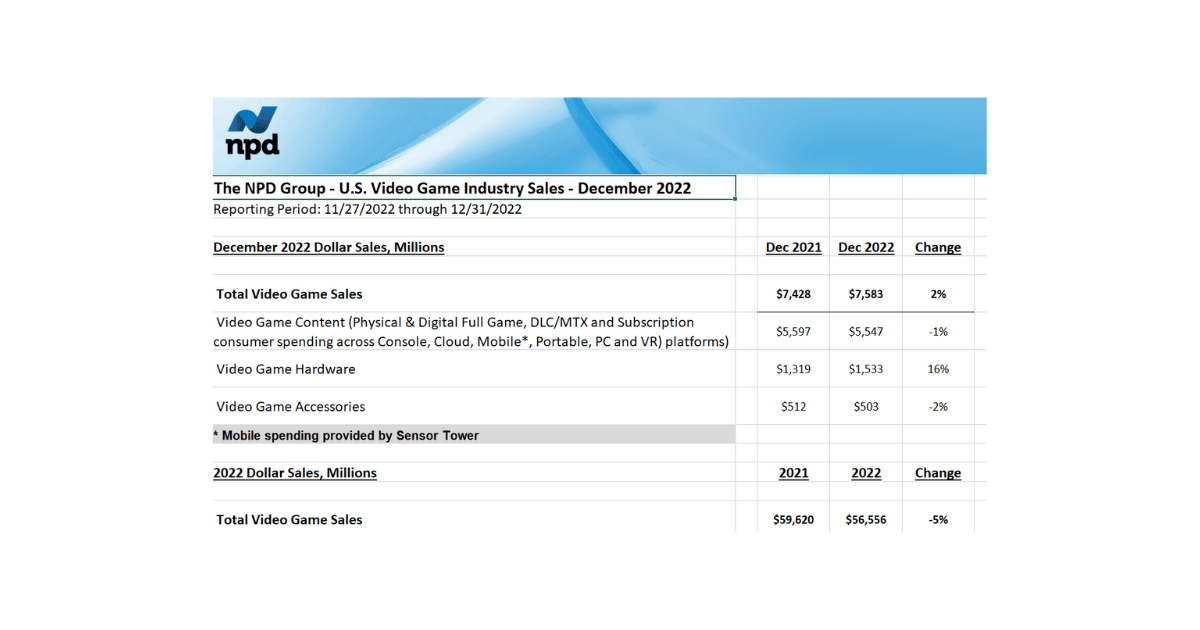 Total U.S. Video Game Spending Increases 2% in December; Falls 5% for Year
U.S. consumer spending on video game content, hardware and accessories totaled $7.6 billion in December 2022, an increase of 2% when compared to a year ago. Video game hardware spending grew 16%, offsetting declines in both content (-1%) and accessories (-2%).
The December growth brought full year 2022 spending to $56.6 billion, 5% below 2021 levels. Gains in spending in hardware and subscription content were offset by declines across other areas of spending. Factors impacting 2022 spending included continued supply constraints of console hardware, a relatively light slate of new premium releases, and macroeconomic conditions.
Spending on video game content fell 1% in December when compared to a year ago, to $5.5 billion. Growth in digital content spending on non-mobile platforms could not offset declines in mobile, subscription and physical software spending. The December performance slightly improved full year content spending, which ended the year down 7% versus a year ago to $47.5 billion. Growth in subscription content spending was exceeded by declines across other content segments. 
Video game hardware continued its strong second half performance in December, as spending grew 16% when compared to December 2021 while totaling $1.5 billion. With these gains, total annual spending reached $6.6 billion, 8% higher than experienced in 2021.  PlayStation 5 was the best-selling platform of both December and the 2022 year in hardware dollar sales, while Nintendo Switch ranked 1st across both time periods in units sold.
Accessories spending fell 2% in December when compared to a year ago, to $503 million. Spending growth of over 50% in Steering Wheels could not offset declines across other accessory segments. Spending on video game accessories finished 2022 at $2.5 billion, down 8% when compared to 2021. The Xbox Elite Series 2 Wireless Controller was the best-selling accessory of both December and the 2022 year in dollar sales. 
Dennis Yeh, Sensor Tower
The holiday season saw an expected uptick in spend across genres with the biggest MoM gains in December from Geolocation (Pokémon Go) up 17%, Simulation (Roblox) up 15%, Action (Genshin Impact) up 15% and Shooters (Call of Duty Mobile) up 14%. These genres are relatively top-heavy with games that could benefit from gift card usage and holiday-based live ops or events.
However, US mobile gaming spend was down from last year, though some genres were hit harder than others. Trends highlighted over the past few months have held steady, even through the holidays. Casino games have been remarkably consistent in holding onto pandemic-driven gains in the US, with spend up 1% YoY. Meanwhile, spend in Shooters was down 26% YoY in the US, capping off a tough year for the genre.
December's top ten mobile games by U.S. consumer spending were: Candy Crush Saga, Roblox, Royal Match, Coin Master, Pokémon Go, Evony, Township, Clash of Clans, Jackpot Party – Casino Slots, and Homescapes.