Toy Production Rebounding in China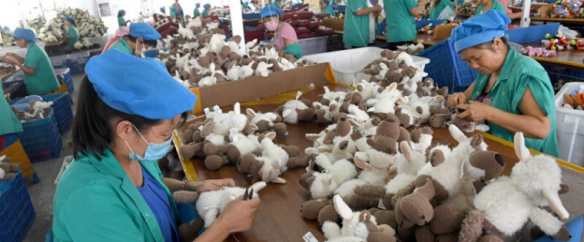 The disruption wrought by the coronavirus earlier this year that threatened the toy industry's carefully orchestrated schedule of manufacturing is showing some signs of easing.
Early evidence arrived late last week when Spin Master CFO Mark Segal, in pulling the company's financial forecast for the year,  said there had been a "substantial improvement" in the Asian supply chain And it was further cemented Monday when Hasbro CEO Brian Goldner told CNBC that while the company may "miss some shipments," it is catching up, and that its suppliers' production will be fully caught up by April. Toy production typically resumes in February following the Lunar New Year celebration, but was delayed by the spread of the coronavirus there.
Manufacturing Capacity Increasing
Indeed the factories in China that produce more than 80% of U.S. toys are expected to be at 77% of total capacity by week's end and 95% by mid-April, says Stephanie Wissink, Senior Analyst at Jefferies. Staffing at the plants is expected to be at 85% later this week and 95% by mid-April, she says. That's against Chinese factories being at 50% of capacity with 56% of the workforce at the start of this month, according to a survey from the Institute for Supply Management.
Goldner hedged slightly in noting the difference in catching up with orders "is subject to what happens around the world as some markets are closing while others are still open and robust."
Retail Buying Patterns
That variance also will hinge on retailers resuming typical buying patterns, a task made that much harder by stores closing globally in an effort to stem the spread of disease. Toy industry executives say retailers may trim orders as much as 10% as they devote more open-to-buy and shelf space to essential products such as household cleaners and food. In some cases, shelf space in toy departments is being commandeered for expanded inventory of essential household goods. And some toy categories like games and puzzles, building sets and crafts and activities have been in tight supply as parents search for activities for their homebound children.
The first half of the year – with the possible exception of Easter – typically is a slower sales period than the third and fourth quarters. For example, 6-8% toy sales come in March-April against 60-65% in November-December, say analysts.  And many of the retailers that have been deemed essential in the U.S. and remain open amid the retail closings- mass merchants, drug, grocery and dollar stores — typically account for 80-85% of toy sales. And holiday toy production doesn't typically begin until May.
The sliver of optimism in the toy industry now is in contrast to just a few weeks ago when the coronavirus was raging across China, delaying the re-opening of factories and workers' return to them. At the time, MGA Entertainment CEO Isaac Larian estimated that shipments of the company's new top-selling LOL Surprise products could be delayed by seven weeks and forecast overall global toy sales might decline 6-8% this year. The industry is coming off a 4% decline in U.S. sales in 2019.