What We Noticed at NY Comic-Con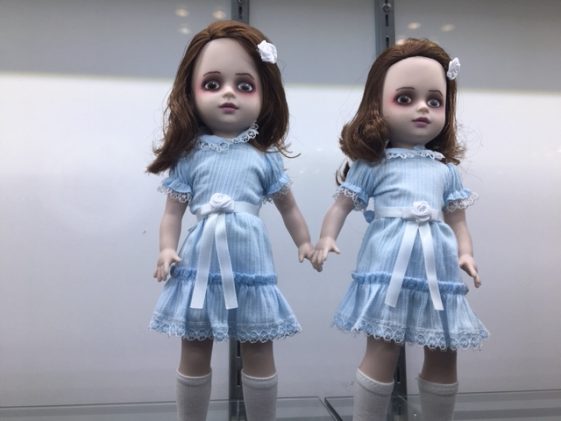 A renewed interest in all things '80s. The Black Hole, The Warriors, Shining and Tim Burton's Batman — films that rose to prominence in the 1980s — were among the properties riding the popularity of Netflix's 1980s-themed Stranger Things into collectibles of all stripes from Diamond Select Toys,  Sideshow Collectibles,  Mezco Toys, Funko and others. Behavior Digital also promoted the addition of a Stranger Things "chapter" to its "Dead by Daylight" PC game that also has segments featuring 1980s movie staples Halloween and Nightmare on Elm Street.
The popularity of 1980s properties also are rooted in their increased visibility on streaming services and cable TV, either in their original iterations or in new forms. For example, Watchman, which debuted as a DC comic book series in the mid-1980s and last had film treatment in 2009, is getting a revival as an HBO series beginning later this month.
"I am sure that "Stranger Things" has some influence on the trend, but the content also is so much more widely available because of streaming and you have generation of fans that were growing up during that period now having disposable income to buy things," says Zach Oat, Marketing Coordinator at Diamond Select Toys.
Anime keeps growing. Viz Media, Crunchyroll and Funimation all staked out large booths, highlighting expanded licensing deals and promotions. Viz, whose properties include Naruto, Bleach, One-Punch Man and Death Note, signed collectibles supplier The Loyal Subject across most of its IP, while Coach launched a collection "inspired by" Naruto as its first collaboration with menswear ambassador, actor and Naruto fan Michael B. Jordan now being sold exclusively through Neiman Marcus. Viz also seeks similar agreements for its properties with eSports and skateboard brands, says Viz's Alexander Lee. Meanwhile, Funimation has more than 30 licensing agreements for My Hero Academia including, recently, Boston America (beverages), Bandai (gifts, collectibles), CultureFly (subscription boxes, novelties.
Two top-selling Disney properties, Star Wars and Frozen 2, were given a manga spin. Viz is releasing "Star Wars: The Legends of Luke Skywalker: The Manga" and "Frozen 2: The Manga" in early 2020. And as a sign of growing retail demand for anime merchandise, Target is said to be readying a 2-4 foot section in its collectibles aisle for the category.
"The options [for licensed products] were limited for many years (in anime), but now you have an explosion of merchandising and licensing; now you have streetwear, not just black t-shirts with the key art in the center that we had many years ago," says Adam Sheehan, Crunchyroll's Director of Events.
Changes in the "Box" office. There are lots of changes in the once-hot box business – whether of the subscription or retail blind box variety. CultureFly has continued to champion pop culture-based subscription boxes, such as an exclusive Stranger Things box for GameStop, but has branched into other categories such as apparel, water bottles and bags. But one-time rival Loot Crate (renamed The Loot Company earlier this month after having been bought out of bankruptcy by NECA affiliate Money Chest LLC) at Comic-Con introduced a new Loot Launch crowdsourcing platform. It will be used to get fan backing for limited edition collectibles and exclusive product bundles assembled by such NECA affiliates Kidrobot and WhizKids.
In the case of blind boxes, some companies have shifted to "windowed" packaging in a nod to consumers becoming more discerning in their buying habits, say vendors. Among these is  The Loyal Subjects.
"At one point I think consumers were diving into a niche category like anime and saying 'I don't care what I get'" in a box, says Lee. "But people now are more educated and particular about the titles they want to support."
Licensees as IP developers.  Funko plans to introduce three of its own properties – two for 7-9-year-old girls and one for 5-9-year-old boys – in tech toys in 2020. The brands will be backed by short-form videos from Funko Animation Studios, marketed to production companies for streaming or TV series and potentially made available for licensing if they prove successful, says Funko CEO Brian Mariotti. At the same time, McFarlane Toys also is readying its own IP for introduction in 2020, while Crunchyroll is continuing development of its first original anime series, "High Guardian Splice," that will likely be accompanied by a licensing program, says Sheehan. The series had been scheduled for release this year, but has been delayed.
"It [original IP]  is a chance to create new revenue streams," says Mariotti, who adds that Funko is targeting original IP to account for 20% of its annual revenue within the next several years. "We get to take chances on things… we get to empower our artists and still make money given that the risk is so low" since Funko is using internal resources.
To give its own property a head start, Funko plans to partner with "major retailers" for the launch, says Mariotti.
Retailer narrow their targets. Funko's plans come as some retailers shift to carrying more targeted assortment of pop culture products. For example, Footlocker now focuses the Pop! by Footlocker in-store sections at 180 of its locations on sports and music-licensed products; GameStop, which in the past has carried a broad assortment of collectibles, , has sharpened focus on videogames-related products and anime; and Barnes & Noble now trains its collectibles sights on items that mirror the books it sells.
"For many years retailers carried everything, but buyers now are, in many cases, also are fans and know and understand the properties," says Titan Merchandise Executive VP Andrew Sumner. "That, coupled with analytics, allows them to tailor assortments and increasingly focus on what they perceive as the core customer, versus offering a broad mix that may not has as much appeal to that consumer."
Contacts:
Crunchyroll, Adam Sheehan, Director of Events, adam@crunchyroll.com
Diamond Select Toys, Zach Oat, Marketing Supervisor, 646-375-2406, ozach@diamondselecttoys.com
Funko, Brian Mariotti, CEO, 425-783-3616
McFarlane Toys, Todd McFarlane, CEO, 480-491-7070, tmcfarlane@mcfarlane.com
Titan Merchandise, Andrew Sumner, EVP, +44 207 803 1928, Andrew.sumner@titanemail.com
Viz Media, Alexander Lee, Senior Sales Manager Consumer Products Licensing, 415-546-7073, alexanderlee@viz.com