Will Black Friday Lose its Punch?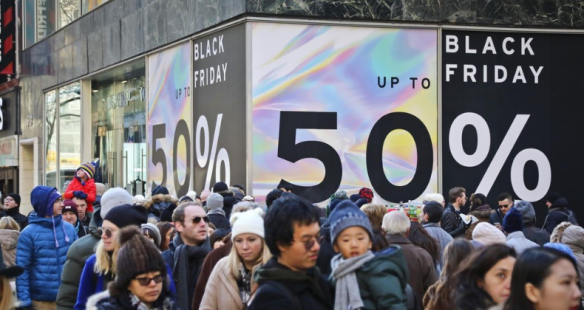 The sharp rise in sales last week that accompanied Amazon and other retailers' jump-started the 2020 holiday buying season – Amazon's sales during the Prime Day push on Oct. 13-14 are estimated to have risen 36% from 2019 to about $10 billion, including  $6.17 billion in the U.S. It also may speed the demise of another holiday hallmark: Black Friday.
'Retailers Would Love To Get Out'
"I think the majority of retailers would love to get out of Black Friday," says Dean Allen, Chief Merchandising Officer at Mad Engine and a former Walmart buyer, noting both the sacrificed margins and a sales lull that inevitably followed the early burst of activity.
"It's something retailers started, but backed themselves into a hole they couldn't get out of. Now with the pandemic, you may still need to have some items [on promotion], but the question is how many? Not every category needs to have an item. There could be a few loss leaders and you could call it a day and move on."
Creeping Up Slowly
The annual kickoff has expanded over the past few years from a single day of doorbuster-induced frenzy the day after Thanksgiving in the U.S.;  the holiday itself was once sacrosanct to retail employees could celebrate with their families. (Black Friday's notoriety was so great that its identity was transported magically overseas to some countries where Thanksgiving isn't even celebrated.)
By last year, it had been moved several days forward as retailers tried to one-up each other, including by opening up Thanksgiving afternoon to reel in those who just couldn't wait for their turkey comas to wear off.
Ironically, as we've noted before, the pandemic may be saving retailers from themselves, smoothing out the shopping calendar by pulling some major promotional activity into October as everyone competed with Prime Day(s). Also, big retailers – and their legal staffs – knew they had to avoid encouraging people to cram onto lines to be the first through the doors to race for the doorbusters. So most of them are closed Thanksgiving, and have taken steps to dial down the frenzy in their aisles. Walmart, for example, will stagger its "Black Friday" sales into three separate November events.
In any other year, buying decisions for Black Friday promotions would have been set nine months ago with production starting shortly thereafter. But the global pandemic derailed retail plans, further lessening the need for Black Friday margin-less promotions.
Amazon, its Marketplace "tenants" and competitors reported a rise in sales last week that carried beyond the two- day event, which may have gained staying power given Amazon's influence on retail. Blink Marketing Group, which helps operate licensee Concept One's Amazon marketplace, posted an increase consumer traffic, sales and conversion rates during Prime Day from September, which stands to reason given the promotion around the event, says Blink President Doug Roach. But Concept One's promotions – coupons and discounts on luggage and other products – had staying power.
"It's going to be a question of how much lift is there in getting the sales season started a month early versus getting a spike [in sales] out of nowhere in July [when Prime Day has been held since its launch in 2015]?" says Roach. "Logically it makes sense to move sales up. But then what becomes of Black Friday? With Black Friday and Cyber Monday not being as important any more, I am going to have to spread sales over a larger number of days."
In the long-run, the moving up of holiday sales and a lesser role for Black Friday may ease the chaos that typically surrounds it.
"We are welcoming it because it gives us the opportunity with partners, licensees and retailers to start planning buying throughout the quarter with more insight and longer lead times and how we move past this in planning for 2021," says Marianne James, Vice President of Consumer Products EMEA at Hasbro.